Like many of you, VRSA started 2020 with big plans.
2020 marked the pool's 40th anniversary – one we planned to celebrate by easing what worries our members so they can focus on what matters most – serving their communities.
In 2020, more than ever, this mission remained at our core.
As we navigated and responded to the challenges brought on by the COVID-19 pandemic and widespread social unrest, VRSA staff remained proactive in taking steps to ease the worries of our members.
This spring, in response to reduced exposure, VRSA refunded members 15 percent of their annual 2019-2020 automobile liability and general liability contributions, totaling $1.2M.
To assist members with funding risk management equipment and training, VRSA increased the amount of Risk Management Grant funding available this year, and made COVID-19 related personal protective equipment grant-eligible.
As reinsurers all over the country began adding COVID-19 exclusions, we decided that VRSA would not add a COVID-19 exclusion to our primary liability policies, in order to provide our members with the broadest possible protection in the wake of unprecedented challenges.
Our annual Year in Review, below, will provide more information on how VRSA responded and partnered with our members during this unprecedented time.
VRSA 2020 Annual Report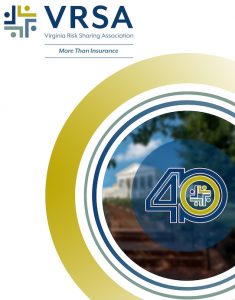 The VRSA 2020 Annual Report, online now, offers a recap on how VRSA has responded to members' needs in 2020 – as we have for 40 years. It also highlights the pool's unparalleled financial stability.
Read it here.
Public Safety Services
In addition to challenges posed by the COVID-19 pandemic, VRSA's law enforcement members responded to increased calls for transparency and calls for a reevaluation of policies and procedures as Virginia communities navigated challenging terrain.
In response, VRSA's Public Safety Specialist Gary Dillon increased focus on best practices and policy reviews, and developed a sample policy on Duty to Intervene to assist agencies in complying with recent legislation.
Additionally, VRSA coordinated regional virtual roundtables with law enforcement agencies across the Commonwealth to identify needs and offer VRSA Public Safety resources during COVID. These included roundtables with regional law enforcement academies to explain and answer questions about the President's Executive Order on Standards for Certification on Safe Policing for Safe Communities.
---
2020 New Staff
VRSA welcomed several new staff members in 2020!
Tracy Christian – Senior Medical-Only Claims Representative
Asia Foster – Fast Track Claims Adjuster
Alba Garcia – Senior Medical-Only Claims Representative
Lisa Hart – Project Manager
2020 Staff Promotions
Tracey Dunlap – P&L Claims Supervisor
Shaun Allen – P&L Claims Adjuster
Bunny Slayton – Medical-Only Claims Specialist
Tina Wetsch – Claims Specialist
Wendy Rice – Claims Specialist
Ann Chandler – Senior Underwriter
Nicole Jennings – Senior Recovery Representative
2020 Professional Designations Earned 
Thomas Bullock – COVID-19 Infectious Disease Prevention Specialist
Ann Chandler – Associate in Underwriting (AU)
Fonda Craig – COVID-19 Infectious Disease Prevention Specialist
Gary Dillon – COVID-19 Infectious Disease Prevention Specialist
Gary Dillon – Civilian Response to Active Shooter Events (CRASE)
Gary Dillon – Remote Pilot – Small Unmanned Aircraft Systems
Vinny Gallo – COVID-19 Infectious Disease Prevention Specialist
Edward Shelton – COVID-19 Infectious Disease Prevention Specialist
Kari Soniat – Associate in General Insurance (AINS)
---
Top Blog Posts!
---
Risk Services
After VOSH implemented the Emergency Temporary Standard in response to the COVID-19 pandemic, VRSA safety consultants developed a plug and play training template that members could use to conduct the mandatory training required under the standard;
Risk services consultants provided 73 webinars or in-person trainings to more than 2,056 member employees. Subjects included: OSHA 10-Hour Construction Course; You're a Target, Protect Your Wallet; Securing your work environment; Supervisors and Safety: I'm Responsible for What?; VRSA's new OSHA Incident Tracking Application;  and Safety Tips for Teachers, Teacher Aids and Administrators.
VRSA staff developed an OSHA incident tracking application that allows members to complete the required OSHA 300 log that must be posted in the workplace each year.
HR Services
In 2020, VRSA's Director of Human Resources Services Tina Stevens conducted 12 webinars with 890 attendees.
Subjects included: New Supervisor – Going from Peer to Supervisor; COVID 19 – Employer Requirements and Employee Rights; LGBTQ in the Workplace; Managing Remote Employees during COVID-19; Reopening Virginia – Strategies for bringing Employees Back Safely; and more.
Online Training
Course utilization from the VRSA Online University increased by 56 percent percent over 2019. The top five courses were: 1) Sexual Harassment Prevention for Employees; 2) Defensive Driving; 3) Bloodborne Pathogens for All Employees; 4) Unlawful Harassment Prevention; and 5) Fire Prevention.
More than 1,872 VRSA Public Safety Academy courses were taken by members in 2020. The top five courses were: 1) Ethics in Law Enforcement; 2) Anti-Bias Training for Law Enforcement; 3) Responding to Mental Illness with Compassion; 4) Managing Calls Involving Emotionally Disturbed Persons; and 5) Identifying and Dealing with Excited Delirium.
---
2020 "Virtual" Annual Meeting
The Town of Vinton received the Margaret A. Nichols Risk Management Leadership Award at the 2020 "Virtual" Annual Meeting. The town requested an assessment on the town's security and employee protection plans from VRSA Public Safety Specialist Gary Dillon and VRSA Senior Safety Consultant Edward Shelton.
In response to recommendations received, the Vinton Town Council then appropriated $100,000 in emergency funding for these upgrades, which included: the installation of bulletproof glass in areas with customer interaction, key fob-only access to specific areas of the town facilities, security cameras, and ceiling lighting with employee-controlled panic buttons – which connect directly to the police department – to alert others when they should lockdown or evacuate.
Learn more about their efforts and additional award recipients here.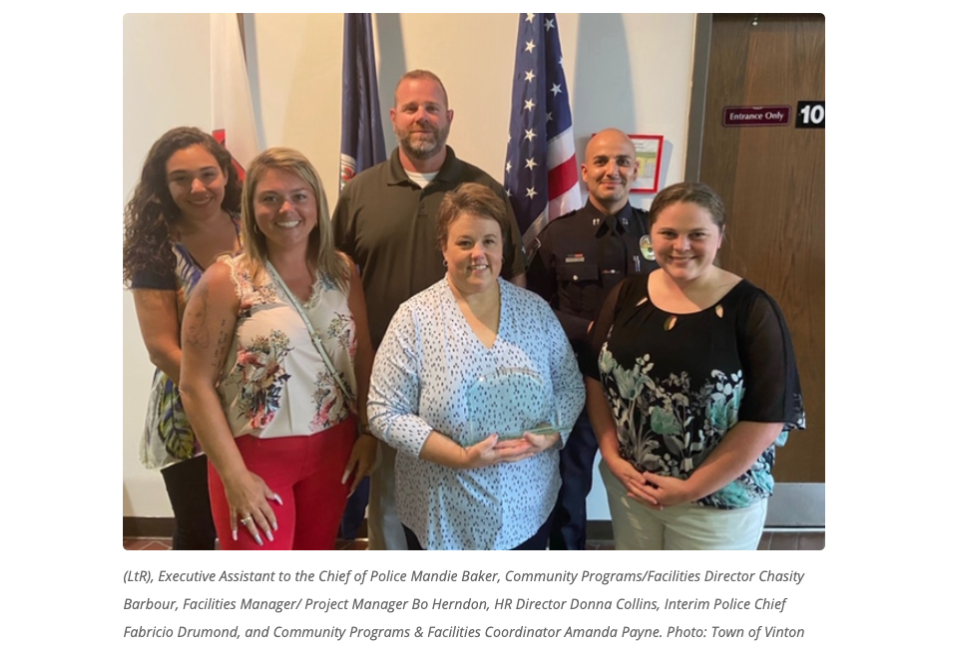 ---
2020 "Virtual" Fall Educational Forums
The traditional "fall workshops" were rebranded to Fall Educational Forums and held virtually this year. More than 260 attended the four presentations, which included:
Improvise, Overcome and Adapt
Dealing with Difficult Situations in the Current Environment
Guess What is Coming Next?
Insight: A Strategic Decision Making Application
---
Workers' Compensation Claims Updates:
VRSA received 3,568 new workers' compensation claims and closed 3,879 claims.  We also received 739 COVID-19 exposure notifications with 93 presenting a claim with a positive test.
VRSA also partnered with a member school in the filing of an Amicus Brief to the Virginia Supreme Court. This resulted in the overturning of a court of appeals decision that significantly changed established case law regarding the definition of an injury, which adversely affected the defense of claims and increased claims costs. Further information on this case will be provided in the Winter 2021 Pooling Matters newsletter.
Subrogation
VRSA subrogation recovery totaled $1,423,066  for members. Subrogation represents reimbursement to VRSA for incurred costs not owed on behalf of our membership. Subrogation efforts help VRSA maintain financial strength and stable rates. 
Property and Liability Claims Updates: 
VRSA closed 3,444 property and liability claims in 2020.  These claims are broken down by coverage line below.
Auto Liability: 825
Auto Physical Damage: 932
Boiler & Machinery: 15
Crime: 9
Cyber Liability: 11
Excess Liability: 1
General Liability: 754
Inland Marine (Misc. Items): 40
Law Enforcement Liability: 28
Line of Duty Act: 2
No-Fault (Auto Liability): 9
No-Fault (General Liability): 145
Property: 493
Public Official's Liability: 180
---
Member Spotlights
A number of VRSA members were highlighted in Member Spotlight videos for their focus on risk management, including the City of Winchester Refuse and Recycling; Hanover County Public Schools Return to Learn Sanitizing Measures; Virtual Instruction and Martinsville City Schools; and more.
---
Information Services
The new Origami Risk claims system was implemented in the areas of claims and member relationship management. The cloud-based information system provides efficiency through process automation, supports VRSA's business continuity objectives, and ensures continuous system enhancements without the disruption of major upgrades. This initial step positioned VRSA for a fully integrated policy and claims system for improved visibility of information and data consistency.
A web-based OSHA tracking application was developed and released as a member requested feature. The application is pre-populated with claims data reported to VRSA to eliminate duplicate data entry.
Insight: A Strategic Decision Support Application was developed and released to VRSA members.  This application walks members through all the considerations required to make thoughtful and well documented decisions that align with the organization's strategic objectives.
Origami Risk was implemented in the areas of policy management, including a new, more intuitive Member Portal.
VRSA moved to a new hosted cloud-based phone and fax solution to support its business continuity objectives.  The new solution was timely as it enabled seamless communications with remote staff in the COVID-19 environment.