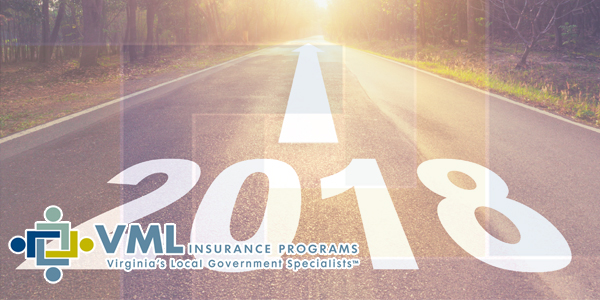 2018 Year in Review
2018 was another great year to be a member of VML Insurance Programs (VMLIP)! Throughout 2018, VMLIP expanded coverages, launched a variety of new initiatives and shifted our staff focus toward increased listening to member needs and relationship building.
Financially, property and liability premiums went up by less than 1 percent while workers' compensation premiums decreased by 5 percent. Line of Duty Act coverage rates were increased by 20 percent, for an overall 1 percent rate decrease pool-wide.
Read about it in the overview below!
---
2018 VMLIP Members' Supervisory Board Changes
The VMLIP Members' Supervisory Board welcomed Town Manager Josh Farrar with the Town of Ashland to the board this spring. In the fall, the board welcomed Superintendent Dr. Jennifer Parrish with Poquoson City Public Schools to the board.
2018 New Staff
VMLIP welcomed six new staff members in 2018!
Alonzo Brooks, Claims Representative
Shanice Cole, Business Analyst
Laura Fox, Senior Underwriter
Gail McWilliams, Claims Representative
Lisa Moore, Accounting Assistant
Peter Stephenson, Local Government Specialist
2018 Staff Promotions
Thomas Bullock, Director of Education and Training
Crystal Griffin, Senior Underwriter
Marcus Hensel, Director of Member Services
Harry McMillen, Member Services Specialist
2018 Professional Designations Earned
Thomas Bullock, ARM (Associates in Risk Management)
Ann Chandler, AINS (Associates in General Insurance)
Crystal Griffin, AINS (Associates in General Insurance)
Eddie Shelton, Certified Playground Safety Inspector
Welcome New Memberes
VMLIP welcomed the following new members in 2018:
Fauquier County Water and Sanitation Authority
GO Northern Virginia Council Region 7
Harrisonburg Redevelopment and Housing Authority
Jefferson-Madison Regional Library
Prince William IDA
Town of Hillsboro
Town of Pound
Town of Warrenton
Member Services:
In 2018 Member Services staff 

welcomed Peter Stephenson to the staff 

as a 

Local Government Specialist

. Stephenson's primary role is to consult with members on planning, finance, budgeting, compliance and more.

Member ser

vices staff made 398 in-person visits with members, with their primary objective being to listen to member needs and build member relationships.
Staff attended three member wellness fairs, as well as several Virginia Local Government Management Association conferences; the Virginia Association of School Business Officials conference; the Virginia Law Enforcement Accreditation Coalition conference; the Virginia Government Finance Officers Association Conference, the Virginia Association of Counties Conference, and the Virginia School Board Association conference.
Staff attended various Planning District Commission meetings around the state, as well as member-to-member discussions in Manassas, Fairfax and Prince William.
---
Website Updates:
Peer analysis dashboards were added to the VMLIP website this fall, providing members with the ability to compare their workers' compensation, auto liability, and law enforcement claims experience to members similar in entity type, territory, employee-count, and/or class code and payroll composition.
A finance page was added to the website, providing members with the option to pay premiums online via a secure electronic fund transfer.
---
New Services and Resources:
VMLIP partnered with STOPit, a mobile and web application designed to provide students with a means to alert school administrators to bullying behaviors so that help can be provided as quickly and efficiently as possible. Learn more here.
VMLIP launched an online business continuity resources depository on the VMLIP website to aid members in preparing for a natural or man-made disaster. The resource provides online storage for members to upload important documents and view sample policies, documents and resources that can be used to build a continuity of operations plan. Read more here.
VMLIP launched a new telemedicine initiative this fall. Through this program, injured workers who the CompCare On-Call nurse determines can be treated by telemedicine, can be connected with a board-certified physician immediately and securely via a smart device or computer. Common injuries treated include: abrasions, back pain, burns and rashes, chemical exposure, contusions, sprains and strains, and more. Learn more here.
---
Risk Services:
Safety consultants made nearly 300 visits with members to review and assist with risk management efforts.
The VMLIP Law Enforcement Academy began offering Virginia Department of Criminal Justice Services partial in-service credit for courses taken through the platform. This is in partnership with the Crater Criminal Justice Training Academy.
More than 13,749 VMLIP Online University courses were taken by members in 2018. The top five VMLIP Online University courses were: Sexual Harassment Prevention; Defensive Driving; Bloodborne Pathogens for All Employees; Fire Prevention; and Hazard Communication – the new GHS Standards.
VMLIP hosted two Water and Wastewater Risk Forums in Glen Allen and Roanoke. The agenda included water and wastewater legislation, crisis communications, updated VOSH and OSHA requirements, benchmarking risk management results, and more.
---
After eight years, the VMLIP Where the Rubber Meets the Road campaign came to a close earlier this year after training 57,175 member-drivers on defensive driving techniques. This award-winning program began with 15 member-entity participants, and grew to more than 86. The campaign received an Award for Excellence in Performance from the Association of Governmental Risk Pools in 2015.
Safety consultants provided 87 webinars or in-person trainings to nearly 2,000 member employees. Subjects included: Asbestos Containment and Abatement; a VOSH Silica Update; the VMLIP Safe Driving Train the Trainer Course; Creating and Using a Job Safety Analysis; Self Inspections; OSHA At A Glance; Establishing an Accident Review Committee; School Safety and Security; Reasonable Suspicion; and more.
VMLIP hosted Demonstrations, Protests and Crowd Control training to address public demonstrations as a continuing challenge for law enforcement. This one-day course, held numerous times throughout the state, provided attendees with: guidance on managing demonstrations and protests; an opportunity to review legal standards of the First Amendment; a review of response to resistance policies; media relations best practices; and more.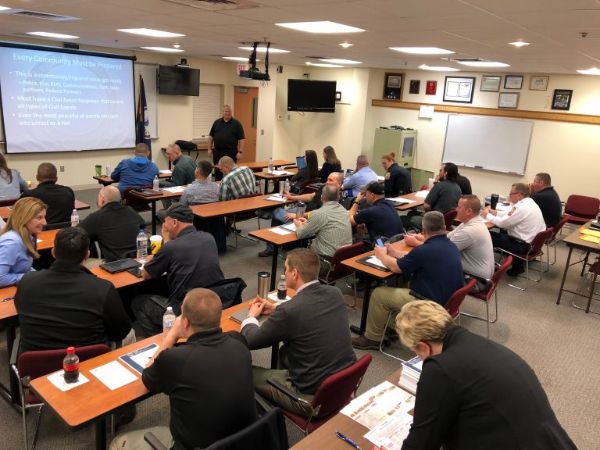 Jack Ryan with the Legal & Liability Risk Management Institute speaks at the Demonstrations, Protests and Crowd Control training
VMLIP hosted a two-day Emerging Legal Trends and Liability Management for Tactical, S.W.A.T. and Emergency Response Operations course in Blacksburg, VA in October. Participants were presented with legal cases that impact tactical operations and ultimately, liability, as well as with policy issues that should be considered for implementation. The training also focused on practical implementation of these issues while maintaining tactical operations and officer safety.
VMLIP hosted five Dangerous Crossroads Ahead trainings throughout the state, providing guidance to officers who encounter citizens asserting First and Fourth Amendment Rights. The four-hour course examined the crossroads where these two constitutional principles intersect and provided practical tips for addressing citizens who may be legitimately exercising constitutional rights, and others who are actively trying to bait officers into overreaction.
VMLIP launched a Deer Strike Prevention pilot program with the New Kent County Sheriff's Office.
Workers' Compensation Claims Updates:
Medical Bill Review Savings: Utilizing bill review services, VMLIP saw a net medical review savings of more than $4.1 million in the 2017-2018 fiscal year, representing a 31 percent savings from provider charges.
CompCare On-Call became the new VMLIP nurse triage and claims reporting service in late 2018. Previously, NT24 provided services. Total savings through these services in 2018 totaled more than $700,000. Totals have increased as CompCare On-Call includes additional scenarios where an injured worker chose to treat with a panel physician rather than emergency room, or those who chose to treat with self-care rather than a panel physician. Nearly 3,000 claims were reported through NT24/CompCare On-Call this year, an increase of 9 percent.
Pharmacy Management: To increase medical savings, VMLIP encourages the use of generic vs. brand drugs.This year, 84 percent of workers' compensation prescriptions were for generic drugs, with 16 percent for brand.
First-Fill Prescription Program: Net pharmacy savings through this program were more than $770,000, representing a 56 percent savings from pharmacy charges. 78 VMLIP members participate in the First-Fill Prescription Program.
Diagnostic Services: VMLIP's net diagnostic savings totaled nearly $63,000, representing a 40 percent savings from provider charges.
Physical Therapy Services: VMLIP's net outpatient rehabilitation cost totaled nearly $450,000 representing a 53 percent savings from provider charges.
Subrogation
VMLIP subrogation recovery totaled $1,485,757 for members.
Property and Liability Claims Updates:
VMLIP issued payments of almost $250,000 to Nottoway County for damages to a county-owned bowling alley caused by a reckless driver's vehicle. The vehicle entered the facility on the left side of the property causing extensive damage to both the exterior and interior. VMLIP took immediate steps in cooperation with the county to engage contractors and other resources to effect temporary repairs until full repair work could be completed. The initial payment was issued and hand delivered within weeks of the loss. Efforts are now ongoing to pursue recovery of the paid loss from the responsible party.
VMLIP issued payments of just under $200,000 to Suffolk City Schools for damages to the cafeteria and gymnasium areas resulting from burst water pipes. Two water pipes were frozen due to severe winter weather, which subsequently burst, causing significant water damage.  Clean up and remediation efforts were coordinated with the member and payments totaling almost $200,000 were issued to cover the loss related costs.
In 2018, VMLIP experienced a higher than average number of catastrophic weather related events. These resulted in four separate catastrophic widespread claims. The four events included: a January freeze, resulting in potential loss exposure of more than $900,000 involving nine members; a wind event which resulted in claims with potential costs of more than $2 million for 24 members statewide; and two separate flood events which resulted in exposure estimated at nearly $1 million for 19 members.
The Property and Liability department said farewell to one of our most tenured employees – Scott Martin – who retired after providing more than 18 years of superior service to our members. Two new employees have since joined the department – Alonzo Brooks and Gail McWilliams.
Based on feedback from members, the department evaluated current processes and procedures for handling claims for losses which involve damages to members' own vehicles. The change made eases the burden on members for submitting information on repairs needed to adjust the claim, resulting in a more streamlined and convenient process and settlement of losses.
---

Coverage Enhancements
Several policy coverage enhancements were provided to members this year, including:
An increase in the cyber coverage shared pool aggregate from $5M to $10M
An increase in the Cyber Forensic Expense coverage from $50,000 to $100,000
An increase in the Cyber Dependent Business Interruption Limit from $150,000 to $500,000
VMLIP added Telecommunications Fraud coverage under cyber, with a $50,000 sublimit
VMLIP increased Grievance Procedure coverage for those purchasing Local Government Liability coverage from $2,500 to $10,000