According to the National Bullying Prevention Center, more than one out of every five students has reported being bullied. Most often, bullying behavior includes being made fun of or called names; however, 12 percent of those reporting indicated being the subject of rumors, five percent were physically bullied, and five percent were excluded from activities.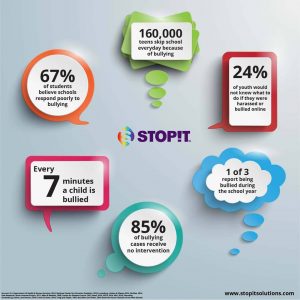 This doesn't take into account cyber bullying, prevalent among 15.5 percent of high school students and 24 percent of middle school students. In fact, cyber bullying has nearly doubled, from 18 to 34 percent, from 2007 – 2016.
The results of bullying are myriad but can include low self-esteem, isolation, poor performance in school, physical symptoms such as headaches or problems sleeping, as well as an increased risk of suicide or attempted suicide.  In fact, 160,000 teens skip school every year because of bullying.
Early intervention and action can go a long way toward preventing or mitigating claims.
VML Insurance Programs (VMLIP) is currently defending a claim against a school system alleging the school failed to properly exercise supervision during an incident of bullying.
A proactive approach to mitigating bullying behavior and subsequent risk exposure is key.
STOPit
VML Insurance Programs (VMLIP) has partnered with STOPit to offer members access to an application designed to deter inappropriate behaviors at school.
STOPit is a mobile and web application that provides a safe and 100 percent anonymous way for students to share bullying and other issues with school administrators so that help can be provided as quickly and efficiently as possible. It works in real-time, so that administrators can be notified of an issue as it is taking place.
Students have most often used the platform to report: bullying/cyberbullying; inappropriate student/teacher relationships; violence/threats; hazing; weapons possession; drugs/alcohol; substance abuse; and intolerance and discrimination.
"STOPit is a proven and powerful deterrent," said STOPit Senior Account Executive Jeff Schobel. "STOPit schools see a minimum of a 50 percent reduction of reported incidents within the first year – students think twice about exhibiting bad behaviors because they know that anyone, without them knowing whom, can report them. Fewer incidents translates to less work for schools so they can focus on educating."
A STOPit School said "STOPit allows us to have 1,200 pairs of eyes looking out for students, not just the eyes of teachers and administrators," Quote from a superintendent
Administrators utilizing the STOPit system have access to investigative tools such as real-time alerts, built-in reports, and the ability to communicate directly with those reporting an incident in a safe and secure messaging platform. STOPit messenger allows for two-way communication in real time, allowing issues to be resolved quickly, and decreases the amount of time involved in the investigate process.
Additionally, the STOPit Solution captures valuable metadata by type, such as cases of harassment, intimidation, bullying, and more to help predict if it may lead to a claim.
Costs & Grant Assistance
VMLIP will be setting aside $50,000 in Risk Management Grant funding specifically for schools requesting funds to implement the STOPit campaign. For each school system utilizing grant funds for this program, the funds will be made available for this purpose only once.
VMLIP has negotiated a reduced rate for members wishing to obtain STOPit licenses. When budgeting, take into account the number of students who may be downloading and utilizing the STOPit application.

How to Start
 Learn more and get started with STOPit here.
For members interested in learning more about the STOPit application, Schobel will schedule a 20-minute personalized web demonstration so you can see it in action, ask questions, and learn about the thousands of schools implementing STOPit. Click here to request a demonstration or call (908) 748-4513.
The application can be launched for all schools in your district or selected schools. Once you decide to move forward, the STOPit team will assist you with launching the program in your schools by providing collateral materials to introduce the program to students, staff, and administration.

If you would like to utilize grant funds to pay for the implementation, simply follow the online grant application process on the VMLIP website. Once your grant is approved, make payment to STOPit, submit your receipt to VMLIP and await your grant award.
For more information about the STOPit program, contact your member services representative at (800) 963-6800.