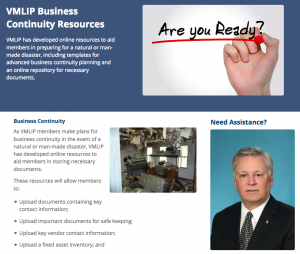 VMLIP has developed online resources to aid members in preparing for a natural or man-made disaster, including templates for advanced business continuity planning and an online repository for necessary documents.
These resources will allow members to:
Upload documents containing key contact information;
Upload important documents for safe keeping;
Upload key vendor contact information;
Upload a fixed asset inventory; and
Peruse various sample policies, forms, documents and resources including a continuity of operations plan template, preparedness evaluation forms, and weather-specific checklists to assist with preparation for tomorrow.
The new repository can be used to upload materials previously uploaded to the myAgility website. Effective December 31, VMLIP is no longer providing access to Agility Recovery Services to members.
"Agility is a fine company, however, not enough membership took advantage of the offering to justify the continued expense," said VMLIP Managing Director Steve Craig.
The new online repository can be accessed here, and also includes a sampling of business continuity resources that can be downloaded by members.
Access Business Continuity Resources