Recently VML Insurance Programs (VMLIP) released a survey asking members what things they feel VMLIP does well, and what things could be improved upon.
Results from the survey were encouraging, and this article will serve as OUR response to our members responses, providing information and answers to address items brought up in the survey.
Among the positive responses received were:
"Customer service is outstanding."
"Great training and resources for all lines of coverage that are offered."
"Employees are very professional to work with, claims are handled excellently and insurance coverage is great."
"Webinars are an excellent source of training."
General
1) Archive all webinars that are offered. Recorded webinars are offered on the VMLIP website and are organized by coverage line – such as workers' compensation, law enforcement, property and liability, and public official's liability.
Underwriting
2) The renewal process is a bit fragmented – it would be nice if we could work with one person rather than receiving emails from different people. Each VMLIP member is assigned to one underwriter. However, if your entity's underwriter is out of the office or unavailable, another underwriter will usually address the questions or concerns expressed in order to expedite the response. When mailings go out to all members, such as during renewal, they will come from your entity's assigned underwriter or from the director of underwriting.
Workers' Compensation
3) On two occasions the provider on the First Fill Prescription program was not familiar with the program, and employees paid for their medicine. Updating providers on this program would be helpful.

With VMLIP's Workers' Compensation First Fill Prescription Program, injured employees are provided a seven to 10 day supply of medication at no cost, preventing out of pocket expenses for injured workers and the transfer of work comp costs to group health.  After using a first fill form employees are automatically enrolled to receive future medication at no cost for their work related injury; the pharmacy will direct bill VMLIP.  If a claim is denied, there is no financial consequence to injured employees or our members for the first fill.
The pharmacy network is extensive and includes small local pharmacies as well as all major chains (Walgreens, Rite Aid, CVS, Wal-Mart, Target, etc).  Information regarding the First Fill Pharmacy Program as well as a first fill card/form is available on our website under "My WC Resources."  For additional information feel free to contact your workers' compensation claim representatives or contact Robin Duvall, Director of WC Claims at (800) 963-6800.
4) Getting the word out of what is covered by workers' compensation and what is not. Unlike other insurance coverage such as automobile, general liability, or property coverage that lists what is covered and what is excluded – workers' compensation coverage is based on the Virginia Workers' Compensation Act. Since compensability and coverage decisions are based on the law, absolute answers are impossible to provide. Each case must be reviewed individually based on the specific facts involved to make a compensability and coverage determination.
VMLIP has information available to educate our members and their employees on what is considered when determining compensability and coverage. For example the What Employees Need to Know (WENK) guide, the Workers' Compensation Guide for Employers, and other worker compensation bulletins, such as Who is Covered Under Your WC Policy may provide additional information on workers' compensation.  For additional information feel free to contact your workers' compensation claim representatives or contact Robin Duvall, Director of WC Claims at (800) 963-6800.
Property and Liability Claims
5) Improve or completely revamp the automobile entry/data maintenance module. VMLIP is currently in the process of implementing a new portal system which will enhance our website reporting/scheduling capabilities.
6) It would be great to get an automatic e-mail when a claim is closed, either with our without payment. We can check the status of claims, however automatic notification would be nice. This is an idea VMLIP is currently considering. If it is implemented, communications will be sent to all members notifying them of this update.
7) Under coverages, I feel that information could be better. We have seen spreadsheets with incorrect information and this seems to happen each year. VMLIP has an automated system, and while it is possible for information to be entered incorrectly, the use of our new portal system should make it easier for members to supply information which will feed directly into our policy system. This should lessen data entry errors.
Safety Services
8) Any help VMLIP can provide based on our claims history would be great. If you see that we are having problems with car accidents or sewer backups, our representative could contact us to discuss these issues and see if there is some policy issue that we need to address. VMLIP consultants routinely review loss information and address any identified trends when visiting with member contacts. Depending on the frequency of visits, trends may or not present themselves at that time, but can always be discussed upon request.
Numerous resources are available for members who are monitoring their own loss trends using the Access Loss Information tab found under My Claims on the member home page. Resources on program and policy development can be accessed through our bulletins and through modules available in the VMLIP Multimedia Library.
9) More online training would be great, along with more OSHA required training classes and webinars. Online training is available 24/7/365 through the VMLIP Online University.  There are currently more than 60 courses available. For specific OSHA training, classes are available through the university, by accessing future and recorded webinars, and by attending regional training classes.  Check out the training calendar for upcoming course offerings.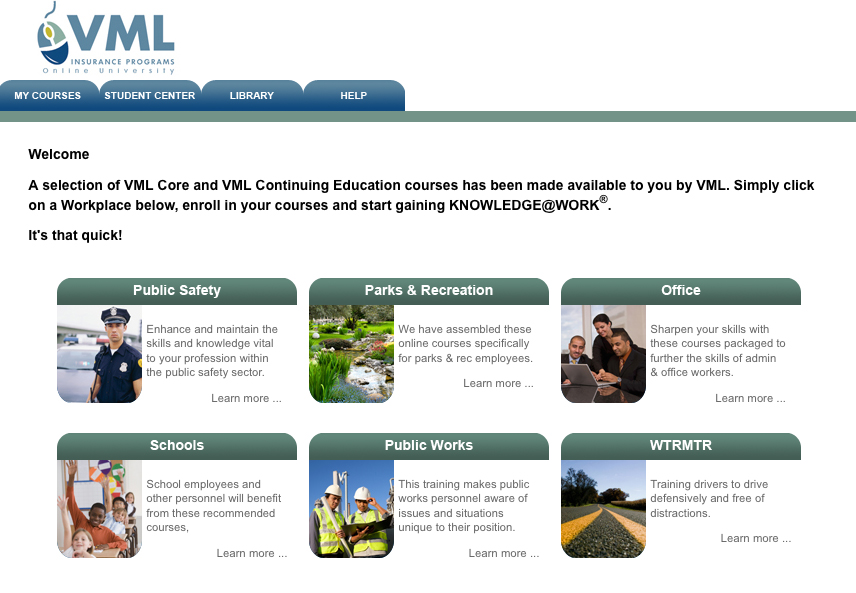 And if your entity staff have NEVER used the university before, now is the BEST TIME to start. Enroll in and achieve a score of 80% or better between November 1 and December 31, 2013 and each student will be entered to win a $20 gift card!! Learn more here.

10) Visits by VMLIP staff to inspect are not all that productive or beneficial. Offering better consultation services by phone or online would be helpful, as well as sending out more frequent periodic bulletins, advisories, etc. about safety matters. On site inspections are beneficial even if no violations are found.  These visits provide an opportunity for safety consultants to become familiar with your operations and facilities, while allowing them time to get to know their member contacts.  If you find that site visits are no longer productive, please feel free to decline a visit when the consultant calls to schedule an appointment.  Be sure to have your Risk Management Guideline Assessment up to date so the consultant knows you are on track with your risk management programs and policies.
VMLIP utilizes a variety of communications channels to alert members about seasonal safety risk management best practices. These include website touts and announcements, rotating images at the top of the VMLIP website, blog posts, Twitter and Facebook updates, and e-mail blasts. Be sure to sign up for the delivery of our blog via e-mail so that you are sure to hear the latest news as it occurs.
11) Develop lessons plans and PowerPoint programs for the most common workplace safety tips. There are currently 29 modules on the most popular and OSHA required safety topics that include PowerPoint slides, sample programs, student handouts, and reference materials on that topic.  Many of these have lesson plans, and those that do not are being developed. These modules can be accessed through the VMLIP Multimedia Library and are yours to keep.
Member Services
12) This is our first year with liability insurance through VMLIP and we had no idea how to file the claims and what was needed to file them. Perhaps going through these procedures with new members would be helpful. Whenever a new member joins our program or adds lines of coverage, their member services representative makes contact to set up a visit. During the initial phone call, your member contact will go over what is needed to report a claim and how to register to use our website. If you do not receive a phone call from member services please call to speak to your representative at 1 (800) 963-6800.
13) We would like an annual visit, if feasible. Each year member services staff visit each of our more than 460 members at least once. However, there are a few (less than 20) where the visit is over the phone – and this is usually to very small members who have arranged the visit this way by request. If you do not receive a phone call from member services please ensure that you are listed as the appropriate person to meet with by calling to speak to your representative at 1 (800) 963-6800.
VMLIP offers more than just coverage.  We are partners in risk management. How does your insurer stack up?  Having all lines of coverage with VMLIP ensures that your organization is receiving comprehensive coverage and a wide variety of value-added services tailored to Virginia's local governmental entities.  Call for a quote today: (800) 963-6800.  For more information on VMLIP visit: www.vrsa.us or follow us on Facebook.
** VMLIP blog postings are offered for VMLIP members to utilize in strengthening their risk management efforts.  See copyright information for clarification on sharing this information.