Members purchasing Law Enforcement Liability coverage now have access to the VMLIP Law Enforcement Academy, designed to provide online training specifically with law enforcement officers in mind.

VML Insurance Programs (VMLIP) has partnered with LocalGovU, a division of Praetorian Group, Inc., provided in association with PoliceOne.com, FireRescue1.com, EMS1.com, and CorrectionsOne.com to launch the VMLIP Law Enforcement Academy.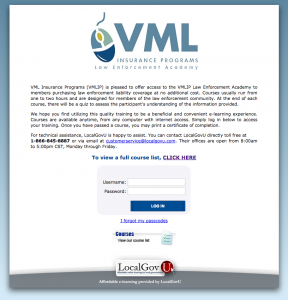 Online Learning
Virginia recognizes these courses as ongoing training for law enforcement, and accreditation for the training can be provided based on local law enforcement academy approval.
"VMLIP has offered online training for many years, but we wanted to expand that into something tailored specifically for our law enforcement members," said Thomas Bullock, law enforcement specialist with VMLIP. "We have selected a number of courses relevant to requests we are receiving from our law enforcement members."
Courses available include: Ethics in Law Enforcement, Constitutional Policing, Use of Force, Officer Liability, and more, as well as various series on topics such as leadership and communication.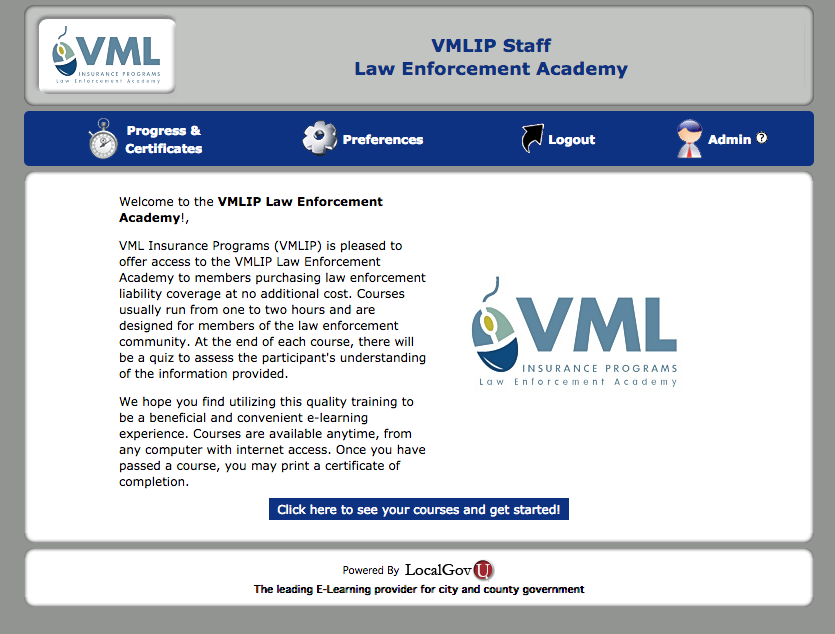 VMLIP Law Enforcement Academy courses
Courses run from one to two hours and are followed by a quiz to assess the participant's understanding of the information provided. Officers can take courses online 24/7/365, and each course concludes with a certificate of completion.
VMLIP law enforcement contacts will be receiving additional information on how to login and start learning via e-mail soon. For more information, contact Thomas Bullock.