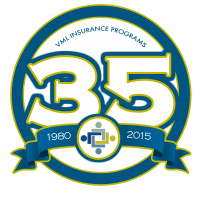 It's been a great year to be a member of VML Insurance Programs! In our 35th year as Virginia's local government specialists, these were the highlights!
Awards: In 2015, VMLIP was recognized three times!
Association of Governmental Risk Pools (AGRiP) 2015 Award for Excellence in Performance – for the Where the Rubber Meets the Road (WTRMTR) defensive driving campaign – read more here.
The Richmond CPCU Society's Company of the Year Award for encouraging continuing education initiatives such as the participation of pool employees in the CPCU and The Institute's programs.
The Government Finance Officers Association's Certificate of Achievement for Excellence in Financial Reporting
Underwriting:
Renewal rates for the 2015 – 2016 year were down dramatically. Property and liability coverage rates were down 11.85 percent while workers' compensation rates decreased by 1.5 percent.
The VMLIP Member Portal implementation was completed with certificates of insurance now available for viewing online. The portal now also includes renewal questionnaires personalized by member and coverage type, automobile cards available by line, and the ability to make contact changes online.
VMLIP continued to lead the way in offering coverages designed to the unique needs of Virginia's local governments by adding School Tablet Coverage to include lost or damaged student tablets or laptops.
Underwriting increased the Automatic Extra Expense limit from $500,000 to $1,000,000 and increased the Automatic Newly Acquired Property limit from $1 to $5 million.
Claims:
VMLIP closed the largest claim in the pool's history in 2015. Gloucester County's Page Middle School was destroyed in a 2011 tornado. A new building opened on Sept. 4, 2015 as VMLIP delivered the final check on this claim that totaled more than $11 million. Learn more here.
83 percent of workers' compensation claims were reported through NT24, an increase of 8 percent from prior years.
VMLIP's pharmacy management partner, Modern Medical, authorizes only generic drugs unless otherwise prescribed by the treating physician. This year more than 80 percent of prescriptions filled by injured employees were filled with generic drugs.
Including the savings achieved through generic drug usage, a total of more than $4.5 million was saved in workers' compensation medical costs this year through programs such as medical bill review, NT24, and diagnostic and physical therapy services.
Specialized Consulting: VMLIP's human resources, law enforcement, and communications consulting services continued to expand.
A new "Helpful Links" section was added to My HR Services online, providing links to articles, booklets, guides and more on a variety of topics from transgender employment issues to accommodating staff with disabilities.
Need help with strategic communications planning? VMLIP's director of communications provided training in this topic in-person and through recorded webinars. Access the presentation here.
Our law enforcement specialist provided numerous trainings in-person and online on topics such as Improving Responses to Emotionally Disturbed Persons, Identification and Prevention of In-Custody Deaths, Workplace Violence, and more. Access presentations here.
Focus on Staff Development: To continue providing members with the best in service and partnership, the pool continues to focus on staff development. Staff members earning accreditation or designations this year include:
Lisa Davis – Associates in Insurance Accounting and Finance (AIAF)
Hollie Cammarasana – Accredited in Public Relations (APR)
Crystal Griffin – Associate in Underwriting (AU)
Marcus Hensel – Associate in Reinsurance (ARe)
Cathie Moreland-Hasty, Associate in Risk Management for Public Entities (ARM-P)
Wendy Rice – Associate in Claims (AIC)
Tina Stevens – SHRM Senior Certified Professional (SHRM-SCP)
Focus on Safety:
The VMLIP Online University upgraded to a content management system – providing member administrators with tools to track and assign training to employees. Additionally, more than 70 new courses were added.
In addition to receiving the AGRiP Excellence in Performance Award, the WTRMTR campaign added 15 new member entities.
The Risk Management Grant program has been revised to expand the application period for each grant cycle. Additionally, grants applications are now reviewed by committee before eligibility decisions are made.
Two driving simulators were purchased. The simulators will be used with WTRMTR training and to provide training opportunities for law enforcement drivers.
VMLIP offers more than just coverage.  We are partners in risk management. How does your insurer stack up?  Having all lines of coverage with VMLIP ensures that your organization is receiving comprehensive coverage and a wide variety of value-added services tailored to Virginia's local governmental entities.  Call for a quote today: (800) 963-6800. For more information on VMLIP visit: www.vrsa.us or follow us on Facebook.
** VMLIP blog postings are offered for VMLIP members to utilize in strengthening their risk management efforts. See copyright information for clarification on sharing this information.