This year the Southeastern Public Service Authority was awarded the Margaret A. Nichols Risk Management Leadership Awards at the 2017 Annual Meeting held Friday, May 12 at The Place at Innsbrook.
Additionally, VML Insurance Programs (VMLIP) awarded the Central Shenandoah Criminal Justice Academy, the Town of Hillsville, the Town of Smithfield, and the Richmond Ambulance Authority with Risk Management Performance Awards, and awarded four individual Risk Management Excellence Awards.
Risk management award recipients must demonstrate a proactive risk management attitude and commitment; excellent loss experience and reporting time; or a significant improvement in their loss ratios to be considered for the award.
This year's award winners were:
Southeastern Public Service Authority – Margaret A. Nichols Risk Management Leadership Award
The Margaret A. Nichols Risk Management Leadership Award is presented each year to recognize and encourage innovation in risk management by members of the pool. The award is named in honor of Margie Nichols, longtime administrator of VMLIP who passed away in 2002.
"The authority is focused on risk management as seen by their 100 percent score on the Risk Management Guidelines assessment," said VMLIP Director of Member Services Jeff Cole. "They have actively utilized VMLIP grant funds, they utilize light duty, they participate in many VMLIP training events and safety classes, and have been active in the Where the Rubber Meets the Road campaign."
Additionally, the authority was recognized for being one of the first members to sign up for the SiteHawk Safety Data Sheet management program.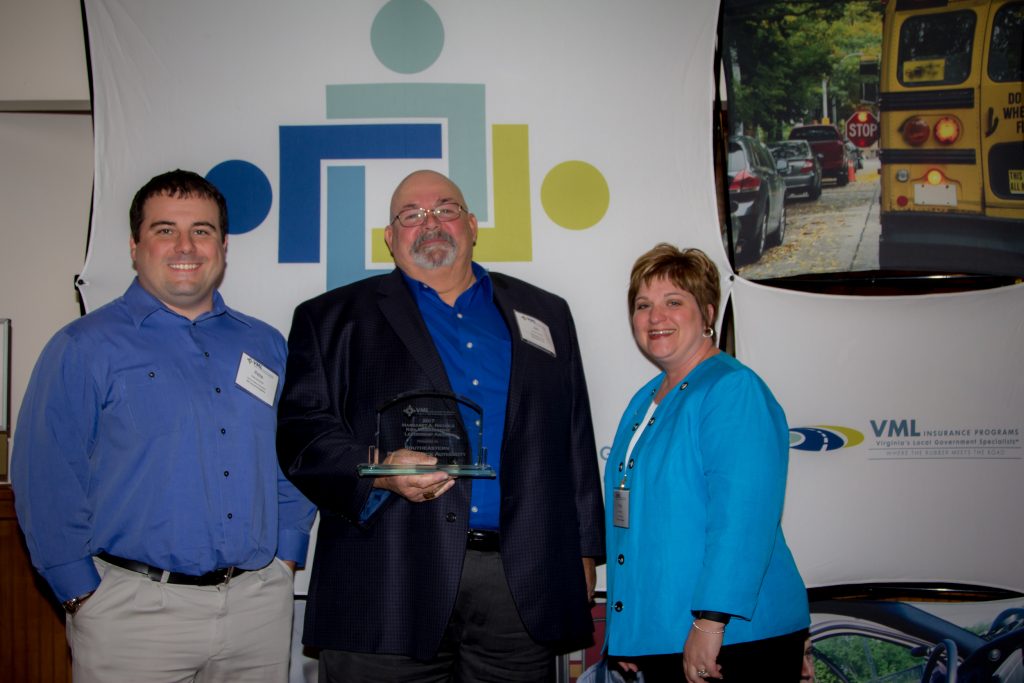 Central Shenandoah Criminal Justice Academy, 2017 Risk Management Performance Award
"The academy has a five-year loss ratio of less than 1 percent, a 100 percent Risk Management Guidelines Assessment score, and reports their workers' compensation claims utilizing NT24," said Cole. "They work with our Law Enforcement Specialist Thomas Bullock to develop and implement risk management best practices, such as implementing changes during the defensive tactics portion of training to reduce injuries."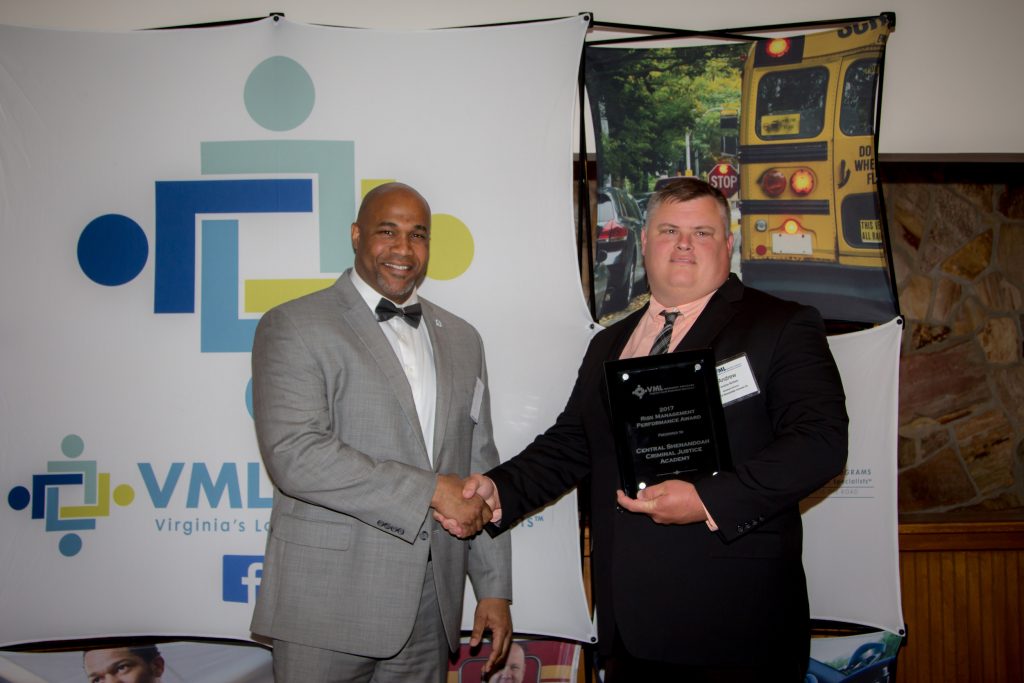 The Town of Hillsville, 2017 Risk Management Performance Award
"With a loss ratio of just 15 percent and a  100 percent score on their Risk Management Guidelines assessment, the Town of Hillsville also utilizes a return to work program for their injured workers, regularly contacts VMLIP staff for assistance and utilizes VMLIP resources such as the multimedia library to conduct training for the town," said Cole. "They also have an active safety committee that responds quickly to address recommendations made by VMLIP."
Representatives from the town could not attend the meeting and will be receiving their award from VMLIP Senior Account Executive Lisa Schenk.
Town of Smithfield, 2017 Risk Management Performance Award
"The town is an active member of VMLIP with Town Manager Peter Stephenson serving on the VMLIP Members' Supervisory Board," said Cole. "To that end, they have achieved a 100 percent score on the Risk Management Guideliens assessment, are participants in the Where the Rubber Meets the Road campaign, and report their claims timely and online."
"They offer light duty for injured workers, and have a structured safety committee that meets monthly – with support and attendance from Stephenson. They have had VMLIP safety staff review their safety policies several times, and have invited staff to speak at their town-side safety training day."
The town was also recognized for having accredited police and public works department – two significant achievements for a town of their size that exemplifies their commitment to quality and safety.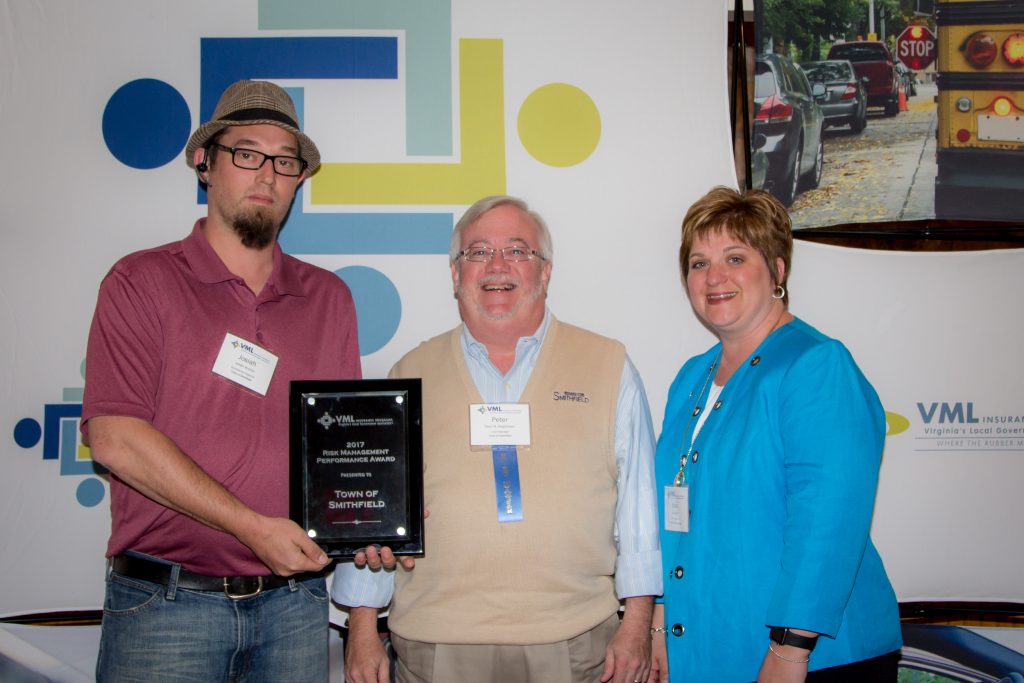 Richmond Ambulance Authority, 2017 Risk Management Performance Award
"The authority is one of a few members who has developed their MyAgility profile with VMLIP's business continuity service provider Agility Recovery. By completing this profile, the authority has specified the resources they would need to recover from a business interruption," said Cole. "Additionally, they have the ability to create an internal communications plan along with key-contacts and a built-in alert notification system, upload and maintain important documents for safekeeping, and gain access to planning resources including a continuity of operations plan template."
"All of these items are crucial to maintaining continuity of operations should the authority experience a business interruption."
The authority was also recognized for their training program for structured operators that includes a mandatory two-week training course for all newly hired operators.
"The authority is making safety and risk management a top priority and for that, we applaud them," said Cole.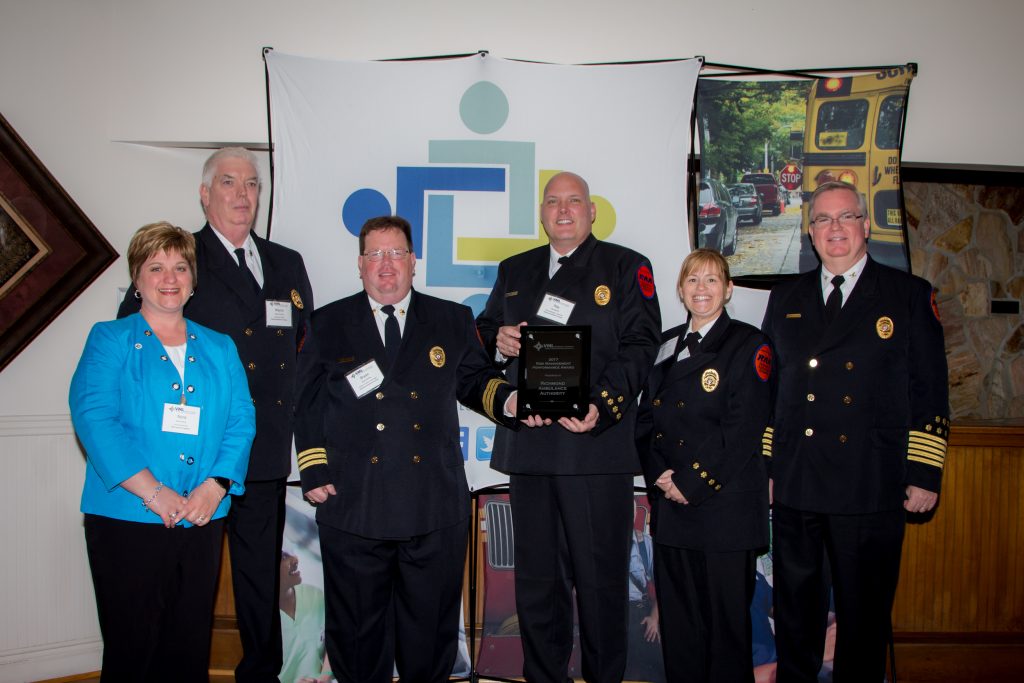 Bethany Shamblin, Bedford Regional Water Authority, 2017 Risk Management Excellence Award
"Bethany serves as the authority's human resources manager – but her role has expanded far beyond that. She has been the driving force in improving the safety culture at the authority," said Cole.
"For example, several years ago the authority inherited property from another entity – which was in dire need of repair in order to be utilized adequately and safely by the authority," continued Cole. "She reached out to VMLIP's safety staff to work with her on identifying problems and led the effort to correct them in order to create a safer environment for authority employees."
"Aiding her in this endeavor was the support and encouragement of the executive director of the authority – which is a leading factor in the success of an organizations' risk management program."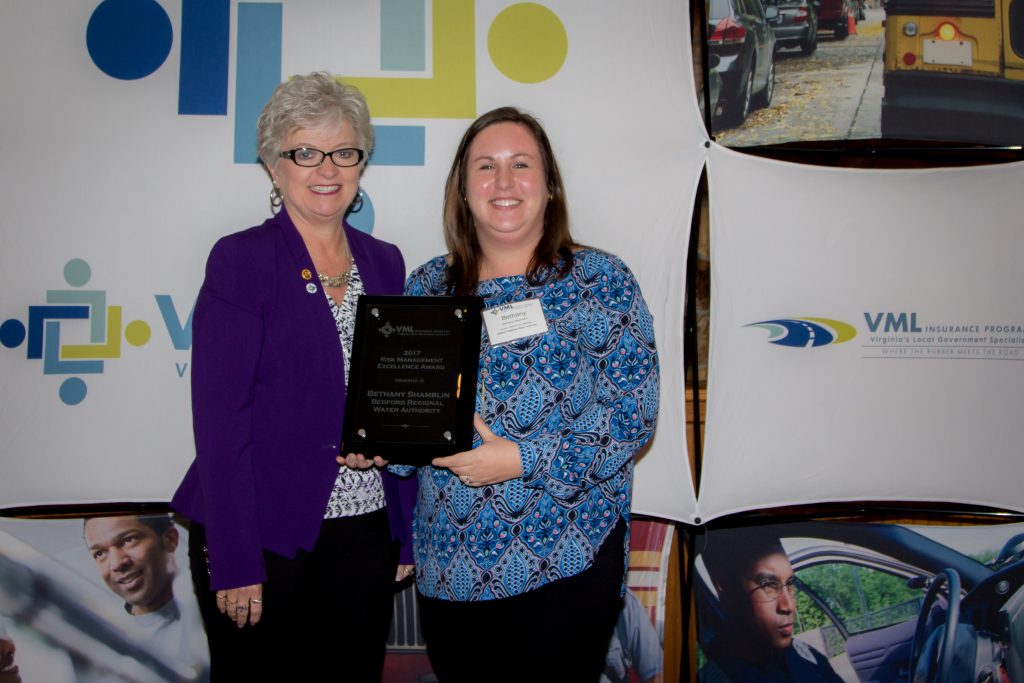 Bonita Vaughan, Richmond Redevelopment and Housing Authority, 2017 Risk Management Excellence Award
"Bonita's work has been instrumental in bringing the authority's high loss ratio down to under 30 percent for the last three years," said Cole. "Due to Bonita's efforts, policies have been developed, training has become the norm, and management from the top level down is committed to ensuring the authority is safe and productive."
"While no effort can succeed without a team effort, Bonita has certainly been the driving force in the remarkable turnaround of the RRHA. Congratulations Bonita."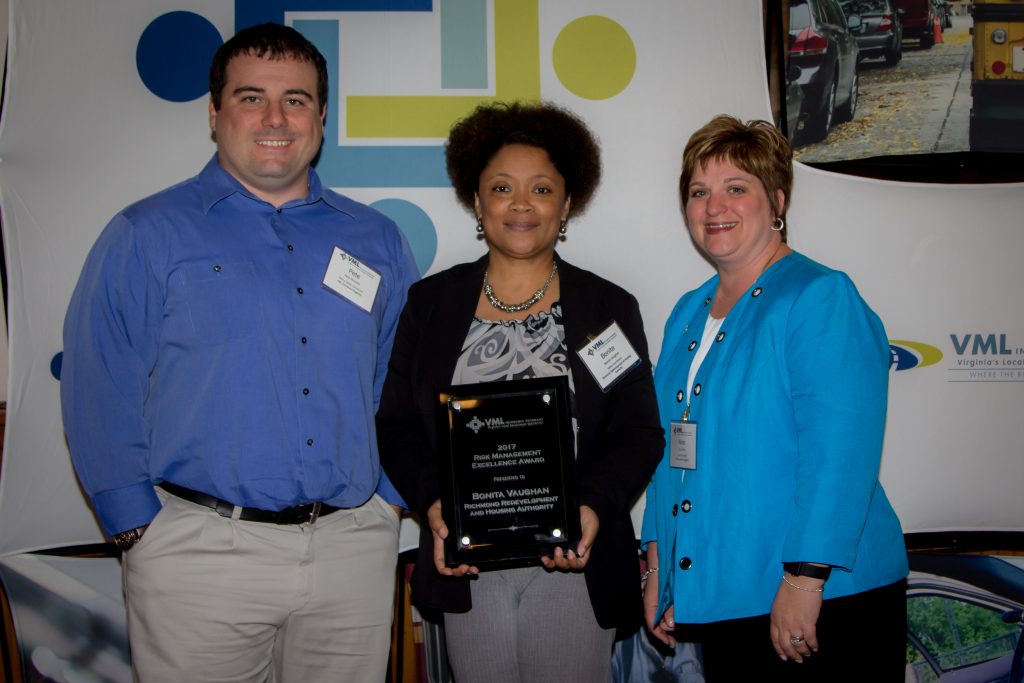 Emily Shifflett, Albemarle County Service Authority, 2017 Risk Management Excellence Award
"Emily is proactive in her safety efforts with the authority. Since she began, she has put a lot of time and effort into rewriting the safety manual and operating procedures," said Cole. "She has also revived the safety committee which has also been instrumental in some of the policy changes that resulted.  None of this would be possible without the support of top management."
"Emily actively attends many VMLIP workshops and brings back information to share in improving the authority's policies and practices. She also participates in online learning through the VMLIP Online University, attends VMLIP webinars, and recently attended the Wastewater Authorities forums hosted by VMLIP."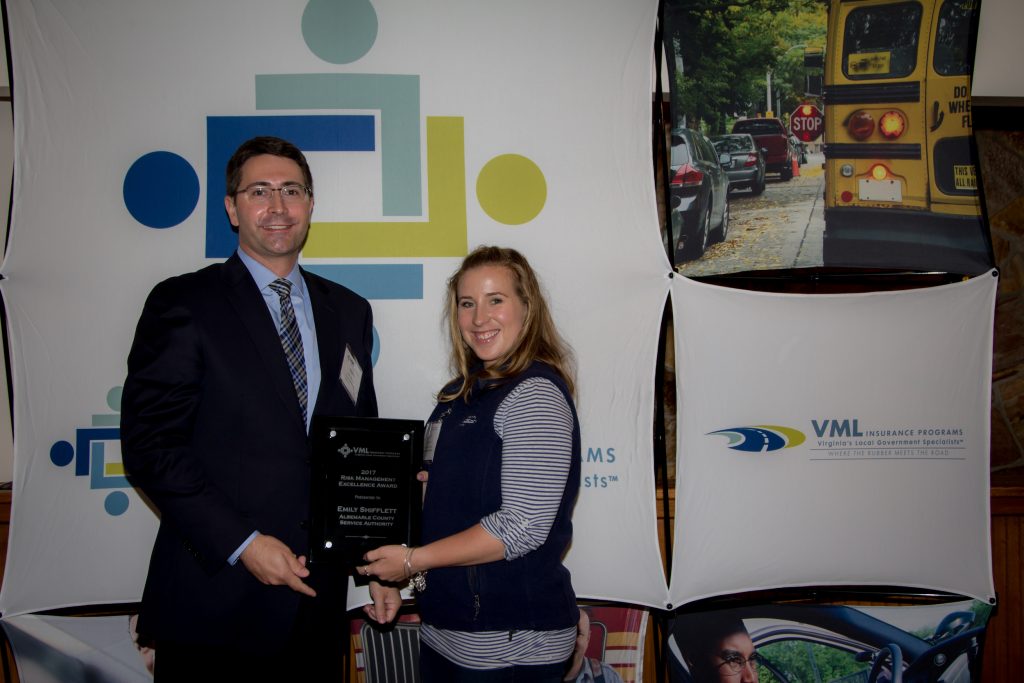 Jennifer Carpenter, City of Colonial Heights, 2017 Risk Management Excellence Award
"Jennifer is actively involved in the city's workers' compensation program. She has posted VMLIP's What Employees Need to Know, or WENK documents, on the city's intranet so that all injured employees can access this information easily," said Cole.
"She has worked to ensure that injured employees receive light duty accommodations, including police and fire, and she regularly meets with injured employees and ensures that work status reports are given to the employee's supervisor, that physical therapy can be taken around their work schedule, and that VMLIP is updated."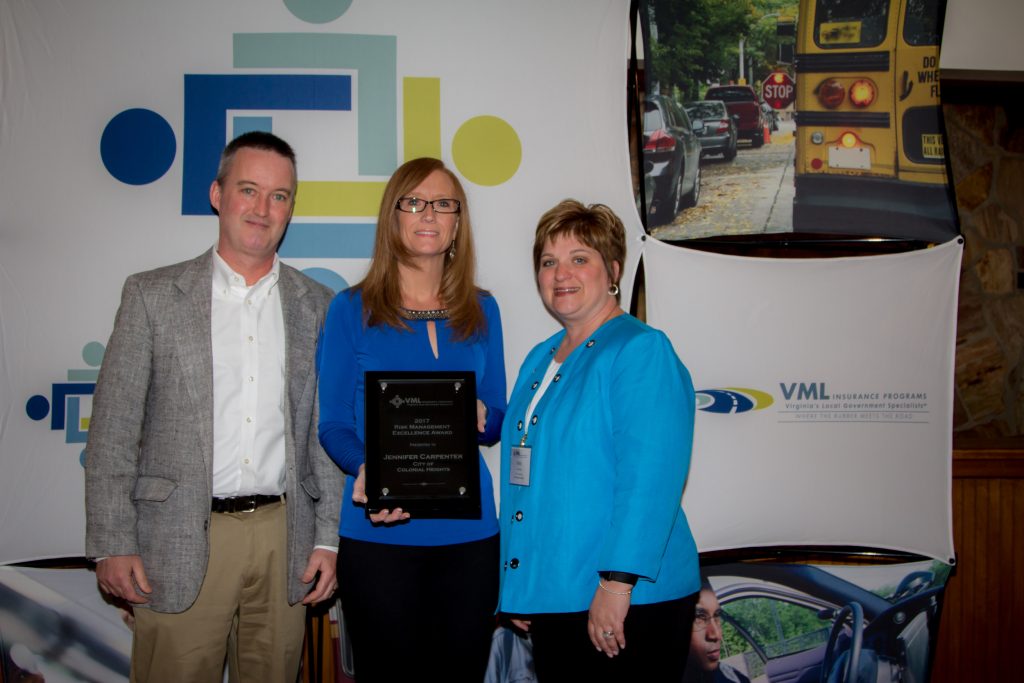 In addition to the awards ceremony, workshop speakers presented on a number of topics including: Autonomous Vehicles: Impact on Local Governments; Member Panel – Forming a Peer Group; Surveillance in Workers' Compensation; and a tour of the redesigned VMLIP website.
The luncheon featured a selection of cupcakes from Frostings Bakery, complete with logos of award winners.