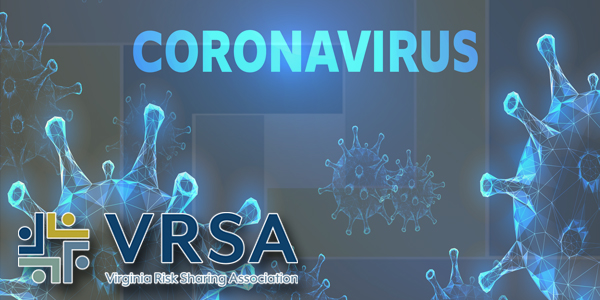 Updated 1/19/2021
VRSA has prepared a Pandemic Preparation page to aggregate resources and information for members to use in responding to COVID-19.
HR Resources
The CDC has released Interim Guidance for Businesses and Employers to Plan and Respond to Coronavirus Disease 2019 (COVID-19), designed to help "prevent workplace exposures to acute respiratory illnesses, including COVID-19, in non-healthcare settings."
The CDC recommends:
That in order to prevent stigma and discrimination in the workplace, use only the guidance described here to determine the risk of COVID-19.
To not make determinations of risk based on race or country of origin, and be sure to maintain confidentiality of people with confirmed COVID-19.
To actively encourage sick employees to stay home.

To emphasize respiratory etiquette and hand hygiene by all employees.

To perform routine environmental cleaning.
To advise employees before traveling to take certain steps.
To encourage employees who are well, but have a sick family member at home, to notify their supervisor.
If an employee is confirmed to have contracted Coronavirus (COVID-19), employers should inform fellow employees of their possible exposure in the workplace, but maintain confidentiality as required by the Americans with Disabilities Act (ADA). Read the CDC guidance here.
The U.S. Equal Employment Opportunity Commission (EEOC) has issued guidance on Pandemic Preparedness in the Workplace and the Americans With Disabilities Act. Questions addressed in this document include:
How much information may an employer request from an employee who calls in sick, in order to protect the rest of its workforce when an influenza pandemic appears imminent?
When may an ADA-covered employer take the body temperature of employees during a pandemic?
Does the ADA allow employers to require employees to stay home if they have symptoms of the pandemic influenza virus?
When employees return to work, does the ADA allow employers to require doctors' notes certifying their fitness for duty?
Sample ADA Compliant Pandemic Survey
Additionally, the CDC recommends employers should prepare for possible increased numbers of employee absences due to illness in employees and their family members, dismissals of early childhood programs and K-12 schools due to high levels of absenteeism or illness:
Employers should plan to monitor and respond to absenteeism at the workplace. Implement plans to continue your essential business functions in case you experience higher than usual absenteeism.
Cross-train personnel to perform essential functions so that the workplace is able to operate even if key staff members are absent.
Assess your essential functions and the reliance that others and the community have on your services or products. Be prepared to change your business practices if needed to maintain critical operations (e.g., identify alternative suppliers, prioritize customers, or temporarily suspend some of your operations if needed).
Communications Considerations
Consistent communications is key – to both internal and external stakeholders. It is important to establish a process for communicating information to stakeholders regarding your outbreak response plans and latest COVID-19 information.
Trust and Credibility Are Key:
Do not release any information that has not been thoroughly vetted. Communicate in a timely manner, address misinformation, express empathy, and reaffirm your commitment to ensuring the safety of the community and staff.
Communications Channels:
Stakeholders receive information through a variety of communications channels, including: the local news; social media; direct e-mail communications; your entity's website; and more.
To maximize receipt of your message, distribute information widely throughout as many communications channels as possible.
The Virginia Department of Health has developed a web page dedicated toward communicating about the Coronavirus. Consider developing a similar page on your entity website that you can point stakeholders to in other communications. Keep the page up-to-date with the most recent information and news.
Messaging:
Ensure your messaging is consistent and key throughout all communications. While you may not have all the answers, be prepared to address what your entity is doing to address the impact of Coronavirus (increased monitoring, education initiatives, etc.) and focus on your entity's commitment toward keeping various publics informed and safe.
Develop A Plan
The CDC encourages all employers to be ready to implement strategies to protect their workforce from COVID-19 while ensuring continuity of operations. During a COVID-19 outbreak, all sick employees should stay home and away from the workplace, respiratory etiquette and hand hygiene should be encouraged, and routine cleaning of commonly touched surfaces should be performed regularly.
Employers should:
Ensure the plan is flexible and involve your employees in developing and reviewing your plan.
Conduct a focused discussion or exercise using your plan, to find out ahead of time whether the plan has gaps or problems that need to be corrected.
Share your plan with employees and explain what human resources policies, workplace and leave flexibilities, and pay and benefits will be available to them.
Share best practices with others to improve community response efforts.
Recommendations for an Infectious Disease Outbreak Response Plan:
Identify possible work-related exposure and health risks to your employees. OSHA has more information on how to protect workers from potential exposures to COVID-19.
Review human resources policies to make sure that policies and practices are consistent with public health recommendations and are consistent with existing state and federal workplace laws (for more information on employer responsibilities, visit the Department of Labor and the Equal Employment Opportunity Commission websites).
Explore whether you can establish policies and practices, such as flexible worksites (e.g., telecommuting) and flexible work hours (e.g., staggered shifts), to increase the physical distance among employees and between employees and others if state and local health authorities recommend the use of social distancing strategies. Ensure that you have the information technology and infrastructure needed to support multiple employees who may be able to work from home.
Identify essential business functions, essential jobs or roles, and critical elements required to maintain operations. Plan for how your entity will operate if there is increasing absenteeism.
Plan to minimize exposure between employees and also between employees and the public, if public health officials call for social distancing.
In some communities, early childhood programs and K-12 schools may be dismissed, particularly if COVID-19 worsens. Determine how you will operate if absenteeism spikes from increases in sick employees, those who stay home to care for sick family members, and those who must stay home to watch their children if dismissed from school. Businesses and other employers should prepare to institute flexible workplace and leave policies for these employees.
Local conditions will influence the decisions that public health officials make regarding community-level strategies; employers should take the time now to learn about plans in place in each community where they have a business.