In 2021, public entities continued to face difficult challenges in a consistently changing landscape. Through uncertainty and change, VRSA has held firm. As the most financially sound self-insurance pool in the Commonwealth, VRSA has maintained stable rates and broad protections for our members while continuing our commitment to service. We have no plans to change our approach.
---
Claims
---
Workers' Compensation Claims Updates:
VRSA received 3,750 new workers' compensation claims – with 2,915 (78 percent) reported through CompCare On-Call. Through medical cost savings efforts, VRSA saved members more than $6.3 million.
COVID-19 Update
Since the pandemic began, VRSA has received more than 1,358 COVID-19 claims. Of those, 231 presented a positive test. VRSA has incurred more than $1.2 million in COVID-19 claims.
Property and Liability Claims Updates: 
VRSA closed 1,595 first-party claims, protecting member property through $13,716,608 in payments.
This year 135 new lawsuits were filed/defended for our members. We are currently defending 203 litigated files at a cost of $10.6 million, with reserves in excess of $16.5 million.
A total of 3,392 property and liability claims closed in 2021.  These include:
Property Claims: 462
Auto Claims (physical damage and liability): 1,877
Liability Claims: 1,053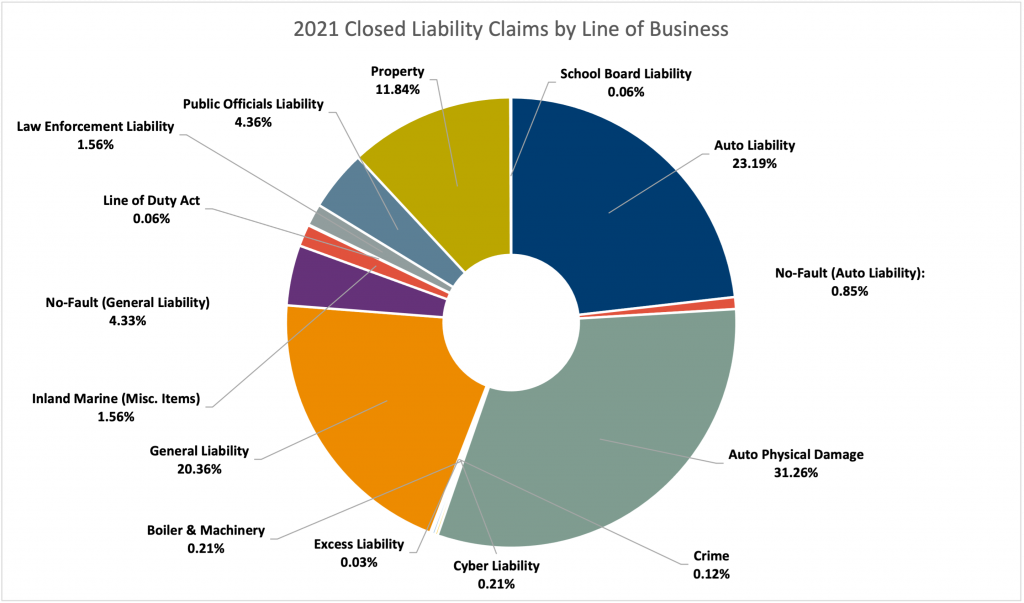 Subrogation
VRSA subrogation recovery totaled $2,623,084 for members. Subrogation represents reimbursement to VRSA for incurred costs not owed on behalf of our membership. Subrogation efforts help VRSA maintain financial strength and stable rates.
---
Education and Training
---
VRSA is dedicated toward easing members' worries and keeping them informed of changed circumstances. One way we do this is through education and training. VRSA offers a variety of in-person and online training resources, including online courses, virtual engagements, online applications, and more.
Risk services consultants hosted 57 engagements this year, attended by 1,698 member employees. These included in-person and virtual events on topics such as:
Marijuana in the Workplace: It's Complicated;
Hit Me With Your Best Shot: Mandatory COVID-19 Vaccine – Employer Considerations;
FOIA Training: The Presumption of Openness;
Why Are We Getting Sued?;
Internal Affairs, Administrative Investigations and Citizen Complaints;
Employee Mental Health – A Discussion; and more.
Virginia Occupational Safety and Health Administration (VOSH): As regulations and standards continued to change in response to COVID-19, VRSA's risk services team ensured members were provided with the most up-to-date information. This included virtual engagements on the VOSH COVID-19 Permanent Standard with more than 100 members in attendance.
Staff hosted five virtual COVID-19 member roundtables, with 103 members in attendance to discuss vaccination policies.
OSHA Reporting: More than 100 members utilized the new VRSA OSHA-300 Log, allowing them to: flag an incident as recordable/non-recordable; apply OSHA coding such as days away from work/restricted days; track incidents by OSHA departments/locations; print the OSHA log; and export information for record-keeping purposes.
Public Safety Specialist Gary Dillon coordinated member police departments in responding to the Executive Order on Safe Policing for Safe Communities, which required agencies to have policies in place to address police reform.
---
Online Training
---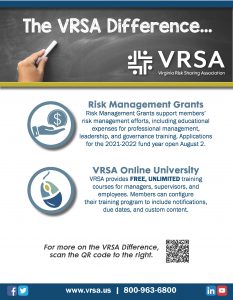 VRSA provides free, unlimited online training for member employees in the areas of public safety, public works, defensive driving, parks and recreation, human resources, schools, law enforcement, and more.
Nearly 17,000 courses were taken through the VRSA Online University in 2021. The top five courses were: 1) Sexual Harassment Prevention for Employees; 2) Bloodborne Pathogens; 3) Child Abuse Awareness and Prevention for K-12 Employees; 4) Defensive Driving; and 5) Avoiding Collisions While Backing and Parking.
More than 2,091 VRSA Public Safety Academy courses were taken by members in 2021. Top courses were: 1) Anti-Bias Training for Law Enforcement; 2) Ethics in Law Enforcement; 3) Responding to People with Mental Illness; 4) Cultural Awareness; and 5) Implicit Bias.
NEW: As claims of sexual abuse and molestation have become the most expensive category of cases for many school insurers, VRSA has partnered with Vector Solutions to provide access to the Child Sexual Abuse Prevention in Schools course series. Learn more.
HR Services
In 2021, VRSA's Director of Human Resources Services Tina Stevens conducted 10 virtual engagements with 728 attendees.
Subjects included: ADA and Mental Illness Issues in the Workplace; ABC's of HR; Documentation – Getting it Right; Supervisor Liability; Terminations, Furloughs, Layoffs & RIFs; and more.

Emerging Risk Series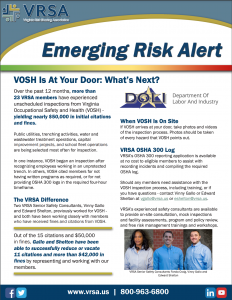 This spring VRSA launched an Emerging Risk Series, providing "Emerging Risk Alerts" on items that may have a significant impact on member operations.
Flood Mitigation, link
Marijuana Legalization in Virginia – Land Use, link
VOSH Is At Your Door: What's Next? Link
VRSA Inclusion Residency
As part of the Emerging Risk Series, the VRSA Inclusion Residency was launched in the spring featuring Dr. Robin Stacia from the Sage Consulting Network as VRSA's inclusion resident.
As claims alleging discrimination, hostile work environment, and/or misconduct in hiring, firing, promotion, or retaliation account for 43 percent of VRSA's public officials liability claims, the residency is designed to provide members with skills and tools needed to hold culturally competent conversations and mitigate this risk. Learn more.
---
Annual Report
---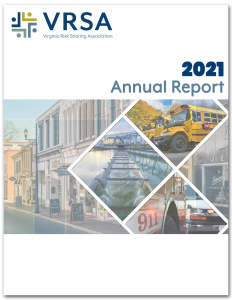 VRSA's Annual Report highlights our financial strength and commitment to service. VRSA's financial strength provides the ability to make measured rate decisions, rather than having to react to current market conditions, affording VRSA the ability to maintain stable rates year after year and deliver on our promises. Read it here.
---
Member Spotlights
---
A number of VRSA members were highlighted in spotlight videos for their risk management efforts. See some of our most popular videos below!
---
Top Blog Posts
---
---
Grants
---
To further assist members in managing their risks, this year VRSA awarded more than $400,000 in Risk Management Grant funds to 171 members, including funds earmarked for scholarships to cover professional management, leadership, and governance training.
---
Staff Updates
---
VRSA is proud of our dedicated, professional staff whose time is singularly devoted to serving our member Virginia local political subdivisions.
2021 New Staff
VRSA welcomed several new staff members in 2021!
Ryan Berberich, P&L Claims Supervisor
Na'Tasha Foxx, P&L Claims Representative
Christine Gillison, Safety Consultant
Jen Lee, Business Data Analyst
Melissa McMillian, Medical-Only Claims Representative
Emily Murphy, Business Applications Administrator
2021 Staff Promotions
Tracy Christian, Indemnity Claims Representative
Marcus Hensel, Managing Director
Rose Mayo, Senior Administrative Technician
Lora Robinson, Senior Administrative Technician
Eddie Shelton, Safety Specialist
Charmain Spain, Senior Claims Technician
Kari Soniat, Director of Analytics
Michelle White, P&L Claims Adjuster
2021 Professional Designations Earned 
Eddie Shelton, Certified Playground Safety Inspector (CPSI)
Thank you for your continued membership. VRSA looks forward to building on our spirit of always striving and constantly evolving to meet our members' needs.