The Occupational Safety and Health Administration (OSHA) has taken steps to align their Hazard Communication Standards, first issued in 1983, with the Globally Harmonized System of Classification and Labeling of Chemicals (GHS).
OSHA's Hazard Communications Standards (HCS) were developed to ensure that employers provided information about the hazards of chemicals, and associated protected measures, to their workers.  The harmonized standard will ensure that workers not only have access to labels and safety data sheets for the chemicals they work with, but that information is easier to find and understand through the use of standardized formats and label elements.  These include signal words, pictograms, and hazard and precautionary statements.
Under the HCS, multiple labels and safety data sheets were often developed for the same product when shipped to different countries.  This created a major compliance burden for chemical manufacturers and those involved in international trade, increasing the cost of providing hazard information.
What is the GHS?
The GHS provides a single set of harmonized criteria for classifying chemicals according to their health and physical hazards and specifies hazard communication elements for labeling and safety data sheets.
The GHS is not a regulation or a standard, but a set of recommendations that a competent authority such as OSHA can adopt.  The GHS is being implemented around the world in order to unify this information.  This helps to ensure the safe use of chemicals as they move through the product life cycle and around the world. 
Why modify the current Hazard Communication Standard?
OSHA's adoption of the GHS won't change the framework and scope of the current HCS, but will help ensure improved quality and consistency of hazard information in the workplace.
Aligning the HCS with the GHS will enhance worker comprehension of hazards, reduce confusion and facilitate safety training. It will be especially helpful for limited-literacy workers and those workers whose first language is not English.
The GHS-inspired standards will require chemical manufacturers and importers to label chemical containers with:
A harmonized signal word is used to indicate the relative level of severity of hazard and alert the reader to a potential hazard on the label.  "Danger" or "Warning" will be used to emphasize hazards and indicate the relative level of severity of the hazard assigned to a GHS hazard class and category.  These will be the only signal words used.  Only one signal word corresponding to the class of the most severe hazard should be on the label.  Some lower level hazard categories do not use signal words. Signal words are standardized and assigned to a hazard category and class.
The GHS pictogram is a symbol plus other graphic elements, such as a border, background pattern or color that is intended to convey specific information about the hazards of a chemical.  Each pictogram consists of a different symbol on a white background within a red square frame set on a point (Figure 1).
 Figure 1. GHS Pictograms, from Workplace Safety and Health Council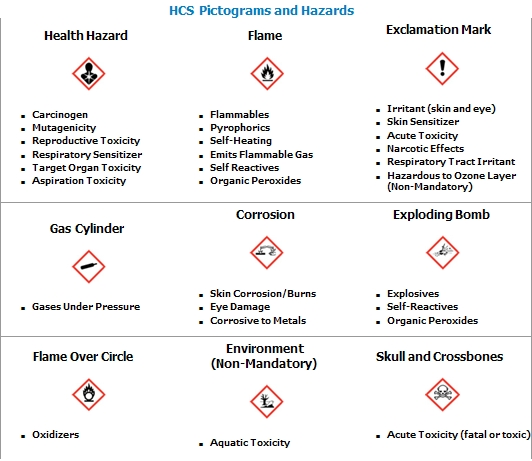 A hazard statement is assigned to a hazard class (physical, health, or environmental) and category (1, 2, 3, or 4) to describe the natuer of the hazard(s) of a chemical, including, where appropriate, the degree of hazard.
EXAMPLE: Flammable liquids (Physical Hazard)
Category 1: Extremely flammable liquid and vapor

Category 2: Highly flammable liquid and vapor

Catagory 3: Flammable liquid and vapor

Category 4: Combustible liquid
How to classify liquids for the GHS
Test data for that mixture is used when available

If no test data exists, bridging principles can be applied.  Bridging principles work by taking the available test data for the substances and/or ingredients that make up the mixture, and using it to classify the mixture.

If no test data exists, and bridging principles will not work, then each hazard in the official GHS book has information on estimating the hazard of a mixture.

 
A precautionary statement is a phrase that describes recommended measures to minimize or prevent adverse effects resulting from exposure to or improper storage or handling of a hazardous chemical.
Employers who only store chemicals have the flexibility to use OSHA's new labeling system or choose to continue using the current NFPA 704 Hazard Rating System or Hazardous Material Information System (HMIS).  However, the information supplied on these labels must be consistent with the newly revised HCS, e.g., no conflicting hazard warnings or pictograms.
OSHA plans to update the current, "alternative" labeling system requirements June 1, 2016.  Since alternative labeling requirements may change in fewer than four years and employers must train employees to understand new label elements and the new Safety Data Sheet (SDS) format by Dec. 13, 2013, switching to the revised HCS labeling now will likely help reduce confusion.
The newly revised HCS outlines eight specific GHS pictograms for use on labels.  Each is surrounded by a red border and designed to convey the health and physical hazards of chemicals.  A ninth, environmental pictogram may be required by other agencies, but not by OSHA.  Environmental hazards are not within OSHA's jurisdiction. (www.wshc.sg/ghs)
Time Table for GHS Implementation – The table below summarizes the phase-in dates required to meet the GHS.
| | | |
| --- | --- | --- |
| Effective Completion Date | Requirement(s) | Who |
| December 1, 2013 | Train employees on the new label elements and safety data sheet (SDS) format. | Employers |
| June 1, 2015*December 1, 2015 | Compliance with all modified provisions of this final rule, except:The Distributor shall not ship containers labeled by the chemical manufacturer or importer unless it is a GHS label | Chemical manufacturers, importers, distributors and employers |
| June 1, 2016 | Update alternative workplace labeling and hazard communication program as necessary, and provide additional employee training for newly identified physical or health hazards. | Employers |
| Transition Period to the effective completion dates noted above | May comply with either 29 CFR 1910.1200 (the final standard), or the current standard, or both | Chemical manufacturers, importers, distributors, and employers |
 Table 1 Time Table for GHS Implementation, from Occupational Safety and Health Administration (www.osha.gov/dsg/hazcom/effectivedates.html)
Sample GHS Label – A sample revised HCS label, identifying the required label elements, is shown below and supplemental information can also be provided on the label as needed (Figure 2).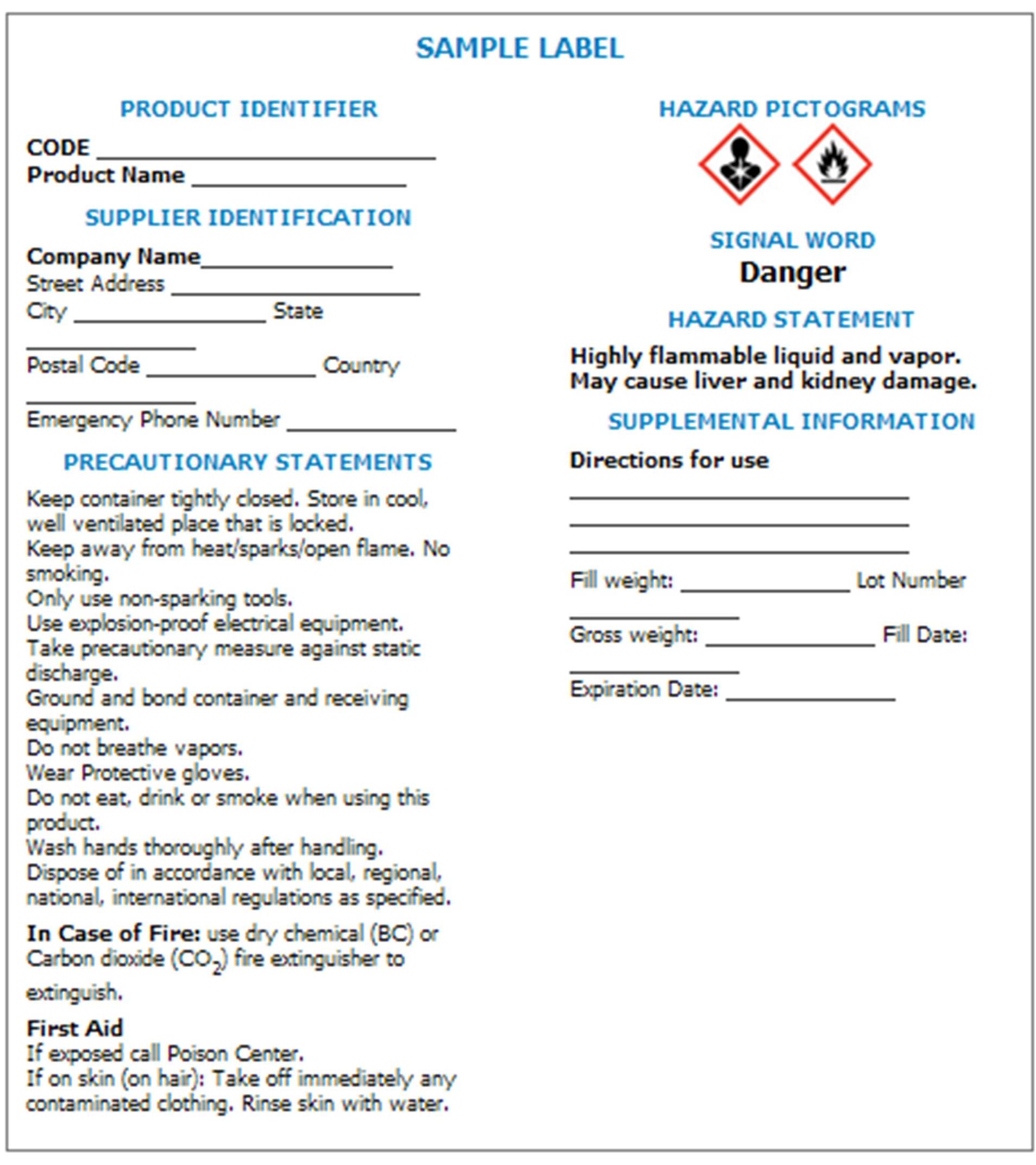 Figure 2: From Occupational Safety and Health Administration (www.osha.gov/Publications/HazComm_QuickCard_Labels.html)
Safety Data Sheet Format (SDS)
In addition to the new labeling requirements, chemical manufacturers now must supply customers with a GHS-standardized, 16-section SDS.  A sample SDS as well as a comparison of MSDS with SDS content/format can be found by following the link below.
The four key aspects of the GHS are summed up below. 
Hazard classification: Provides specific criteria for classification of health and physical hazards, as well as classification of mixtures.
Labels: Chemical manufacturers and importers will be required to provide a label that includes a harmonized signal word, pictogram, and hazard statement for each hazard class and category.  Precautionary statements must also be provided.
Safety Data Sheets: These with replace the current Material Safety Data Sheets.  They will contain the same information but now have a specified 16-section format.
Information and training: The GHS does not address training.  However, the proposed HCS will require that workers are trained within two years of the publication of the final rule to facilitate recognition and understanding of the new labels and safety data sheets.
VMLIP offers more than just coverage.  We are partners in risk management. How does your insurer stack up?  Having all lines of coverage with VMLIP ensures that your organization is receiving comprehensive coverage and a wide variety of value-added services tailored to Virginia's local governmental entities.  Call for a quote today: (800) 963-6800.  For more information on VMLIP visit: www.vrsa.us or follow us on Facebook.
** VMLIP blog postings are offered for VMLIP members to utilize in strengthening their risk management efforts.  See copyright information for clarification on sharing this information.