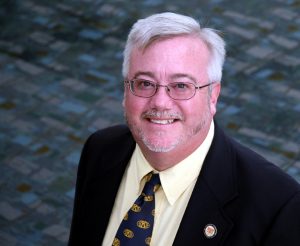 Retired Smithfield Town Manager Peter Stephenson has joined VML Insurance Programs (VMLIP) as a Local Government Specialist. In this role, Stephenson, who previously served for more than 10 years on the VMLIP Members' Supervisory Board, will consult with members to help identify and respond to challenges faced by local governments.
"Peter has more than 32 years of extensive experience in local government – including more than 20 as the Town Manager of Smithfield," said VMLIP Managing Director Steve Craig. "Through his tenure on the VMLIP Members' Supervisory Board, Peter has also come to understand a lot about risk management and the resources and services VMLIP can provide to our members. We couldn't be more pleased to have him join us and work with our members."
In this position, Stephenson will work to build relationships with members to help identify the challenges they face, as well as devise strategies to address those challenges utilizing VMLIP resources, coverages and services.
"I am thrilled to be able to combine my passion for pooling with my career of service to Virginia local government," said Stephenson. "VMLIP consistently adds value for its members and I am proud to be a part of the team in this new role."
Stephenson will focus on identifying challenges in government finance, planning, compliance, and budgeting.
Prior to his tenure as Smithfield Town Manager, Stephenson served deputy town manager and principal planner for the Town of Leesburg, and in planning roles with James City County and the City of Charlottesville.
Throughout his career, Stephenson has been active not only with VMLIP, but with the Virginia Local Government Management Association, serving in many leadership roles on the board as well as president, and volunteering on the board of the Virginia Downtown Development Association.
For more than 38 years, VMLIP has provided auto, property, liability, and workers' compensation coverage to more than 460 local political subdivisions across Virginia. In addition to comprehensive coverages, VMLIP provides risk management program support, human resources, communications, and law enforcement expertise and consulting to members who contribute in excess of $54 million annually to the pool.