As anyone who has tried to purchase a vehicle can tell you, the price of vehicles has gone up substantially over the past several years.
Since the beginning of the pandemic, the cost of new vehicles has gone up 28 percent, to an average of $48,763. This doesn't include the cost of additional equipment found on many public entity vehicles or specialized vehicles in high demand, which are increasing at seemingly the same pace.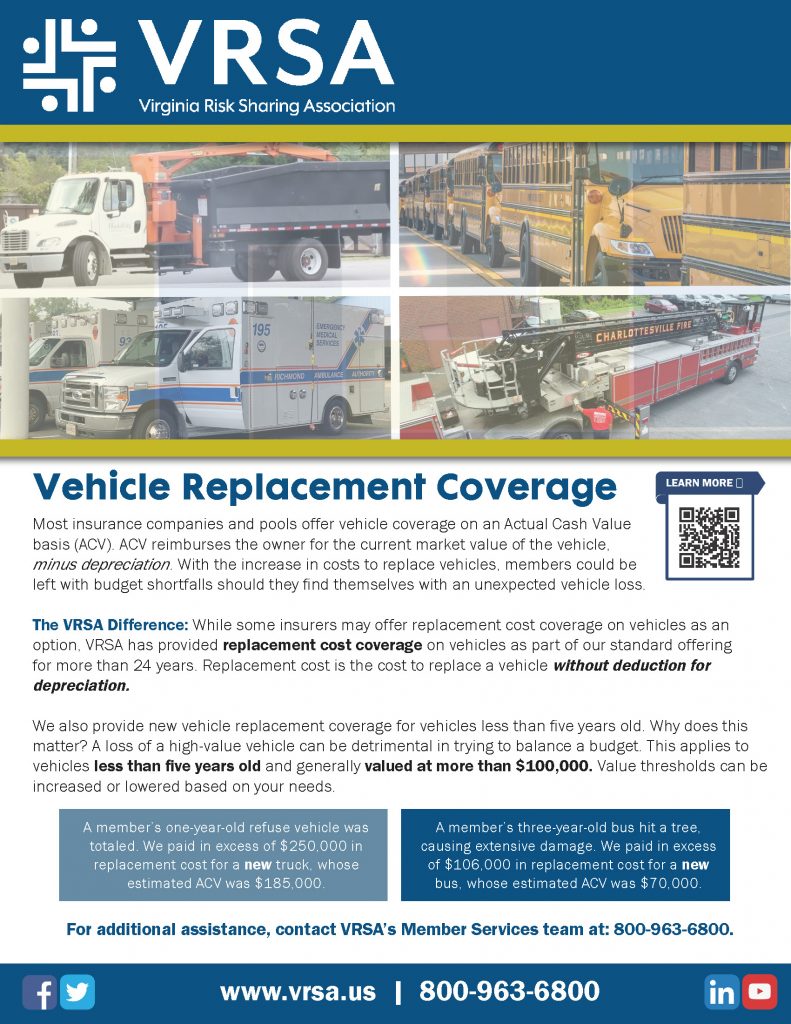 Most insurance companies and pools offer vehicle coverage on an Actual Cash Value basis (ACV). ACV takes depreciation into account and reimburses the vehicle owner for the current market value of the car, minus depreciation.
This has been the standard in the industry as vehicles are limited in life span and in the past were easily able to be replaced within an organization's budget.
However, with the dramatic increase in costs to replace vehicles, members could be left with significant budget shortfalls should they find themselves with an unexpected vehicle loss.
While some insurers may offer replacement cost coverage on vehicles as an option, VRSA has provided replacement cost coverage on vehicles as part of our standard offering for more than 24 years. Replacement cost is the cost to replace a vehicle without deduction for depreciation.
Another way that we tailor coverage in our members' interest is by providing new vehicle replacement coverage for vehicles less than five years old. Why does this matter? A loss of a high-value vehicle can be detrimental in trying to balance a budget.
Currently, most members have replacement cost coverage on vehicles newer than five years old and valued over $100,000. However, members have the option to increase or decrease this threshold based on their individual budgetary needs and the size and make-up of their fleet.
Please contact your member services representative if you would like to discuss your vehicle coverage.