The City of Winchester averages 18 – 20 inches of snow per year. With nearly 222 miles of roadways within the city's nine-and-a-half square mile area, the city utilizes a team of 80-85 employees each year to keep the roadways clear during a snowstorm. The city starts preparing for the winter season each year in September with a two-day-long training program for its snow removal crew.
"We've been having these probably more than 10 years," says City of Winchester Public Works Division Manager Justin Hall.  "A lot of these men and women, it's their first time getting in the truck – a lot of them don't get into a big truck except in the wintertime, so getting familiar with the vehicles, getting used to them is a big part."
The first day of training includes classroom and hands-on training, including presentations from emergency management coordinator Scott Kensinger, safety manager Jamie Miller, and motivational speaker Jay Foreman.
"Yesterday we spent about four hours talking about policies and procedures, what to look out for," said Hall. "Then time walking around the equipment and reviewing how we put plows on spreaders so everyone has a good idea of how that works."
On day two, drivers practiced reviewing their checklists and maneuvering the vehicles through an obstacle course.  Developing familiarity with the equipment, reviewing safety policies and procedures, and practicing snowplow routes are important preparations for a successful winter season.
Learn more about the City of Winchester's winter weather preparedness program in the video below.
Just as the City of Winchester has demonstrated,
OSHA encourages
entities to: Plan, Equip, and Train for winter weather.
We advise members to communicate with your employees about the upcoming winter season; to have a plan for letting the community know if and when your entity will be closing; and to keep walkways, parking lots, driveways, and doorways clear of ice and snow.
Prepare for Winter Weather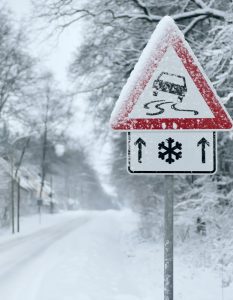 Before freezing weather arrives, have your vehicle serviced and inspected. Winterize your vehicle early, test your battery, antifreeze, windshield wipers and fluid, headlights and hazard lights, heater and defroster, brakes, tire pressure, and tire tread. Stock your vehicle with emergency supplies including a flashlight and batteries, a spare tire, jumper cables, and a shovel.
Below find five top winter weather driving tips:
Adjust your speed to account for poor road conditions. To maintain traction, accelerate and decelerate slowly.
Maintain a safe following distance. If conditions worsen, increase your following distance – if the roads are slick you will need three times as much space to stop.  If you are driving an entity vehicle, consider that it may respond differently than your personal vehicle. Larger vehicles take longer to stop.
Do not use cruise control. When driving on wintery roads covered in ice and snow, do not use cruise control.
Avoid coming to a hard stop on icy roads. Instead, carefully decelerate to a slow roll rather than stopping completely.
Keep your distance from snow plows. Drivers have limited visibility – use caution when passing.
For members interested in preparing now for the upcoming winter weather, VRSA has prepared a guide, available on our website, with checklists, tips, sample policies, and more. This guide is designed to help members prevent and reduce losses and is offered as part of VRSA's commitment to protecting members and their employees, so they can effectively serve their communities.
If you have any questions or would like to discuss winter weather preparedness, reach out to your risk services consultant.