Are you prepared to respond to a reporter's inquiries should your entity find itself as the trending news topic?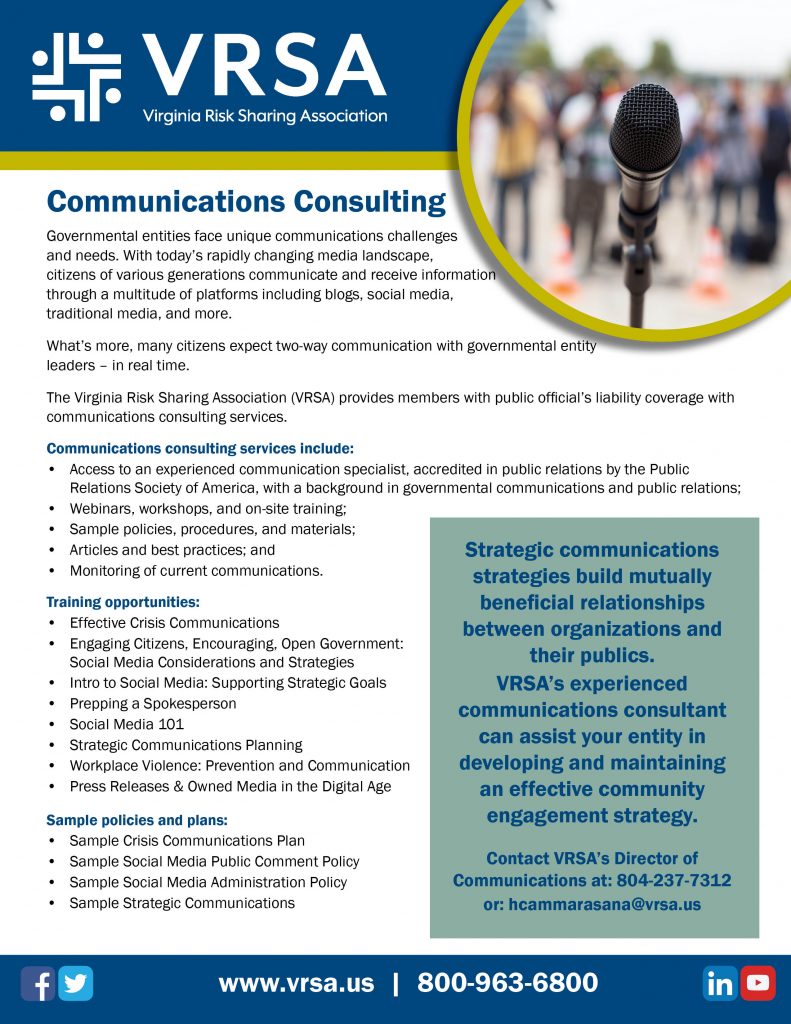 VRSA's communications consulting services are provided by VRSA Director of Communications Hollie Cammarasana, who holds an accreditation in public relations (APR), and are available to members purchasing public officials' liability coverage.
Cammarasana is available to assist members in navigating the unique communications challenges of public entities. Cammarasana has worked with cities, towns, police departments, and water authorities to develop talking points, statements, strategies, and more as they have navigated incidents and news that have required a public response.
"She's really helped me turn around how I can get information out to our citizens," said Town of Hillsville Treasurer Leanna Surratt. "I have a lot of hats here in the town and am by no means an expert – so it's great to reach out to an expert for free – and our insurance provides that at no cost."
Services include:
Access to an experienced communication specialist with a background in governmental communications and public relations;
Virtual engagements, workshops, and on-site training;
Sample policies, procedures, and materials;
Articles and best practices;
Monitoring of current communications trends and strategies; and more.
In the last year, Cammarasana has presented the following virtual engagements which are available on the VRSA website:
As the 2023 VRSA Training Calendar continues to grow, look for additional communications engagements throughout the year. For more information or to utilize VRSA's communications services, contact your VRSA member services representative.