By Dr. Robin H. Stacia, VRSA's Inclusion Resident
The business case for diversity and inclusion has established that an inclusive workforce at all organizational levels has a meaningful impact on the financial bottom line.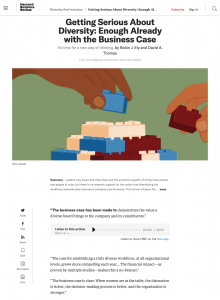 The business case is clear – that when inclusion is considered, discussions are richer and the decision-making process is better; therefore, the organization is stronger. While these results sound exciting, the process for many leaders feels like a corn maze with unforeseen turns and a myriad of issues lurking around the corner.
Moving from a position of learning to implementation is a critical step.
In December 2020, the Harvard Business Review published an article on this very topic Getting Serious about Diversity. In this article, the authors review the learning-and-effectiveness paradigm. The authors acknowledge that over the past 25 years, most organizations have been ineffective at achieving meaningful progress on their diversity and inclusion goals.
They attribute this lack of success to the fact that many leaders soon realize that just adding diversity is not sufficient to achieve the improved business results.
The positive business results are possible when organizations fully embrace not only diversity, but importantly inclusion. Inclusion happens when leaders create changes in their organization's culture that:
Supports and builds trust;
Works to shifts minds and hearts, and importantly policy and process to ensure everyone has access to opportunities;
That embraces a wider array of voices, styles and perspectives; and
That celebrates cultural differences and supports learning.
VRSA understands that this level of change requires support and expertise. The VRSA Inclusion Residency is designed to help member organizations become better able to think innovatively and strategically about how to fully embed inclusion within your organizations.
To support your work, VRSA is offering an opportunity for two member entities to work directly with our Inclusion resident on their specific goals.
VRSA's Inclusion Project Grant
The application process is now open for the VRSA Inclusion Project Grant where funding will be awarded to two member organizations to work with our inclusion resident on their customized projects. Funding is targeted for members planning to build inclusivity skills and inclusion initiatives. Don't miss this opportunity to make a difference in your organization.
Grant application is open from October 1- 25, 2021
Finalists will be notified and interviewed between November 1 – 5, 2021
Final grant awardees will be announced at the VRSA Inclusion Leaders and Managers Session 2 on November 18, 2021.
Grant projects will be conducted January – May 2022
Grantees will present their project outcomes and lessons learned at VRSA's May 2022 Annual Meeting.
Training for Leaders and Managers
The following training opportunities will be offered for leaders and managers.
Thursday, Nov. 18, 9 a.m.: Session 2 – Leadership Imperative, register
Thursday, Jan. 20, 9 a.m.: Session 3 – Inclusive Leadership Skills, register
Thursday, March 10, 9 a.m.: Session 4 – Inclusivity in Action, register
General Membership Training
The following training opportunities will be offered for the general membership.
Thursday, Oct. 14, 9 a.m.: Inclusivity and Governing Body Practices, view recording
Thursday, Feb. 10, 9 a.m.: Inclusivity and Team Practices, register