Dear VRSA members,
What a changed world we are living in and, as usual, local political subdivisions are at the center of meeting their community's needs.  We know you are struggling to adjust to a very different operating environment.
VRSA recognizes that nearly all members have reduced exposure to general liability and automobile liability losses  as you have facilities closed to the public and many of your vehicles  are parked.  As such, we are refunding 15% of your annual 2019-20 automobile liability and general liability contribution.  To make it as efficient as possible, unless you call your Member Services Representative to request a check, the credit amount will be applied toward your 2020-2021 VRSA annual contribution.  While workers' compensation payrolls will be audited over the summer, you are invited to re-estimate your payrolls for 2019-20, 2020-21 or both at any time.  VRSA members may make premium payments quarterly without interest so long as payments are made on time.
As you navigate maintaining operations during the COVID-19 pandemic, VRSA remains committed to helping members manage risk by providing  education, training and consulting services to empower you to continue to effectively serve your  communities.  Like many of you, most VRSA staff are working from home and getting used to a new normal.  Despite these challenges, VRSA staff are committed to ensuring you get the quality service you have come to expect.
Many members are taking advantage of VRSA's COVID-19 Resources for Members page on the VRSA website, online learning platforms and webinars to maintain training and employee engagement.  You are also calling us regularly to consult on a myriad of issues.  Kudos to you for maintaining your proactive risk management efforts during these challenging circumstances.  Later in April we are implementing a new phone system with the embedded ability to hold virtual face-to-face meetings.  We look forward to seeing you soon!
Thank you for the work you are doing to effectively serve your communities during these difficult times.  If there is anything VRSA can do to assist, please don't hesitate to call.  Here's looking forward to better days ahead for all of us.
Sincerely,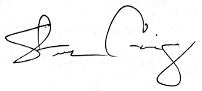 Steve Craig, Managing Director