The Occupational Safety and Health Administration's (OSHA) National Emphasis Program on Outdoor and Indoor Heat Hazards is designed to protect workers from extreme heat. An emphasis program is a temporary program that focuses OSHA's resources on a particular hazard, stemming from increased injuries and illnesses.
The emphasis program focuses on three main directives:
1) This program requires employees to be protected on Heat Priority Days – where the heat index is expected to be 80 degrees Fahrenheit or more.
2) On designated Heat Priority Days, the program allows OSHA inspections to be targeted based on hazards in plain view.
3) The program requires the compliance officer to request the entity's written program covering the required employee protections of a high-heat workplace.
Failure to have a program in place could result in a citation from VOSH.
As part of VRSA's commitment to service, we have developed a module to guide members through this program.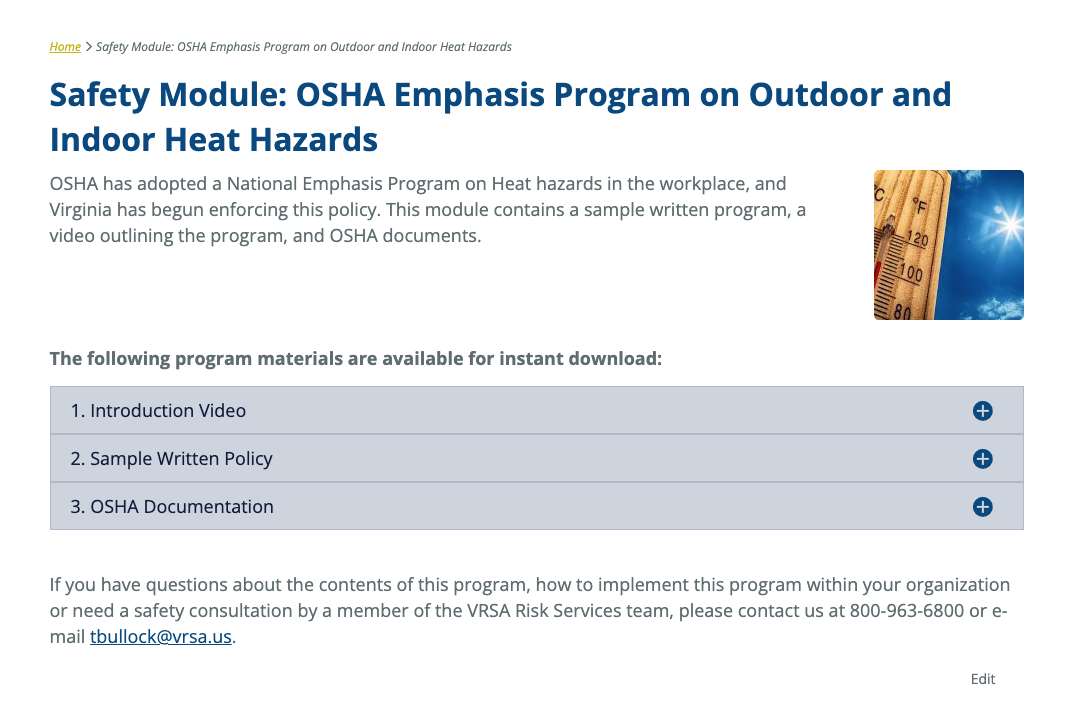 The module includes an introductory video, a sample written program, and OSHA program documentation. Additionally, VRSA has compiled resources including recorded webinars, multimedia training, fact sheets, and more, on the OSHA Heat Emphasis page of our website.
For more information on this program or other safety concerns, contact your VRSA Risk Services representative.