The Virginia Risk Sharing Association (VRSA) is pleased to announce an exciting new website application to assist with the maintenance of your OSHA 300 log.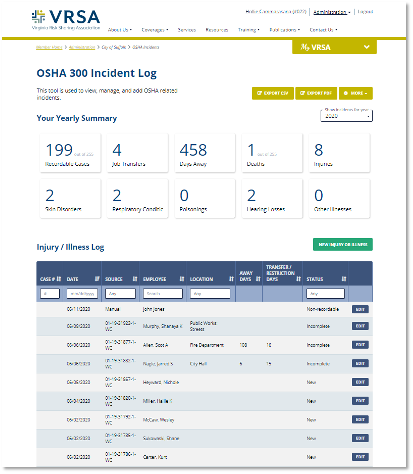 On July 1, VRSA released an OSHA 300 Log Recording application online. The application has the following features:
Secure, permission-based access for designated individuals;
Nightly imports of workers' compensation (WC) claims data to streamline data entry;
The ability to flag an incident as recordable/non-recordable;
The ability to flag privacy cases;
The ability to create incidents that are not WC related/reported;
The ability to apply required OSHA coding, including days away from work and restricted days;
The ability to track incidents by OSHA departments/locations;
The ability to print the OSHA log for your annual posting; and
The ability to export information for record keeping purposes.
The OSHA 300 application is available at no cost to members purchasing workers' compensation coverage as a value-added VRSA service.
Learn more about the new app in the video below!