In early 2019, VRSA implemented telemedicine as a healthcare option for member injured workers.
Today, this option is proving more essential than ever.
"The number of injured workers utilizing telemedicine has certainly gone up over the past few weeks," said VRSA Director of Workers' Compensation Claims Robin Duvall.
In fact, Akos, the company VRSA contracts to provide telemedicine for injured workers, says they have seen requests to implement telemedicine from other workers' compensation providers increase substantially in the wake of COVID-19.
"We are fortunate to have implemented this option for our members when we did," said Duvall.
VRSA's telemedicine option is available to all members purchasing workers' compensation coverage, and is automatically added to all members' panel of physicians.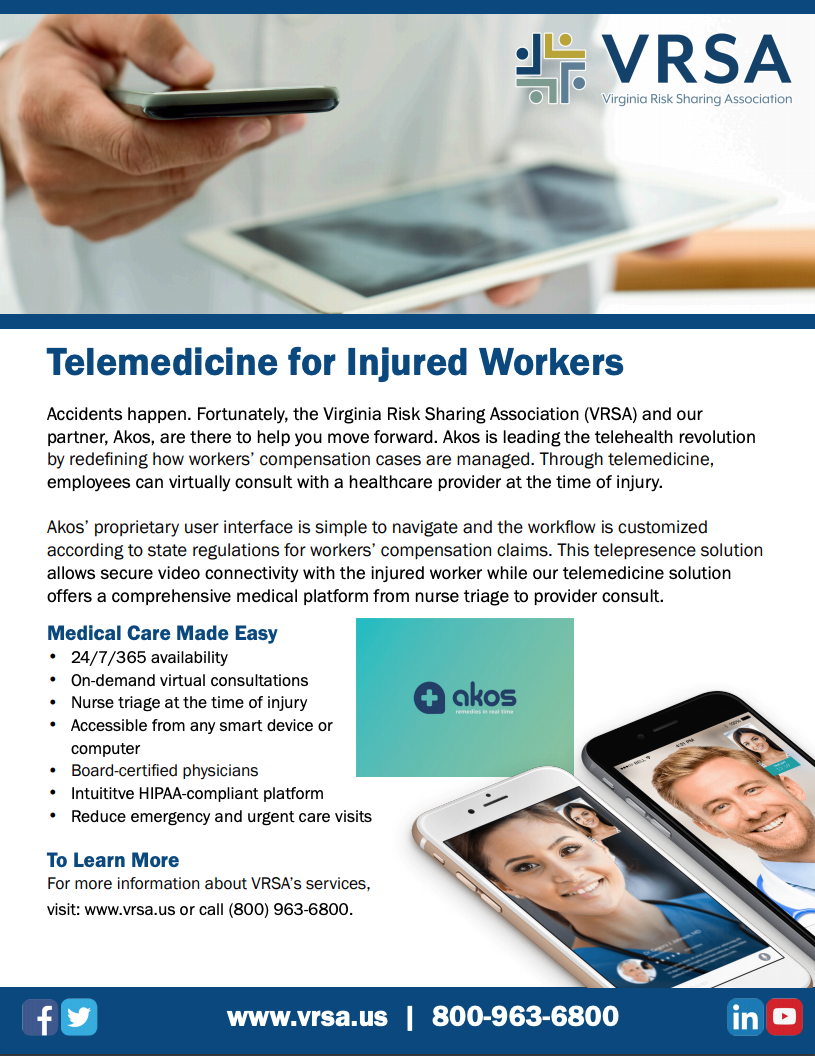 To use the service, injured workers must first triage through VRSA's CompCare On-Call service by calling (877) 234-0898.
After consulting with a CompCare On-Call nurse and confirming that the injury is treatable via telemedicine, upon employee agreement, all the necessary information will be gathered and entered into Akos' HIPAA-compliant platform by the nurse, and the injured employees' call will be transferred to the telemedicine physician.
Next, a virtual medical appointment will be conducted between the employee and a board-certified physician experienced in occupational medicine. The injured workers can access the Akos app on their smartphone or mobile device to consult with a board-certified physician on-demand.
The physician will diagnose the injury and provide a treatment plan. VRSA's Medical Quick-Fax form will be completed during the consultation, and the completed form will be electronically forwarded to VRSA and the injured worker.
If needed, the employee may be referred for an in-person visit with a panel physician, panel specialist, physical therapist, or ancillary service provider.
Through telemedicine consults, many injured workers have been able to resolve their injury without a physical visit to the emergency room or urgent care facility.
Common workplace injuries treated include:
Abrasions;
Back pain;
Burns and rashes;
Chemical exposure;
Contusions; and
Sprains and strains.
Telemedicine services are available 24 hours per day, 365 days per year. The toll-free number to call for selecting telemedicine treatment is the same one used to contact CompCare On-Call.
For more information on telemedicine, visit VRSA's telemedicine resource page.