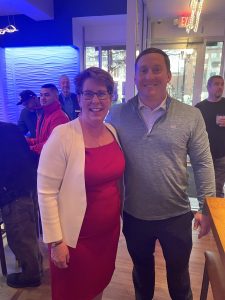 Since 2008, AlexRenew Chief Executive Officer Karen Pallansch has volunteered her time toward serving on the VRSA Members' Supervisory Board. This February, Pallansch is retiring from AlexRenew after more than 30 years at the organization, and 17 as its chief executive.
"VRSA is a great board and organization," said Pallansch. "It has been a truly educational board to serve on."
In early January, VRSA Managing Director Marcus Hensel attended her retirement banquet to thank her for her service to the pool.
"Karen has been an instrumental part of the VRSA board throughout her 14 years of service," said Hensel. "She has been a steadfast advocate for our members and for our commitment to service and financial strength."
VRSA congratulates Pallansch on her retirement.
P.S. Hensel is patiently waiting for a chance to play catch with Pallansch on this field.