This April, Alexandria Renew Enterprises (AlexRenew) completed a project ten years in the making – the South Carlyle development.
The South Carlyle Development began as an initiative in response to enhanced requirements from the Environmental Protection Agency regulating the amount of nitrogen in the clean water sent back into the Chesapeake Bay. AlexRenew is the independent public body charged with cleaning the city's water and returning it into the Chesapeake Bay and Potomac River.
"We see ourselves as a utility of the future," said AlexRenew Chief Executive Officer and VMLIP Members' Supervisory Board Past-Chair, Karen Pallansch. "We provide some of the most intense water cleaning technologies per gallon of water on one of the smallest land masses in the country. We are innovators, and we wanted to meet the challenges of this project in a way that was most beneficial to our customers, the community, and to the environment."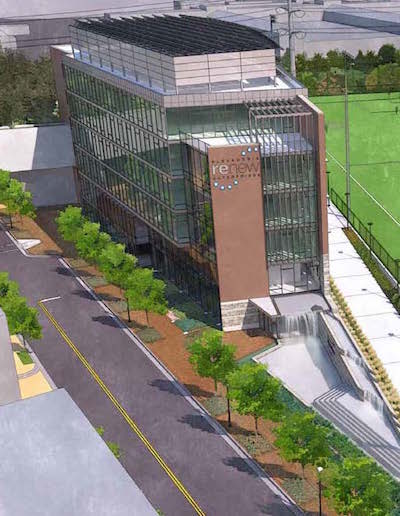 The five-acre site dedicated to this project, South Carlyle, provided a number of challenges to AlexRenew and the development team. The site was previously the home of a city landfill and a rail yard. It also neighbored resource protection areas, a public safety and detention center, a national cemetery, existing residential and government offices, high tension power lines, and the Beltway.
"We worked with Carlyle Partners, city staff, and city council, as well as a multidisciplinary team of architects, engineers, and others to turn these challenges into opportunities," said Pallansch. "We were able to create a comprehensive development that capitalizes on the positive features of the site, creating a plan that included innovative development strategies founded in environmental sustainability and cultural understanding."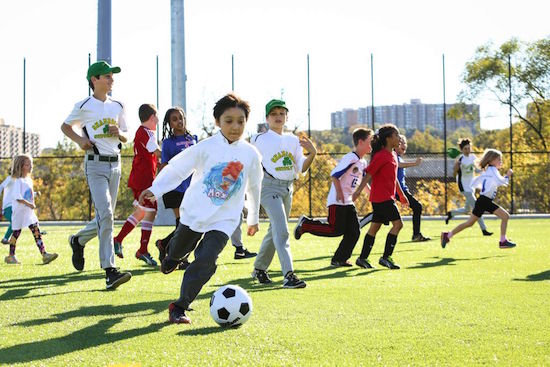 To address contamination from the previous industrial uses, the team capped the soil with above-grade parking and created an elevated public landscape to conceal AlexRenew's structures and parking for the development. Open space was then blended into the development above, as well as a multipurpose lit turf field, now managed by the City of Alexandria Department of Recreation, Parks, and Cultural Activities.
The multipurpose turf field is constructed on top of an 18-million-gallon nutrient management facility designed to reduce the amount of nitrogen making its way back into the Chesapeake Bay and Potomac River. The site also features green and park space, biking trails, a playground, and a new LEED Platinum-certified Environmental Center to house AlexRenew's administrative staff.
In fact, AlexRenew's new Environmental Center will serve not only as administrative space, but as a center for water education. The educational lobby will house museum quality interactive displays designed to inspire water stewardship. Visitors will be able to learn where the water flows in Alexandria, as well as how the water from houses flows to AlexRenew.
A centerpiece 7,000-gallon fish tank, housing local fish, will show visitors the outcome of the water cleaning work done at AlexRenew, as will a signature water fountain using AlexRenew's bluRenew reclaimed water.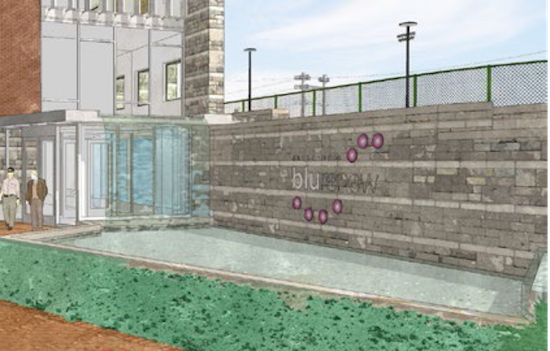 "We could have found a million reasons not to do this project this way. Instead, we honored our public stewardship foundations, our core values of civic duty, worked hard to make everyone's vision a reality, – and ultimately were innovative problem solvers. These are the qualities that founded our great city," said Pallansch.
"We at AlexRenew are dedicated to being so much more than a passive cleaner of water," said Pallansch. "We are committed to serving Alexandria's citizens with the ingenuity to transform our water and our community."
With creativity, ingenuity and a collaborative process, AlexRenew was able to transform an area of the city that was formerly a landfill into one with green space, meeting space, playing fields, and a state of the art educational facility to inspire water stewardship.
Funding for the project was secured as part of a real estate agreement between AlexRenew and Carlyle Plaza LLC, with City of Alexandria approval.For more information, visit: https://alexrenew.com.