Each year, the Central Shenandoah Criminal Justice Training Academy (CSCJTA) re-certifies approximately 850 law-enforcement and jail officers through in-service training at their facility in Weyers Cave, Virginia. Virginia's law-enforcement officers must complete 40-hours of continuing education every two years, including four hours on legal issues, two on cultural diversity, and 34 on general career development.
VML Insurance Programs' (VMLIP) Law Enforcement Specialist Thomas Bullock often presents at the CSCJTA's in-service training, focusing on issues that impact law enforcement liability.
"Thomas provides training on a number of liability areas including emergency vehicle operations, dealing with stress, ethics, ECD's and use of force," said CSCJTA Director Randy Mullins. "He consistently receives the some of the best evaluations of any instructor at the academy."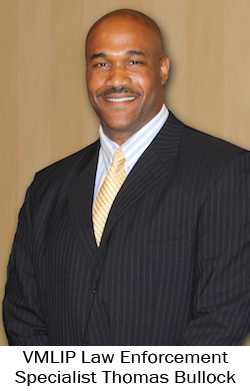 Bullock served as a law-enforcement officer for 14 years before joining VMLIP. His service to Henrico, South Hill, and Brunswick County involved work in narcotics, community policing and patrol. He holds an associate's degree in police science, a bachelor's in the administration of justice, and a master's in human resources administration.
He came to VMLIP in 2006 to provide professional consulting services in law enforcement risk management and loss control to VMLIP members with Law Enforcement Liability Coverage. Bullock has provided instruction at the academy for the past three years.
"Thomas is one of our top-notch instructors," said Mullins. "He's a dynamic speaker with experience to draw from – and his credibility helps him keep the attention of his students because he's very familiar with the subject matter."
Most recently, Bullock presented two-days of training on December 9 – 10. Subjects included emergency vehicle operation and liability; difficult customers – avoiding complaints, challenges and claims; dealing with stress; policies and liabilities; models for effective discipline; current liability issues in public safety; ethics; ECD's and in-custody deaths; and proactive leadership strategies.
"Officers sometimes forget the liability risk they assume when they take an action, particularly in high risk areas like driving or defensive tactics," said Mullins. "His training helps shed some light and remind officers just how much liability they can expose themselves to."
Attendees included law-enforcement officers, chiefs, jail officers, and administrators and communications personnel. Bullock has also provided executive-level training to sheriffs, chiefs, captains, majors, and to elected and appointed officials on issues in law enforcement liability, workers' compensation risk management, and loss control.
Other issues the academy explores through training and discussion are body and in-car cameras, citizen rights to record the police, media relations, the Freedom of Information Act, and more. For these varied issues, the academy draws instructors from across the state.
"We have a reporter in Culpeper who happens to be a retired police officer and he comes to talk to our classes about what reporters are looking for," said Mullins. "We also have commonwealth's attorneys instruct on constitutional issues and liability issues from a court standpoint. We've had them talk about search and seizure, courtroom demeanor, providing testimony, things like that."
This is in addition to hands-on training on firearms, defensive tactics, how to affect an arrest on a subject who resists, and driving refreshers both in-class and on the track.
Mullins served as a police chief in the Southwest Virginia City of Norton, where he was on the police force for more than 30 years before joining CSCJTA.
"Working at the academy has provided me the opportunity to try to instill a belief in service in the officers we train," said Mullins. "What we do is about serving the public – treating people the way they should be treated, preserving their constitutional rights, community building."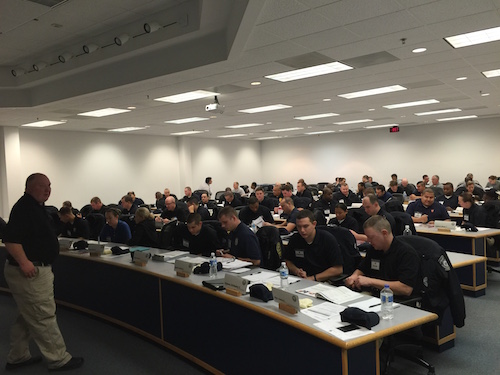 Bullock's training aims to reduce litigation against law enforcement through risk management and the identification of potential risk and liability exposures. VMLIP members with Law Enforcement Liability Coverage benefit from Bullock's monitoring of current issues, court decisions, and guidance on current best practices in policing.  Additional services include assistance with promoting law enforcement wellness and fitness.
Find more information on Law Enforcement Liability services here, and more information on the CSCJTA here.