The award-winning Where the Rubber Meets the Road (WTRMTR) campaign is adding driving simulators to its arsenal of training tools. The simulators, manufactured by Drive Square to allow trainees to practice various driving scenarios using the controls of their actual vehicle.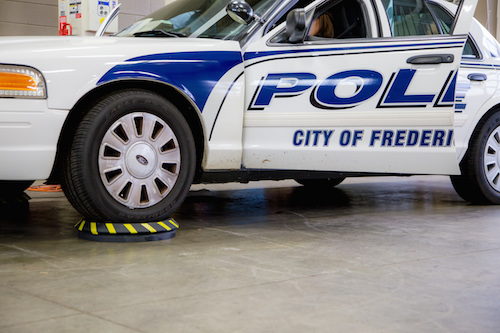 The Drive Square Simulation System™ provides a pair of turntables on which the front wheels of the trainees' vehicle sit. Sensors are clipped onto the pedal and other controls of the vehicle, while the driver maneuvers through a variety of scenarios presented on 360° virtual reality headsets.
The actions of the driver are captured through the wheels and pedal to provide an interactive experience recreating various driving situations – from driving a truck or school bus, to simulating police, fire, or ambulance scenarios.
"WTRMTR began with classroom training and a focus on creating and enforcing policies to promote safe and defensive driving tactics," said VMLIP Director of Safety Services Beth Rosenthal. 
"Two years ago we added GPS telematics devices as a way to provide coaching and feedback based on drivers' actual performance. This is another tool for our WTRMTR instructors to use in promoting safe driving."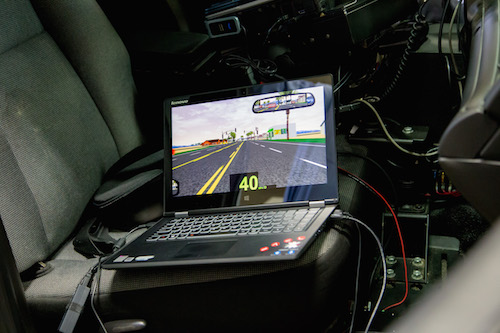 VMLIP has purchased two systems – one of which will be dedicated to law enforcement training. The other will provide scenarios for all other vehicle sizes and types, including school buses, dump trucks and more.
The system will be showcased at the annual WTRMTR banquet to be held Wednesday, March 16. Moving forward, VMLIP will continue the soft launch with WTRMTR-participating members.
Last month VMLIP Senior Safety Consultant Fonda Craig and Law Enforcement Specialist Thomas Bullock previewed the system for WTRMTR trainers in the City of Fredericksburg. The simulators were tested by several law enforcement officers, public works and transit staff.
"We want to get feedback from members on the system so we can ensure a meaningful and impactful training," said Craig. "For example, Drive Smart Virginia, who utilizes this system as well, presents drivers with a cell phone and asks them to text a message during simulation – that is very impactful in showing how dangerous distracted driving is."
So far feedback has been mostly positive.
"The City of Fredericksburg is committed to the Where the Rubber Meets the Road defensive driving campaign offered by VMLIP," said Loren Kato, safety and risk management coordinator with the City of Fredericksburg. "It is our goal to use each and every tool and opportunity to reinforce defensive driving habits for the safety of our employees, the public, and to prevent costly property damage claims."
"To that end, the city was pleased to test VMLIP's newly purchased driving simulator.  Employees from the safety office, FRED Transit, and the police department were able to practice 'driving' the simulator, which uses an actual vehicle and a virtual driving course.  Everyone that participated was pleased with the simulators ability to practice real life scenarios including police pursuits, everyday driving, as well as different obstacles such as bicyclists, pedestrians, and other drivers.  The city looks forward to sharing this technology with all employee drivers."
The WTRMTR campaign began in 2010 with 15 members to confront motor vehicle crashes as the number one cause of occupational fatalities. For VMLIP, automobile losses accounted for nearly half of all claims costs. Driver behavior has been identified as the sole or partial cause of nearly 95 percent of crashes, according to the American Journal of Public Health. The campaign requires participating member entities to provide VMLIP-approved defensive driving instruction to at least 90 percent of their drivers within the first year of joining the campaign.
Since implementation, automobile loss ratios have been cut nearly in half – from 86 to 48 percent among member entities who were the first to join the campaign. The campaign was awarded the 2015 Award for Excellence in Performance from the Association of Governmental Risk Pools (AGRiP) at AGRiP's Governance and Leadership Conference held March 9, 2015.