Each year VRSA sponsors a holiday drive for a local nonprofit.  This year, the Employee Engagement Committee chose Worthdays for this annual event.
Worthdays, who just celebrated their fifth anniversary, helps children feel special by remembering and celebrating the special days in their lives.  They provide gifts for birthdays, graduations, and other milestones.  Their holiday program sponsors children who are recommended by social workers as having no other support system for the holidays.   This year, Worthdays holiday program sponsored 155 children in the Richmond area.
VRSA employees rose to the challenge.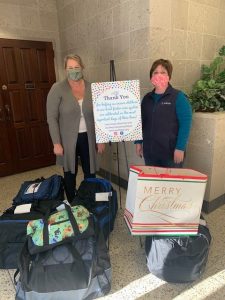 Through their generosity, five children in the local foster care system had their holiday made a little brighter.   The five children were of varying ages live in group homes, independent living or treatment facilities.  The employees purchased gifts on their lists, and provided gift cards and monetary donations.  All gifts are sent in duffel bags to alleviate the need for children to carry their belongings in trash bags.
"It was truly a blessing to serve this wonderful organization," said VRSA Senior Underwriter Laura Fox.