Snow plow operators are expected to drive in some of the most horrendous road conditions to ensure roadways are safe and open. When accidents concerning snow plows do occur, they are quite often serious and can cost public bodies financially, as well as damage their reputation with their citizens.
National statistics track hundreds of snow plow accidents every year .
The Town of Leesburg can experience anywhere from 13 to 20 or more snow and ice events each year. Whether those events turn out to be false predictions or real events, the town's public works department has to be prepared and that preparation doesn't happen overnight.
"In early September our fleet department starts to look over all of the snow equipment," says Chris Kohr, Operations Manager with the town's Department of Public Works and Capital Projects. "Our mechanics will do a full inspection of the vehicles and even operate the snow equipment including plows and spreaders – this gives us a chance to order parts or send equipment out for repair so the fleet is fully operational before the first snow fall."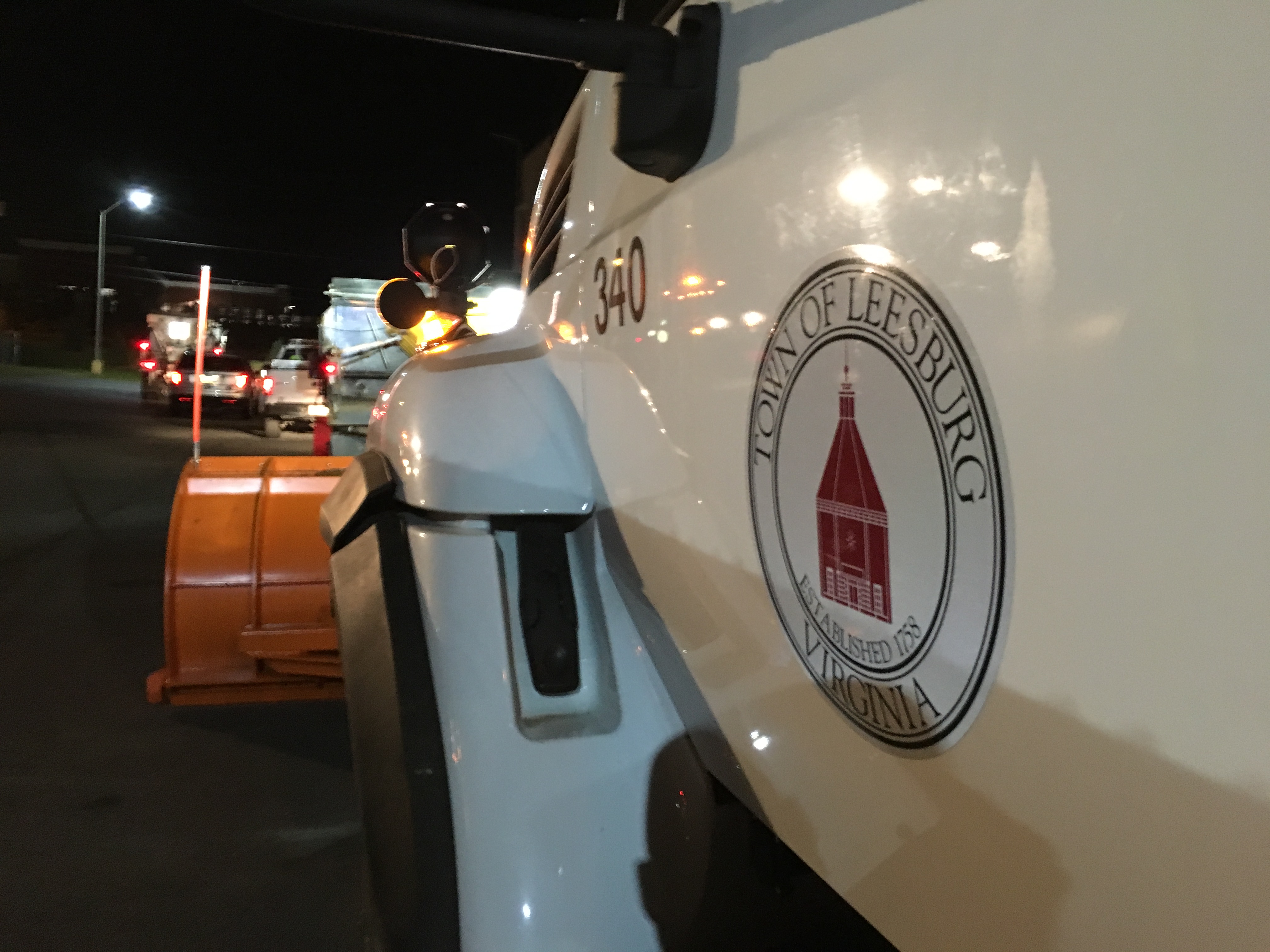 The town typically operates 15 of their own Street Division trucks, with plows and spreaders. Before the season starts, they calibrate all spreaders and sprayers to prevent over or under spreading of salt or brine. This year, they have added a second brine sprayer to their fleet to ensure that heavily-travelled roads in town can be properly pre-treated before a snow or ice event.
In addition to checking equipment, the town also reviews stockpiled materials such as sand, bulk and bagged salt to ensure the town has enough material on hand to quickly respond to the first snow and ice event.
In early October, the town coordinates a dry run in preparation for the first winter snow event – which last year took place over Veteran's Day weekend in November.
"We'll take the equipment out, run the routes, make sure that new employees who aren't familiar with snowplow operations have the opportunity for training," said Kohr.
They also require contractors to participate in dry runs, with the goal being that drivers will train on the same routes they will consistently take during a real event.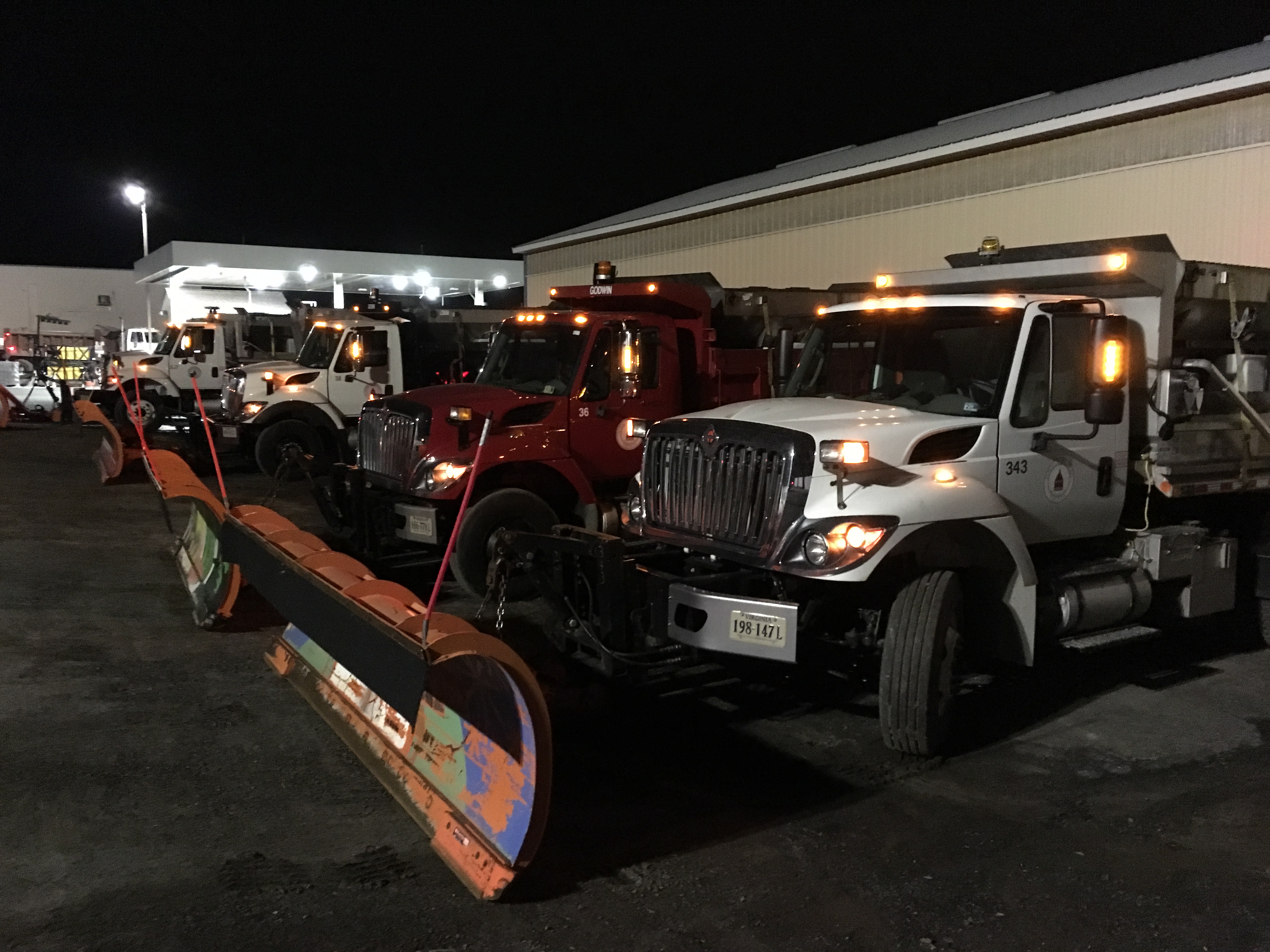 The Town of Leesburg encompasses 12.44 square miles with 263 lane miles.
"We've taken the town and broken that into 21 zones so we can manage the snow removal operation and make sure we have a piece of equipment clearing snow from all primary roads and residential areas in a timely manner," said Renee LaFollette, Director of the Department of Public Works and Capital Projects for the town. "By managing the operation using zones, we can keep better track of where our resources are and the condition of road surfaces throughout the Town"
During a severe winter storm, there could be up to 54 trucks on the streets between Town employees and contractors who work 12-hour shifts during winter events.
"We have a snow activation level chart based on the predicted levels of snowfall," said LaFollette. "Each increment increases the level of activation for the equipment and the snow operations center."
The snow operations center is activated during events in a conference room where the location of trucks on the road, weather forecasts, and incident reports are all monitored.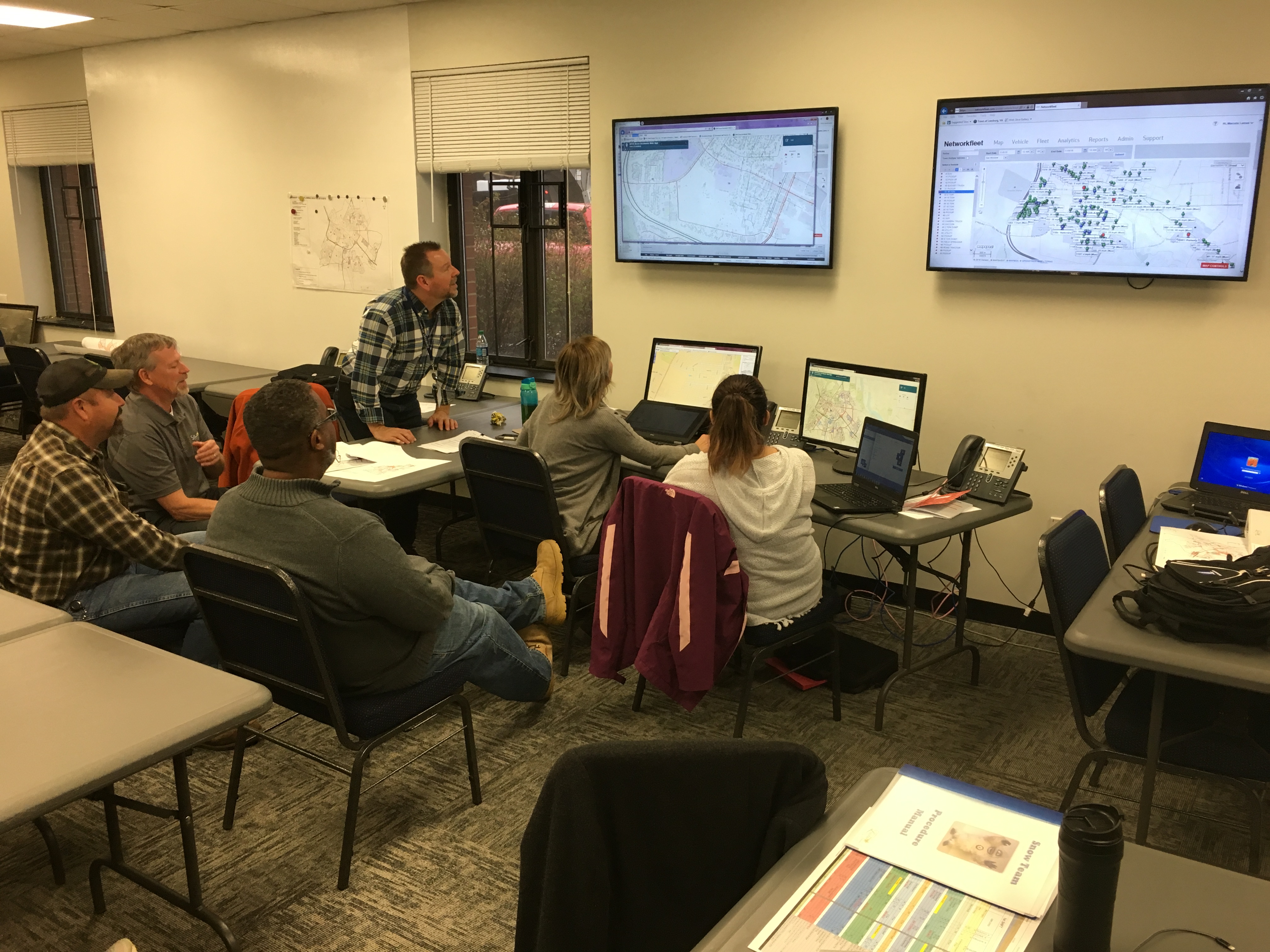 "The technology we're using allows field staff and those in the operation center to see the same information – all the staff in the field have an iPad or laptop, and we all can track Town and contractor trucks and review the incident map to understand what is going on," said Kohr. "This helps us improve coordination during the event and to ensure we've responded properly to resident calls."
Just like with the trucks, equipment and route dry runs, the snow operations center also participates in a dry run in the early fall.
"The Operations Center dry run is done to make sure that all the computers, phones, TVs and software systems that we use are operational and working properly," said Kohr.  "We also review staff assignments and lessons learned from the previous year."
During a snow event, the organization of the snow operations center allows staff to quickly and accurately track and respond to calls from members of the community and requests from other Town Departments.
"With Leesburg drilled down into 21 zones you're getting pretty granular information that provides more accountability and responsiveness when residents call," says Josh Didawick, Human Resources Director with the town. "They are probably surprised at the level of information our folks can give them based on different streets – the town has a high level of awareness as to what conditions are like out there."
All Street Division employees and contractors who drive the large plow trucks for the town are required to have a Class B CDL license. Even with this license, operating a truck with spreaders and plows takes additional training.
"Our new staff will go out with experienced drivers first," said O.J. Jackson, Street Superintendent for the Department of Public Works and Capital Projects. "There they can learn how to safely operate the equipment, what to look out for while plowing or spreading salt, and how to operate the plow."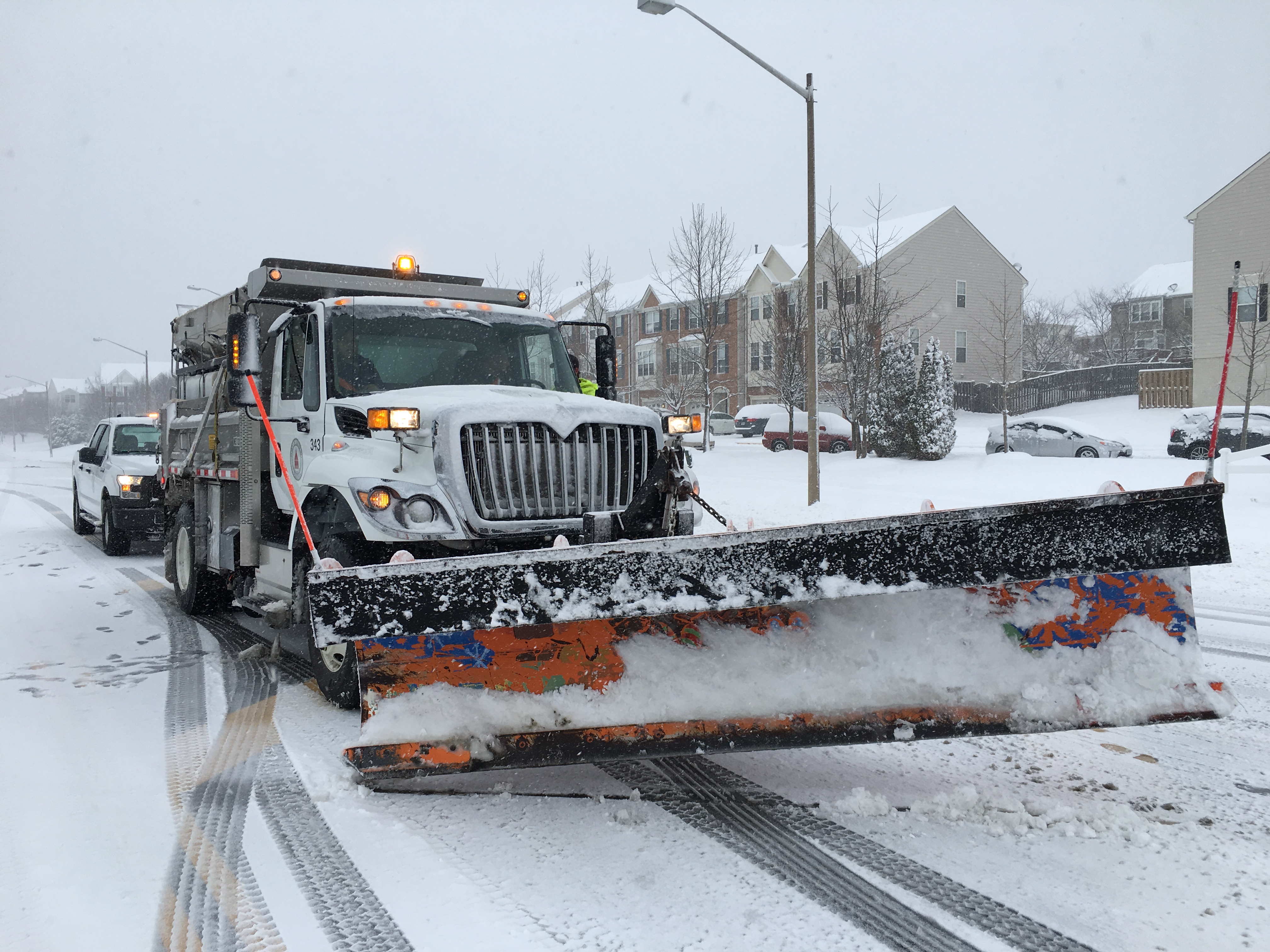 During a snow/ice event, newer drivers will go out in smaller pickup trucks to plow, moving up to two-ton trucks and eventually, the bigger trucks after they've gained some experience.
"It really is a special skillset to look out for curbs, manholes or other obstacles," said Jackson. "Bigger trucks can cause damage to street infrastructure as well. It's important to know where to put the snow and be mindful of everything happening around you."
This is why staff operating the eight or 10-ton trucks gain experience operating the vehicles before a big snowstorm.
"Most of the staff have been behind the wheel of these trucks sometime during the year collecting brush and leaves," said LaFollette. "We make sure we rotate staff through those crews so that they all have seat time in those bigger trucks."
Safety is a main emphasis in all the training and operations.
"Safety is a huge priority for us; we value our staff and what they do for our Town and we want to make sure everyone gets home to their families safe and sound," said Kohr. "Safe operation of equipment is emphasized during the dry run, and we hold safety briefings at the beginning of each shift during an event that includes contractors and Town staff.  Our Fleet mechanics will also perform an inspection of all the equipment at each 12-hour shift change to ensure that all Town equipment is safe and mechanically sound throughout the event."
VRSA Senior Safety Specialist Vinny Gallo also stresses the importance of proactive maintenance and training toward ensuring a safe snowplow season.
"Pre-snow activities such as preventive maintenance, operation review, and driver route trainings help ensure Leesburg is ready for the unexpected," said Gallo. "Dedicating time toward ensuring that operators are comfortable with their routes can help reduce the risk exposure while operating 10-ton pieces of equipment."
With proactive training and active risk management, the Town of Leesburg is ready to handle any snow and ice storms that come their way – from November into late March and early April.
For more information on snowplow safety, visit: www.vrsa.us.