According to the National Cybersecurity Alliance, National Cybersecurity Awareness Month is observed each October to "raise awareness about digital security and empower everyone to protect their personal data from digital forms of crime."
Bad actors continue to target public entities, exploit victims, and cause disruption. This in turn generates headlines.
This year, the National Cybersecurity Alliance is focusing on four key behaviors to reduce the likelihood or impact of a cybersecurity impact. These include enabling multi-factor authentication, using strong passwords and a password manager, updating software, and recognizing and reporting phishing.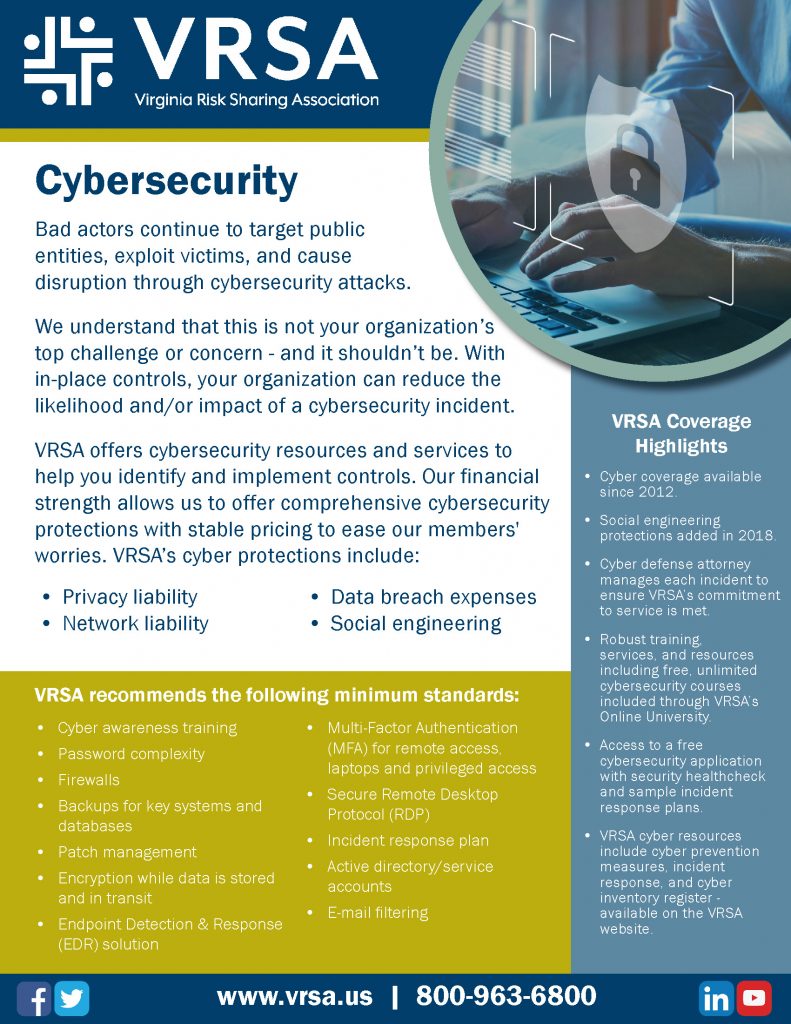 We understand that cybersecurity is not our members' top challenge or concern – and it shouldn't be. To ease our members' worries, VRSA began offering cyber coverage in 2012, and we have continued to update the coverage and services ever since.
Today, VRSA offers cybersecurity resources and services to help you identify and implement controls. With these in-place controls, the likelihood or impact of a cybersecurity incident can be greatly mitigated.
The VRSA Online University, offering free and unlimited courses for members, offers a number of cybersecurity courses including:
Cybersecurity: Data Privacy and Safe Computing
Cybersecurity: Best Practices for At-Home Employees
Preventing Phishing
Security Awareness
VRSA members also have access to a free cybersecurity application with security healthcheck and sample incident response plans, as well as cybersecurity papers and training.
Five Best Practices to Navigate the Ever-Changing Cyber Threat Landscape
Thursday, October 27, 2022, 10 a.m.
The cyber threat landscape is a dynamic one with bad actors continuously scanning for vulnerabilities and modifying their approaches as well.
In this virtual session, attorneys from the law firm Crenshaw, Ware, & Martin, P.L.C. will introduce five best practices to proactively protect your organization from a cyberattack.
Register Here
Virginia State & Local Government Cybersecurity Partnering Workshop
Thursday, Nov. 17
VRSA Managing Director Marcus Hensel will once again participate in a cybersecurity insurance panel at the Virginia State & Local Government Cybersecurity Partnering Workshop hosted by George Mason University's Center for Assurance Research and Engineering (CARE).
For members experiencing a cybersecurity incident, VRSA provides the services of a cyber defense attorney dedicated to managing each incident to ensure our commitment to service is met. VRSA's coverage includes privacy liability, network liability, data breach expenses, and social engineering.
For more information on VRSA's cybersecurity coverages and resources, contact your member services representative.
State and Local Cybersecurity Grant Program
Over the next four years, more than $1 billion in grant funding will be distributed through the State and Local Cybersecurity Improvement Act. Currently, the Virginia Information Technologies Agency (VITA) is working with its partners on the steps required for a successful grant application for Virginia entities. Local governments will be eligible as sub-applicants to receive sub-awards.
VRSA is committed to keeping our members informed about the grant process and assisting with grant filings. As more information is released, we will ensure affected members are notified and will assist as needed.  Stay tuned for more information!