As Virginia's local political subdivisions navigate maintaining operations during the COVID-19 pandemic, VRSA remains committed to partnering with members through education, training and consulting to empower them to continue to serve their communities.
On Monday, March 2, VRSA distributed the first of many Coronavirus (COVID-19) resources aggregated from the Centers for Disease Control (CDC), Virginia Department of Health (VDH), the U.S. Equal Employment Opportunity Commission (EEOC), and more.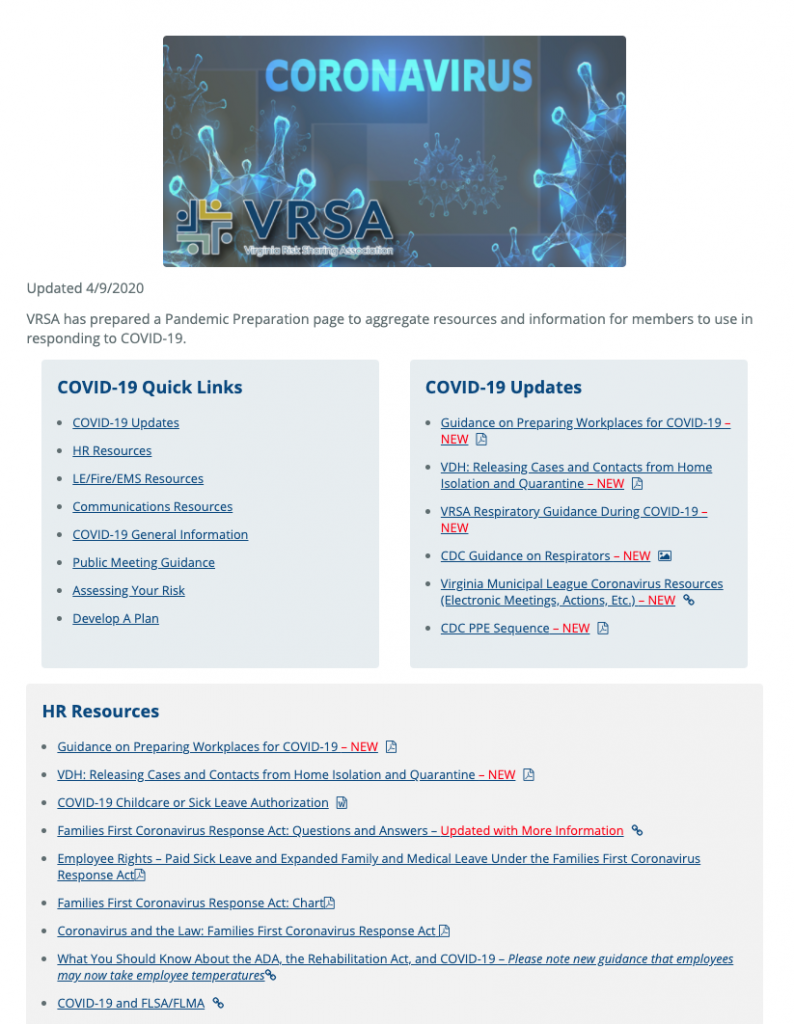 Pandemic Preparedness
Since this time, a dedicated and regularly updated pandemic preparedness page was posted on the VRSA website.
The page provides information in the areas of: human resources; law enforcement/fire and emergency medical services; communications; public meetings (courtesy of the Virginia Municipal League); OSHA standards; and more.
Online Training
Additionally, VRSA staff have increased online training and resources. Throughout the months of April and May, VRSA staff are offering webinars each Wednesday on subjects such as crisis communications; public recording of government employees and facilities; drug use in the workplace; effective management skills; and more. A full listing of upcoming webinars is available on the VRSA Training Calendar.
Four new courses have been added to the VRSA Online University related to COVID-19. These include:
This is in addition to more than 180 VRSA Online University courses and 50 VRSA Public Safety Academy courses that can be utilized at any time to provide training to employees.
Online training resources such as bulletins, CD/DVDs, modules, recorded webinars and video shorts are also available for members to utilize in offering continuing training to employees at this time. Resources can be found using the Find A Resource tool here.
Families First Coronavirus Response Act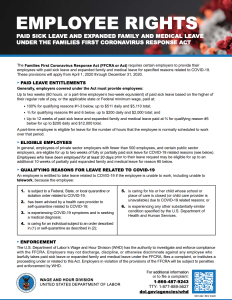 VRSA's Director of Human Resources Services Tina Stevens has been staying informed on the new Families First Coronavirus Response Act (FFCRA) legislation. FFCRA questions and answers, employee rights information, charts, and more are available on the HR Resources section of the pandemic preparedness page.
Stevens also hosted a webinar on COVID-19 Employer Requirements and Employee Rights on Thursday, April 9. The webinar has been recorded and is available online here.
COVID-19 and Workers' Compensation
VRSA issued guidance to members on workers' compensation and exposure to COVID-19 here. VRSA also continues to offer telemedicine for injured workers, further preventing their exposure to COVID-19 from utilizing traditional healthcare.
Crisis Communications in the time of COVID-19
VRSA's Director of Communications Hollie Cammarasana hosted a webinar on Wednesday, April 1, on crisis communications in the time of COVID-19. The webinar referenced a sample crisis communications plan available on the VRSA website here, as well as the CDC's Crisis + Emergency Risk Communication (CERC) guide, available online here.
The webinar was recorded and is available for members to view online here.
VML Guidance on Public Meetings and More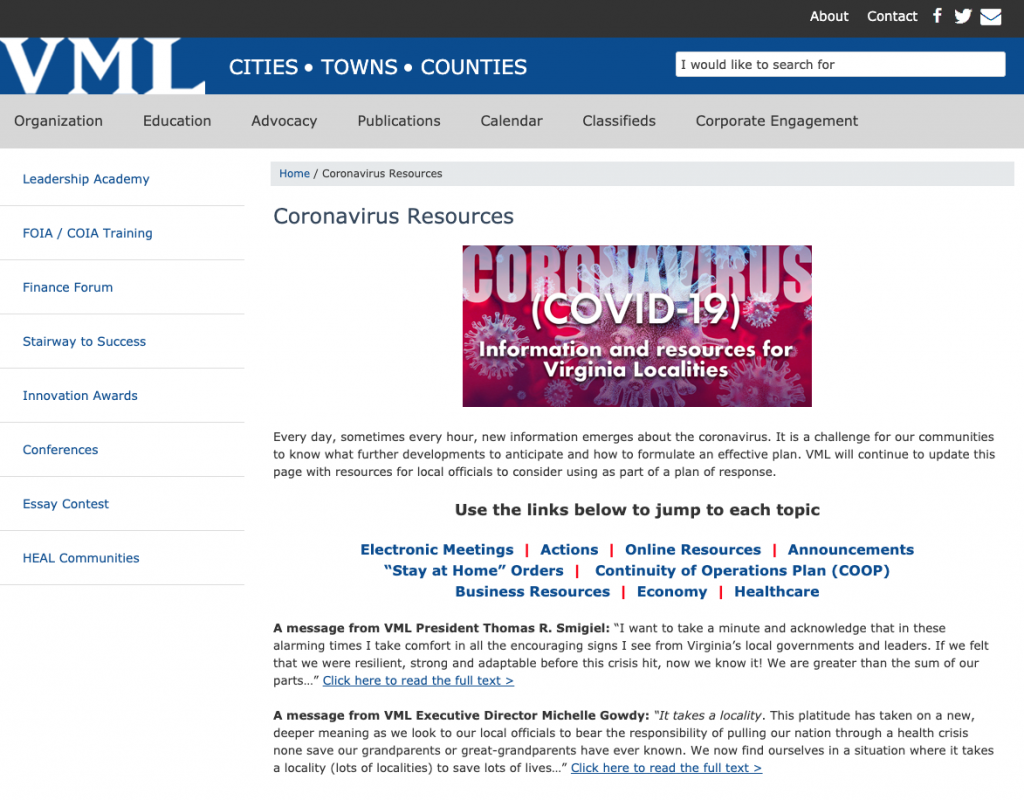 The Virginia Municipal League has aggregated resources for local political subdivisions to review in holding electronic meetings in lieu of gatherings. Information from the Virginia Freedom of Information Advisory Council, as well as a listing of resources is available on their website here.
Additionally, VML has compiled information on guidance on local government actions, announcements, "stay at home" orders, Continuity of Operations Plans (COOP), business resources, economic resources, healthcare resources, and more.
OSHA Standards
VRSA safety staff have compiled information and resources from OSHA relevant to the pandemic. This includes a new bulletin providing Respiratory Guidance During COVID-19, and links to OSHA resources including: key OSHA standards for COVID-19 and Guidance for Preparing Workplaces for COVID-19.