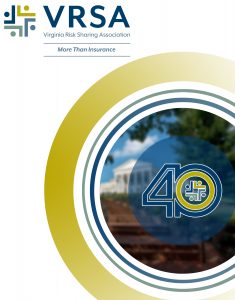 The VRSA 2020 Annual Report is now online!
They say history repeats itself. The VRSA 2020 Annual Report reviews how 40 years ago, Virginia local political subdivisions were in crisis and facing uncertainty. The same can be said today as we all navigate the changed world due to the COVID-19 pandemic.
The annual report reviews how VRSA has responded to member needs over the last 40 years, and how we are continuing to do so today – and will continue in the future.
The report also highlights VRSA's financial strength – which allows the pool to add resources, programs and coverages in real time to address member concerns.
We do all of this so that you can focus on what matters most – serving your community. And, we are able to do this because of our financial strength.
Read the full report here.