Members will soon be able to pay their invoices online.
A new finance page is in the works that will allow members to make ACH (online check) payments for invoices.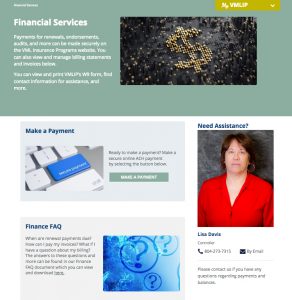 The page will also provide answers to frequently asked questions, house VMLIP's most current W-9 form, and link members to their billing documents.
The payment button is a secure link where members can make payments and receive an e-mail confirmation of success or failure.  Members may pay: renewals, quarterly payments, endorsements, workers' compensation audits, and deductible invoices via this secure link.  This is a free service to our members!
An e-mail announcement will be made once the page is live. For any questions, contact VMLIP Controller Lisa Davis at: ldavis@vmlins.org.