You have a choice.
Hard to believe, but the Virginia Retirement System (VRS) disability mandate has been in place since 2014. That year, members were pressed to make an informed decision to either (1) align with the state disability plan, or (2) preserve freedom of choice with an approved "comparable plan." Since 2014, your hybrid membership has increased, your needs have changed, and you may still be operating with two leave programs — the old and the new. We understand. The state's plan design is still confusing, and you haven't had time to streamline your paid leave system.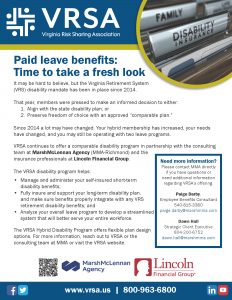 VRSA continues to offer a comparable disability program in partnership with the consulting team at MarshMcLennan Agency (MMA-Richmond) and the insurance professionals at Lincoln Financial Group. Working beside your management team, the VRSA disability program helps:
Manage and administer your self-insured short-term disability benefit;
Fully insure and support your long-term disability plan, and make sure benefits properly integrate with any VRS retirement disability benefits; and
Analyze your overall leave program to develop a streamlined system that will better serve your entire workforce.
Unlike the state plan, the VRSA/Lincoln platform offers flexible plan design options. They include:
The option to eliminate the 12-month eligibility waiting period for disability, or you can leave it in place. Make the best choice for your budget and your employees' needs.
The option to provide coverage for your public safety employees. This could be a safety net in the event a claimant does not qualify for VRS or Line of Duty Act (LODA) disability benefits.
Next steps
Reach out to the VRSA service team or the consulting team at MMA. We will make sure you:
Understand how your disability plan is meant to work;
Are properly equipped to communicate the benefits to your workforce;
Know how to submit and monitor disability claims;
Have access to Lincoln's customer service team and online support tools; and
Receive the guidance and expertise you need to maximize the effectiveness of your paid leave program.
For More Information
Please feel free to contact MMA directly if you have questions or need additional information regarding VRSA's offering: