Everyone has heard of spring cleaning.
With more and more of our activities taking place on computers and other devices, it is important to do a little 'spring cleaning' of your electronics as well.  This is an easy area to overlook since electronic items don't take up physical space in the traditional sense and don't gather dust bunnies.  To that end and thanks to the Institute for Business Technology, the second Monday in February has been designated as National Clean Out Your Computer Day.
Here are some helpful tips for cleaning up your electronic devices:
First, physically clean your computer.  Use compressed air to clean the crevices and wipe down the unit and accessories (such as keyboards and mice) with a clean cloth and a little isopropyl alcohol.  Remember to turn off the computer before cleaning it.
Next, work on cleaning up and/or organizing files and programs on your devices that are taking up space or creating clutter:
Uninstall/Remove unused applications from phones, tablets, and computers
Clean up and organize files on your computer:

If your organization has a formal data retention policy, remove files that fall outside of the acceptable retention period(s)
Delete files that are no longer used or needed
Delete duplicate copies of files
Move items into folders so they can easily be found
Delete unnecessary files from your Downloads folder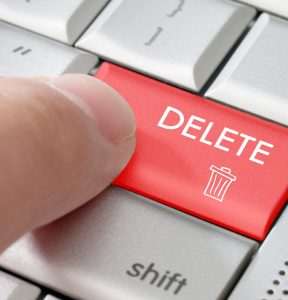 Finish with cleaning up your email.  Go through your inbox and apply the "Four Ds": Do, Designate, Delegate, or Delete.
If it is a simple thing, just respond or complete the action needed – Do it.
For things that require a larger time commitment, block the time out on your calendar to complete the task – Designate it.
If it is something that should be done by someone who reports to you or has accountability, forward the email – Delegate it.
And for those things that are already done, are informational, or will not result in action, either file them in the appropriate folder or send them to trash – Delete it.
Once you have tackled the inbox, don't forget to empty your 'Sent Items' and 'Deleted Items' folders.
For the overachievers out there who want bonus points, remove unnecessary applications from your 'startup' list to potentially shorten the amount of time it takes to get logged onto your computer.  These are the applications that load automatically when your computer starts up.
On Windows machines, look in the task manager at the "startup" tab.  For programs that you don't use frequently, highlight them on the list and select the "disable" button.  On Mac machines, look under system preferences for the "users & groups" icon.  After opening "users & groups," select the "Login Items" tab and remove any programs from the list that you do not want to start when you start up the computer.