By Dr. Robin Stacia, President/Principal Consultant, Sage Consulting Network, Inc.
It is hard to avoid the constant messages in most every area of our lives about the importance of diversity and inclusion.  Likewise, many of VRSA's communities are becoming more diverse, and as leaders we have the opportunity to create inclusive work environments.
The responsibility for leaders to understand, support and embrace diversity and inclusion is a "Leadership Imperative."
Today's leaders must be equipped and prepared to inspire a diverse work team, to create and implement inclusive strategies that will build awareness, and create an environment where employees can be their authentic selves and feel that they belong.
This leadership imperative extends to governing board leaders who have an opportunity, and a responsibility, to support and advance diversity and inclusion. Governing bodies must be intentional about assembling a diverse and inclusive governing board. Now more than ever, governing bodies should be partners to, and a part of the communities they serve. Likewise, governing bodies should work diligently to ensure the diverse voices of their communities are heard.
VRSA recognizes that leading effectively to advance diversity and inclusion requires specific competencies, continuous learning, and personal and professional growth and change. We recognize that this is a journey that requires engagement around diversity and inclusion leadership development.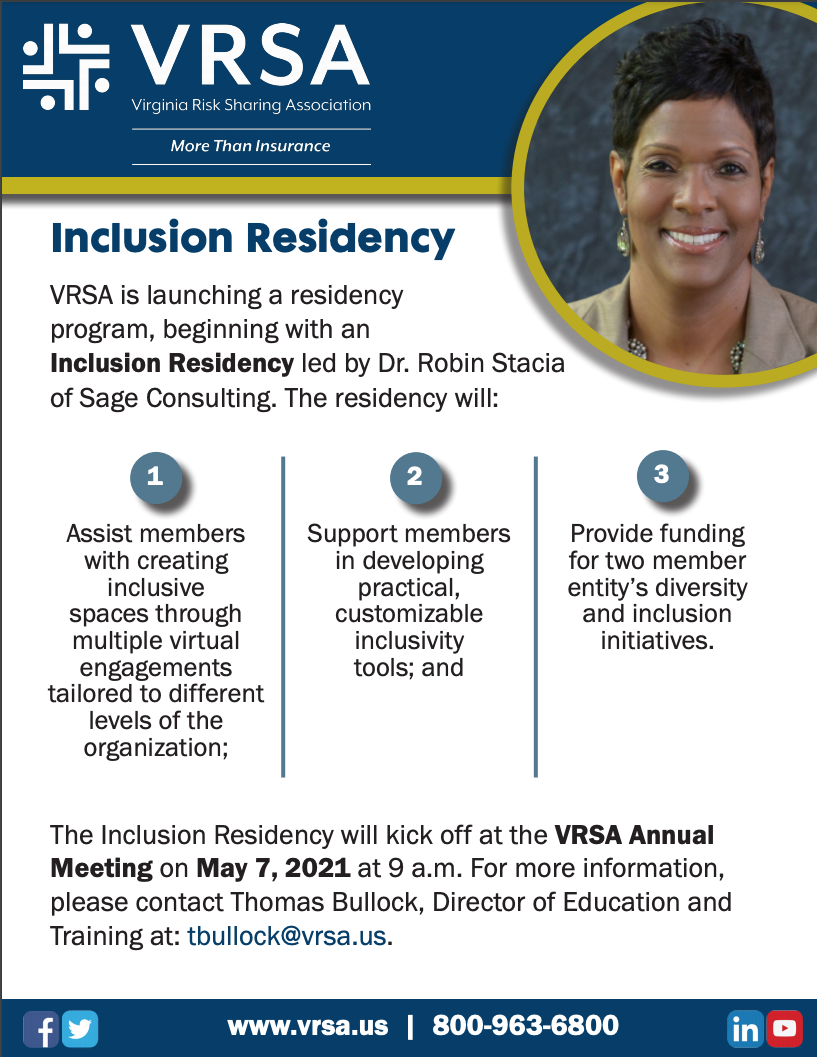 VRSA's Inclusion Residency will kick off at the 2021 VRSA Annual Meeting. At this event, the schedule of training events exclusively for chief appointed officials who will be invited to learn more about leadership aspects of diversity and inclusion will be announced.  We are also developing a series of learning experiences for all VRSA member representatives that will support our members through their unique progression, through training, coaching and resources to support your diversity and inclusion journey and work.
To help to ensure VRSA members can achieve the highest level of leadership, we will be distributing a membership survey in the coming weeks. We ask that you participate in the survey where we hope to learn more about what our members are already doing to support diversity and inclusion, what you are interested in learning more about, and what resources and support you need to support a diverse and inclusive work team, organizational agenda and community outcomes.
We invite you to join us on this journey as we learn, practice and promote excellence in diversity and inclusion.
Learn more about VRSA's Inclusion Residency here.
Register for the 2021 VRSA Annual Meeting here.