The VRSA 2019 Annual Report is now online!
This year's report highlights staff increased member engagement and outreach throughout the last year. Additionally, the report reaffirms VRSA's financial stability and strength, and provides an overview of VRSA by the numbers.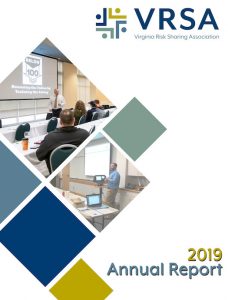 Excerpt: Throughout the last year, VRSA staff coordinated nearly 200 member engagements throughout the Commonwealth. These included nearly 120 in-person trainings, 20 webinars, more than 30 events attended including Planning District Commission meetings, dinners, receptions/ observances, regional roundtables, and site assessments.
Additionally, staff sponsored, attended or presented at nearly 20 conferences. Subjects for these trainings ranged from active shooter, to crisis communications, cyber security, OSHA, reasonable suspicion, confined space entry and trenching, supervisor liability, and the grievance process. Staff were also out and about conducting physical site assessments and safety inspections, as well as 591 in-person member visits from VRSA member services representatives.
Read the full report here.