The Western Virginia Water Authority recently received VMLIP grant funding to assist with the costs of utilizing Slip Simulator™ Training from Industrial BioDynamics. Throughout the day, six groups of eight to 15 employees attended a training class, which lasted about an hour.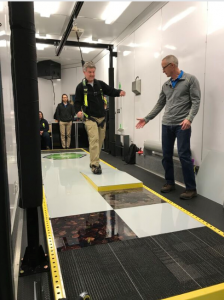 The simulator was developed with occupational safety in mind, in partnership with the United Parcel Service (UPS), to address one of the leading causes of workplace injuries – slips, trips and falls. For VMLIP, slips, trips and falls account for nearly 22 percent of all workers' compensation claims and 35 percent of the costs of all workers' compensation claims.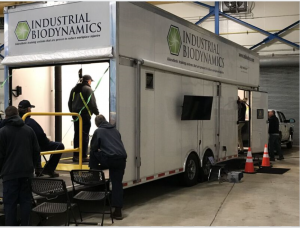 The simulator provides trainees a safe, controlled area in which to experience walking on a surface more slippery than ice. Combined with training and shared techniques, trainees learn how to improve their stability and reduce their risk of falling.
A
study from Los Alamos National Lab
, which utilized the simulator to train their workforce, showed that those who took part in the training experienced a 70 percent reduction in slip, trip and fall incidents. Those who were involved in the training, but did not get on the simulator, also saw a 30 percent reduction.
The simulator can be customized with ramps, curbs, steps, obstacles, and more to replicate real-world situations employees are confronted with.
"I was able to try it out," said VMLIP Safety Consultant Edward Shelton. "It's much harder than it looks."
"Many of the staff I spoke to said they had learned techniques for walking on and around ice and slippery surfaces, and that they will be much more aware of the dangers slippery surfaces can pose in the future," said Shelton.
Nearly 70 percent of the cost of the simulator was covered by VMLIP Risk Management Grant funding.