This year, the Montgomery Regional Solid Waste Authority was presented the prestigious Margaret A. Nichols Risk Management Leadership Award at the 2019 annual meeting held Friday, May 10, at The Place at Innsbrook.
Additionally, the Central Rappahannock Regional Library, Suffolk City Schools, and the Town of Luray were presented with Risk Management Performance Awards, and nine individuals were presented with individual Risk Management Excellence Awards.
Montgomery Regional Solid Waste Authority
The Margaret A. Nichols Risk Management Leadership Award is presented each year to recognize and encourage innovation in risk management by members of the pool. The award is named in honor of Margie Nichols, longtime administrator of VRSA who passed away in 2002.
"The Montgomery Regional Solid Waste Authority has worked closely with VRSA Safety Consultant Edward Shelton to conduct two hazard identification walk-through inspections," said VRSA Director of Education and Training Thomas Bullock. "Afterwards, the authority worked quickly to abate any hazards that were identified, resulting in a safer workplace for employees."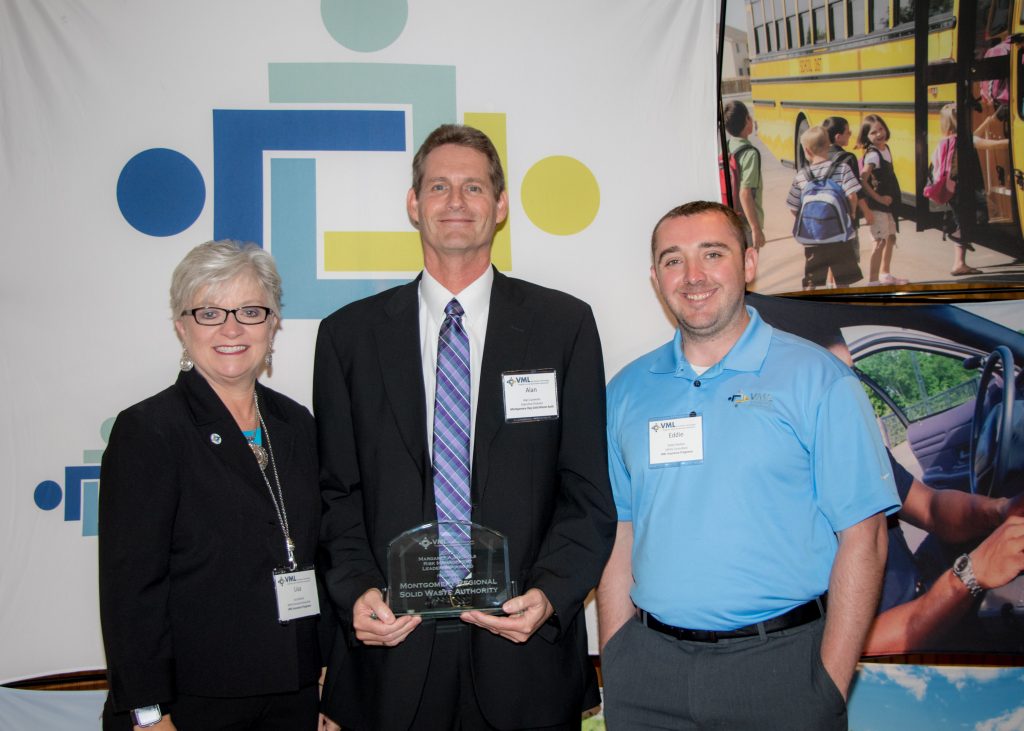 The authority also requested a thorough safety program review to ensure they met OSHA requirements, and also requested assistance on developing contractor procedures to ensure they met requirements and responsibilities under OSHA's multi-employer worksite policy.
When an employee becomes injured, not only are claims reported in a timely manner, they consistently offer light duty return to work options as well as a panel of physicians, and facilitate open communication between physician, employee, employer, and VRSA.
Central Rappahannock Regional Library
"The library's HR Manager, Angela Hopkins, has worked closely with VRSA Director of Human Resources Tina Stevens on a variety of issues including Americans with Disabilities Act Compliance, to discuss ways to adjust their leave banks of time," said Bullock.
"When employees are injured, they report them through CompCare On-Call, ensuring that employees receive timely treatment and claims are reported as quickly as possible. They also investigate their claims and work to prevent a recurrence by establishing new policies or provide photographs and information when a liability claim arises so that it can be quickly and appropriately managed," added Bullock.
The library was recently featured in a VMLIP video highlighting them during National Libraries Week. Check it out on the VMLIP YouTube channel!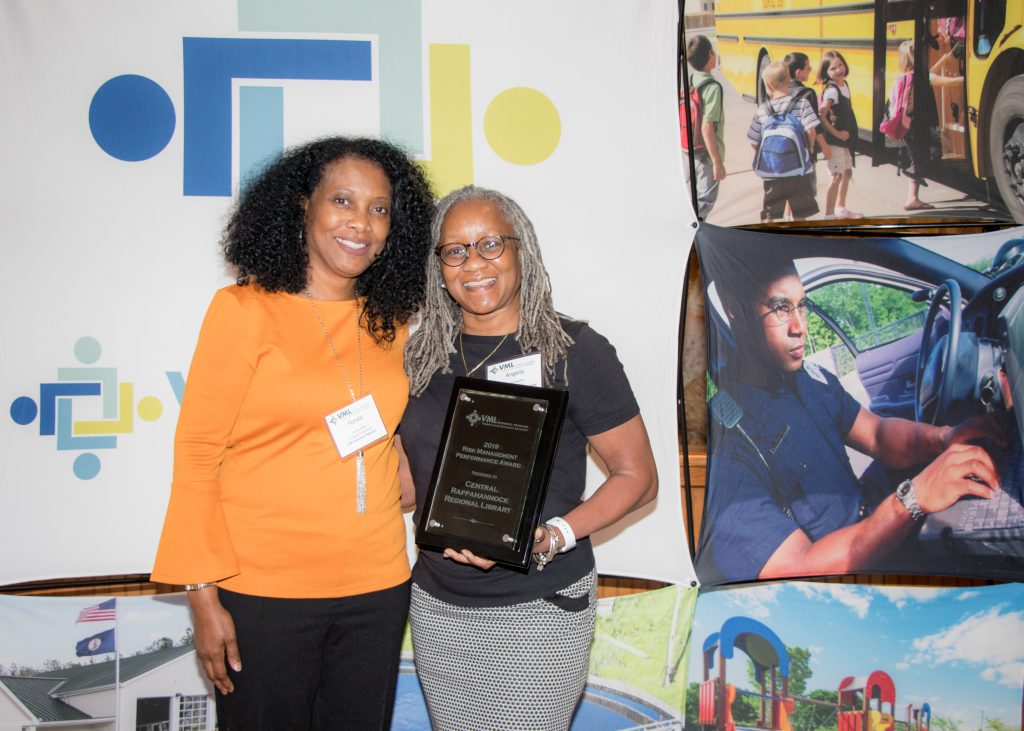 Suffolk City Schools
"In September, Suffolk opened two new schools: Florence Bowser Elementary and Col. Fred Cherry Middle School, which hold 1,800 students combined," said Bullock. "Prior to their construction and opening, Suffolk communicated with VRSA throughout the process to ensure proper coverage was in place by the contractors and then VRSA handled their additions to the property schedule."
The school system maintains a loss ratio of 27 percent as well as a Risk Management Guidelines assessment score of 100 percent. They have received the RMG credit every year since its implementation.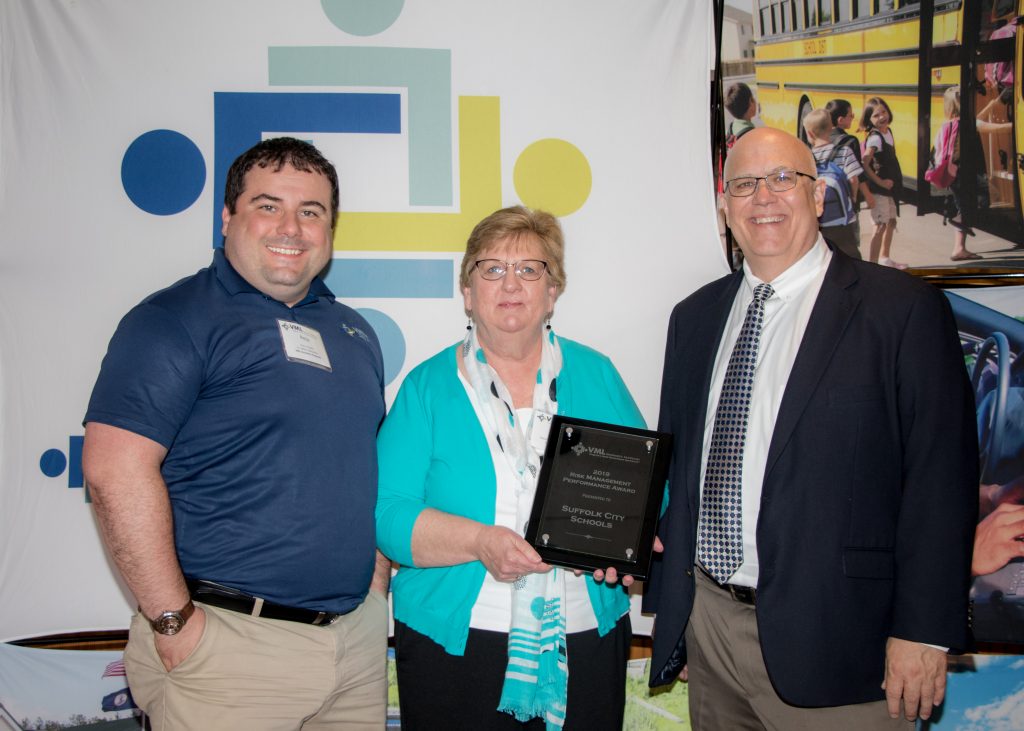 Town of Luray
"The town has few workers' compensation claims; however, when they do have an injured worker, they file it almost immediately using Comp-Care OnCall," said Bullock. "The town has participated in many trainings and utilizes VRSA's law enforcement and communications services, attending trainings such as Demonstrations, Protests and Crowd Control, and requesting assistance with questions concerning K-9 coverage and workers' compensation coverage for off-duty work."
The town was one of the first members in the pool to earn the Risk Management Guidelines premium credit, and they have continued to receive this credit every year since its implementation.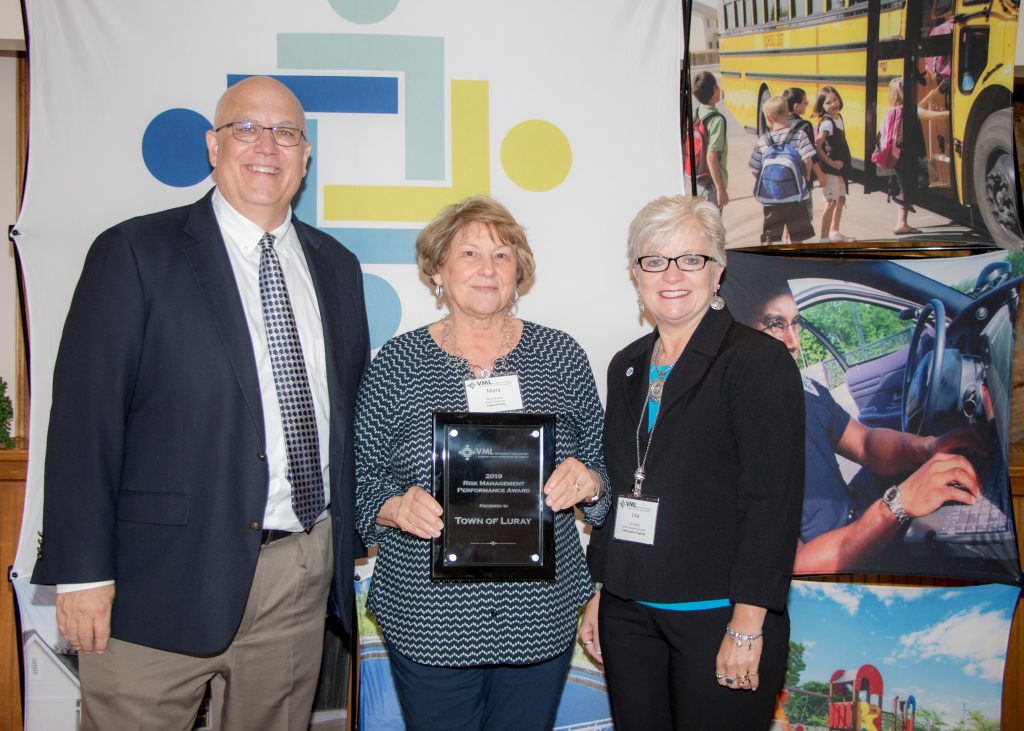 Individual Risk Management Excellence Award Winners
Additionally, the following individuals were recognized for their personal contributions to risk management.
Derric Bolton, Northern Virginia Regional Park Authority, is responsible for managing many unique risk exposures – including five water parks, marinas, golf courses, and a public shooting range for shotguns. This means that safety training is essential – and for this, Derric utilizes a variety of VRSA resources especially the VRSA Online University. He often utilizes the expertise of VRSA Senior Safety Consultant Fonda Craig – and conversely, is our go-to expert in the state whenever other members come to us with park-related risk questions.
Kim Burgess, City of Fairfax, has pushed the city to be more proactive in their efforts since taking over the responsibilities of risk manager. She has pushed for the addition of a safety officer – Adrian Munday – who was added part-time. She has also been working on updating their safety manual and pushing additional training out to their employees. On behalf of the city, she requested a safety and security assessment, and they are now in the process of developing a plan for implementation. Kim is a supporter of VRSA and has graciously hosted and helped to bring together the members of the Northern Virginia member-to-member sharing group that consists of both risk managers and human resources staff for discussion.
Kathleen Dooley, City of Fredericksburg, has been heavily involved in preparing the city for the construction of the new Potomac Baseball stadium. With many contracts to be signed and as a city attorney, she recognized the specificity of contractor insurance requirements and reached out to VRSA staff in underwriting and member services to ensure that the city would not be adversely impacted by the contracts. In utilizing our contract review services, Kim was able to diligently ensure that the city did not accept any additional liability for this project.
Rita Ennis, City of Suffolk, was nominated by two VRSA staff, and it was remarked that she came into her new position "with a lot of positive energy." Rita is diligent about handling the city's workers' compensation claims. She alerted VRSA to a potential issue with a claim where an injured employee was found to be moving far over their 20 pound restriction. W

hen possible, Rita works hard to find light-duty return to work options for injured workers. She does all of this while handling her other duties in HR.
Vincent Gallo, City of Manassas, has implemented a variety of safety initiatives designed to generate greater safety awareness among employees. He has established strong relationships with city employees – which is vital in obtaining buy-in on safety initiatives. He has partnered with VRSA to open an OSHA 10-Hour Construction class which he then helped to teach for other members. He recently took over the risk management responsibilities for the city in addition to his regular responsibilities. He has also partnered with VRSA to create a social incentives pilot program aimed at solidifying a culture of safety within the city.
Angela Hopkins, Central Rappahannock Regional Library, was described by our nominating staff as "a true HR professional." Angela works to do what is best for the library – while also keeping the needs of the employee in mind. She has worked with VRSA on a number of HR issues throughout the past several years – including Americans with Disabilities Act compliance and discussing ways to adjust the library's leave banks of time. She recently sat for the SHRM-CP exam and passed on her first attempt. We want to recognize Angela for always learning and growing as an HR professional.
Patricia Sharkey, Town of Herndon, keeps VRSA's workers' compensation claims staff informed on how injured workers are progressing and makes sure we are aware of any issues that may be present. She works well with the town's panel of physicians – acting as liaison between the physician and VRSA. This constant communication is not to be taken for granted, and is critical to ensure the best outcome and most efficient handling of claims for the injured worker and the member.
LeAnna Surratt, Town of Hillsville, has utilized both VRSA's HR services and communications services. She works closely with VRSA Director of Human Resources Tina Stevens with any HR-related questions and concerns, and understands where there may be areas of liability that she should receive counsel for. She has worked through disciplinary processes, reviews of specific policies and wage-hour issues through our HR services. She has also utilized communications services to assist in communicating on important news or information to the public.
Neal White, Town of Berryville, has been proactive in seeking VRSA's input on a regional agreement for mental health services – a Crisis Intervention Team Assessment center – normally located at a hospital where mental health patients are assessed. Chief White was concerned about the liability of his personnel, and spent a lot of time reviewing the CITAC agreement  to ensure the town was adequately insulated from risk. This focus on mitigating risk is a tremendous benefit to all members in the pool, as reducing risks reduces the total cost for all members.