By Peter Stephenson, VRSA Local Government Specialist
VRSA is proud to be the Multi-Year Platinum Sponsor of the Virginia Local Government Management Association (VLGMA) – the state affiliate of the International City/County Management Association (ICMA). Members consist of local government managers, executives, administrators, assistants, deputies, and other top staff team leaders throughout the Commonwealth of Virginia. The ICMA Code of Ethics is at the core values its members adhere to and observe each day in serving their communities.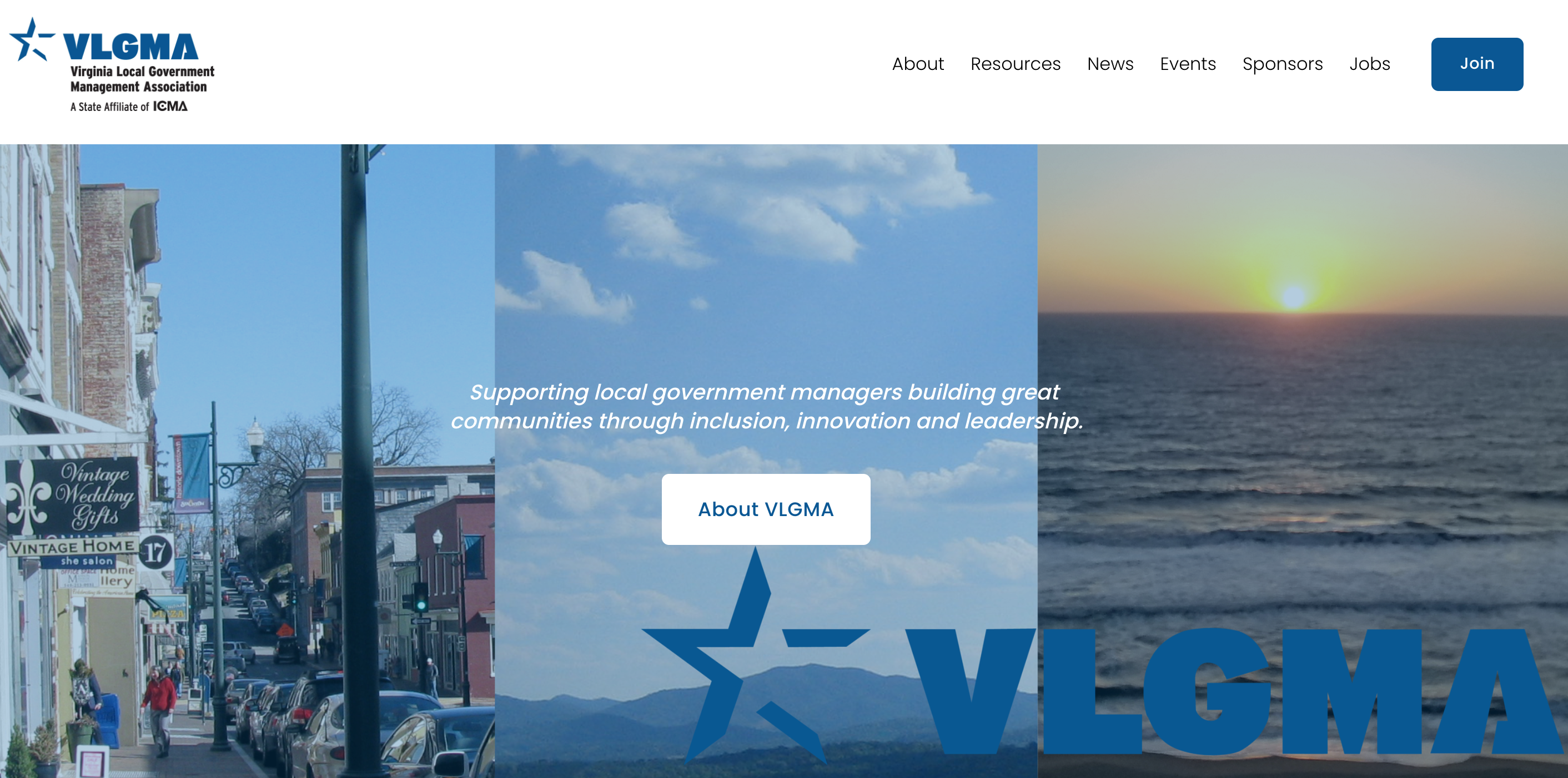 In early October at the ICMA Annual Conference held in Portland, OR as well as virtually, the following VRSA members were recognized for their total years of local government service:
Alexander (Ande) Banks, Deputy Manager, City of Harrisonburg – 10 Years
Matthew (Matt) Lawless, Town Administrator, Town of Scottsville – 10 Years
Mark Bellamy, Deputy Administrator, York County – 20 Years
Bob Cowell, Manager, City of Roanoke – 20 Years
Keith Markel, Deputy Manager, Town of Leesburg – 20 Years
William Moore, Deputy Manager, Town of Middleburg-  20 Years
James Taylor, Deputy Administrator, Hanover County – 20 Years
Tim Baroody, Manager, City of Fredericksburg – 25 Years
John Edwards, Jr., Manager, Town of West Point – 25 Years
William Johnson, Manager, City of Emporia – 25 Years
Kyle O'Brien, Manager, Town of Broadway – 25 Years
Andrew Trivette, Manager, City of Williamsburg – 25 Years
Eric Campbell, Manager, City of Harrisonburg – 30 Years
Magali Kain, HR Director, Town of Vienna – 30 Years
James (Jay) Taliaferro, Manager, City of Salem – 30 Years
William Harrell, President & CEO, Hampton Roads Transit – 35 Years
Lucinda (Cindy) Mester, Deputy Manager, City of Falls Church – 40 Years
Norman Risavi, Administrator, Westmoreland County – 40 Years
Robert Stalzer, Manager, City of Fairfax – 40 Years
In addition, the following VRSA members who recently retired this year were also recognized:
Melinda (Mindy) Conner, Administrator, Mathews County – 30 Years
Clifton (James) Ervin, Manager, Town of Rocky Mount – 30 Years
Charles Dane, Assistant Manager, City of Hopewell – 40 Years
Conner was serving as Chair of the VRSA Members' Supervisory Board at the time of her retirement. We thank Mindy for her many years of service to the pool as a dedicated board member.
Two other VRSA members received special recognition. At the VLGMA Summer Conference, Assistant Town Manager of the Town of Ashland Matt Reynal received the 2021 Marcia Mashaw Outstanding Assistant Award. More recently at the Virginia Municipal League (VML) Annual Conference, Vienna Town Manager Mercury T. Payton was the Local Champion winner of the 2021 VML Innovations Award in Local Government.
VRSA would like to thank all members for their leadership and service to their communities.
Reminder – VRSA is again providing focused grants and educational scholarships to our executive team members to promote the future of professional local government management.
Applications are still being accepted via the VRSA member website under 'Risk Management Grants.' Examples of eligible programs include the Virginia Tech Graduate Certificate Program in Local Government Management as well as the Senior Executive Institute (SEI) and Leading, Educating and Developing (LEAD) programs hosted by the Virginia Institute of Government at the University of Virginia.
Interested members are encouraged to contact VRSA Local Government Specialist Peter Stephenson at pstephenson@vrsa.us or VRSA Director of Education and Training Thomas Bullock at tbullock@vrsa.us for more information.