VML Insurance Programs (VMLIP) was recently re-certified through the Approved Provider Program of the HR Certification Institute. The Approved Provider Program allows organizations such as VMLIP to offer multiple HR-related continuing education opportunities each year for members, while allowing members to simultaneously earn credits toward their HR certifications.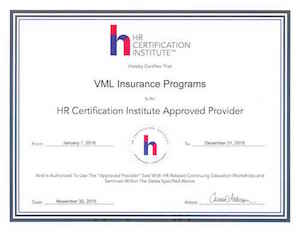 Members interested in gaining continuing education credits through the HR Certification Institute can take part in any number of webinars, workshops, and trainings offered throughout the year by VMLIP staff. Credit can also be earned by activities such as:
Creating leadership development initiatives;
Developing a diversity program; and
Implementing HR best practices.
Check the VMLIP training calendar for information on upcoming trainings and webinars that may count toward your HR certification.