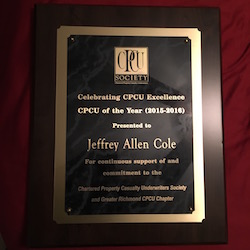 Cole recognized as CPCU of the Year
VML Insurance Programs (VMLIP) Director of Member Services Jeff Cole was named the Richmond Chartered Property Casualty Underwriter (CPCU) Society's "CPCU of the Year." He was presented with the award at the society's December social event. Cole has served the chapter as an instructor and board member, and has been instrumental in updating membership records.
The chapter also noted that Cole is a "champion for CPCU."
Risk Management Grant (RMG) applications accepted Jan. 1
The second cycle of the 2016 -2017 Risk Management Grant (RMG) program begins on Jan. 1, 2017. Applications for grant funding will be accepted through Feb. 15, 2017.
Each year VML Insurance Programs (VMLIP) distributes risk management grants to members expanding their risk management programs. The funds are to be used to purchase safety equipment, attend training sessions, and for special educational endeavors aimed at broadening member understanding of governmental management, and more.
Read more about the RMG grant program here. Applications for funding are available here.

Renewal questionnaires arriving in early 2017
Renewal questionnaires will be arriving in member inboxes in early 2017. The first questionnaires should be sent out in mid-January. Renewals are due back by March 15.
Toys for Tots
VMLIP staff collected 52 toys for Toys for Tots this winter. The toys filled the box at the Toys for Tots drop-off location.