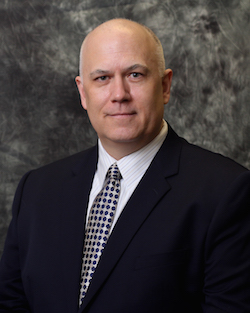 VML Insurance Programs (VMLIP) Managing Director Steve Craig has been elected to serve as chair of the board of the NLC Mutual Insurance Company (NLC-Mutual). NLC Mutual is a member-owned captive reinsurance company founded in 1986 by six state municipal league sponsored risk pools with the assistance of the National League of Cities (NLC).
Today, NLC Mutual is a "pool of pools," bringing together 28 league sponsored risk pools that insure thousands of cities, towns and public entities throughout the United States. NLC Mutual provides reinsurance coverage to these pools for liability, property and workers' compensation.
Craig has served on the 28-person board since 2002, previously serving as First Vice Chairman and on the executive, audit, and investment committees. 
"Our participation in NLC Mutual has allowed VMLIP to be a part of a broader forum on national issues impacting local government risk pools across the country," said Craig. "We've been a part of the conversation on major issues such as drones, law enforcement liability, cyber liability, and now data analytics."
Craig will focus his term on expanding the mission of NLC Mutual from reinsurance to providing greater products, services and resources to state league-sponsored pools. 
Craig succeeds Bill Fulginiti, executive director of the New Mexico Municipal League who has served as chair for 29 years. 
"It is an honor to have been tapped by my peers as chair of NLC Mutual," said Craig.
VMLIP cedes a portion of its excess liability and workers' compensation risk to NLC-Mutual.  To learn more about NLC-Mutual, visit their website.