This November VML Insurance Programs (VMLIP) Director of Member Services Jeff Cole delivered a property damage claim check to the Washington County Service Authority for $463,252.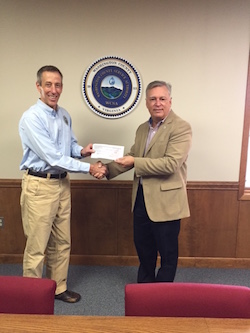 Last February the 2.5 million gallon per day Mill Creek Membrane water treatment plant, outside of the Town of Chilhowie, began noticing increased turbidity in their water tests.   Routine integrity tests on their filter cartridges revealed "bubbling," indicating air in the fibers.
In response to the claim, VMLIP hired the engineering firm of Hazen and Sawyer to investigate. Testing by the firm, the WCSA and the cartridge manufacturer revealed that the cartridges had failed due to granular material passing through pre-filters. Pre-filter processes were then updated to prevent a recurrence, and VMLIP began the process of reimbursing the member for new cartridges.
The large claim check was delivered last November, reiterating the need to choose an insurer with a strong balance sheet. With $98 million in member equity and assets of more than $269 million, VMLIP is the strongest local governmental self-insurance pool in the Commonwealth of Virginia.