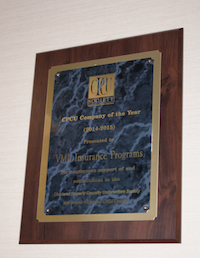 The Richmond Chapter of the Chartered Property and Casualty Underwriter (CPCU) Society awarded the 2015 CPCU Company of the Year recognition to VML Insurance Programs (VMLIP). VMLIP was awarded for the pool's continuous support and commitment to the CPCU Society and other insurance-related learning.
Throughout 2014 and 2015, VMLIP hosted two professional designation courses through The Institutes, the insurance industry's knowledge and professional development leader. 
VMLIP hosted the Associates in General Insurance (AINS) 21 – Property and Liability Insurance Principles, and the Associates in Claims (AIC) 30 – Claim Handling Principles and Practices courses for 23 staff and other insurance industry students.
"Our claims, underwriting, finance and member services staff hold 34 insurance designations provided through The Institutes," said VMLIP Managing Director Steve Craig. "This is in addition to numerous post-graduate degrees and non-insurance professional designations held by staff."
Many VMLIP staff members are continuing to pursue additional designations, with 16 in progress. VMLIP will again host an AIC course this spring – AIC 37, Managing Bodily Injury Claims. 
"We are dedicated to ensuring we have the most highly trained and skilled staff providing the best in servicing and handling of claims for our members," said Craig.
The CPCU Society's mission is to provide resources, educational programs and leadership opportunities that attract talent and enable individuals to expand their technical insurance skills and business capabilities in order to improve the overall performance of the insurance industry while adhering to the highest ethical standards.
The Richmond Chapter of the CPCU is comprised of more than 230 insurance professionals in the Richmond, Virginia area who have, or are pursuing, their CPCU designation. Each year the organization names a Company of the Year. Previous award winners have included Kinsale Insurance, James River Insurance, Markel Corporation and Nationwide Insurance.
VML Insurance Programs is a nonprofit group self insurance program providing automobile, property, liability and workers' compensation coverage to more than 470 local political subdivisions across Virginia.  For 35 years VML Insurance Programs has provided pool members with superior financial stability and effective risk management services.  For more information visit: www.vrsa.us or follow VMLIP at: www.facebook.com/vmlip.