On April 14, Mac McCutchan, plant superintendent with Pepper's Ferry Wastewater Treatment Authority, was preparing to deliver a meeting on safety to staff when he was asked to check on a problem with a vehicle at the plant. Quick to help, McCutchan began down a flight of stairs he'd gone up and down thousands of times when material on his shoes caused him to lose his footing. 
A few seconds later, he gained a grip on the railings and found himself sitting on the steps.
"I remember it was actually my shoulder that hurt the most," said McCutchan. "I thought I had broken my leg – I looked down at both of my legs and on the top of my thighs I could see what looked like hockey pucks, those were my knee caps."
What seemed like a simple slip and fall incident would keep McCutchan out of work for six months and into intense rehabilitation for more than three months.
McCutchan was immediately taken to the Carilion New River Valley Medical Center where x-rays showed that he had a bilateral tear of his patella tendons, and that the tendons had ruptured and the quad muscles were still attached to the kneecap.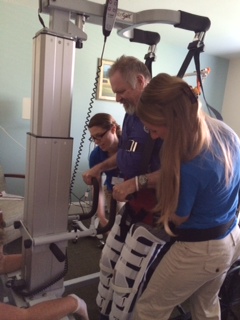 The next day, McCutchan underwent surgery for the bilateral patellar tender avulsion, one in which the surgeon had performed thousands of times – but never for both knees at the same time. 
After the surgery, McCutchan was told to keep his knees immobilized for five to six weeks.
"They explained to me that there was a lot of scar tissue that needed to form to get the tendon to attach itself back to the knee," said McCutchan.
His family began researching rehabilitation centers and found the Richfield Rehabilitation Center in Salem, Virginia. 
"They said it was the best and highest rated," said McCutchan. "When I talked to my workers' compensation adjuster at VML Insurance Programs (VMLIP), they said whatever you need, you will get – and wherever you want to go, we will send you."
At Richfields, McCutchan was fitted with immobilizers to both legs – Velcro straps with metal supports along the back of his knees, which prevented them from bending. They worked with McCutchan on maintaining his strength through sit-ups and back exercises, in addition to ankle pumps to prevent blood clots. He had to learn to isolate his quadriceps muscle and work on it to keep it strong.
Without being able to move his knees, McCutchan's skin started to break down and itch.
"That was the hardest time I had there," he said. "About the third week my skin was breaking down, I was unhappy – but when I realized that eventually I would go home it helped, I began marking my calendar everyday."
And everyday McCutchan received visitors. His wife and five daughters worked out a schedule so that someone would visit everyday.
"Some nights I might not have been the best company, but they kept coming," he said.
After the initial six weeks were up, McCutchan was allowed to stand and bear some weight on his legs – still with the immobilizers. 
"The therapists there really kept me going," said McCutchan. "I had the best care and therapy I could have received – and they would always say to me – you've got the best insurance – because VMLIP wasn't rushing them to discharge me, or telling them to stop this treatment or that."
After another month of strengthening his legs, the immobilizers finally came off.
"I still wasn't strong enough to stand on my own," he said. "They had this machine that harnessed me to keep me from collapsing and kept my knees from buckling. I could take ugly steps with it down the hall. I went 60 feet the first time and was exhausted and sweaty."
McCutchan had to learn to walk again.
Eventually he progressed to a walker, and each day he would make it farther down the hallway. He practiced sitting, standing, and getting up over and over again. He worked on strengthening his legs, bending his knees, and continuing to work his shoulder, which was also injured in the accident. 
"They had a lot of goals of things they needed me to be able to do before they could release me," said McCutchan. "They took me down to the basement, and we'd work on going up and down the steps – up and down. We'd practice walking on sidewalks and different terrain; we'd practice getting out of a car."
Finally, they set a release date of August 4, 15 weeks and one day after being admitted. 
McCutchan came home with a walker and began attending physical therapy three times per week for an hour each day. After three weeks he moved on to walk with a cane. 
"The first thing I did after moving on from the walker was get into my car and drive," said McCutchan. "That was the most liberating experience for me. I would just drive short distances near the house and practice getting in and out of the car."
On October 12, McCutchan returned to work at Pepper's Ferry, first working half days, and on November 9, he began working full days. 
"I still can't squat or get on my knees, and I still have trouble with balance and worrying that my knees will buckle… you don't realize how much walking you really do without thinking about it – maybe that's why people trip and fall," McCutchan laughed.
"As I continue to get stronger it will continue to get better," he added.
McCutchan's colleagues at Pepper's Ferry never stopped supporting him throughout his recovery. 
"They would come by and visit, they'd text me, they'd call me, they tried to keep me in the loop. I recall at least one senior level staff meeting that took place in my room during rehabilitation," recalls McCutchan, "pizza included." 
"The loss of Mac for six months was a significant blow to absorb," said Pepper's Ferry Executive Director Clarke Wallcraft. "Mac plays a pivotal role in the organization, and it was critical for us to support his rehabilitation and get him back on the team."
"The quality of medical and rehabilitative services Mac received, coupled with VMLIP staff that were truly professional and supportive throughout the entire ordeal, was unparalleled," continued Wallcraft. "I can't thank VMLIP enough."
McCutchan also didn't have to worry about his income. 
"The team at VMLIP called me all the time, explained how the payment schedule was going to work and they never broke stride – I can't say enough for the process and about VMLIP."
For more information about VMLIP's worker's compensation coverage, visit our website at: www.vrsa.us.