VRSA Understands Local Government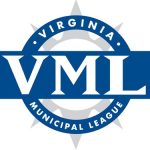 Local governments face unique exposures and liabilities. Sponsored by the Virginia Municipal League, VRSA understands local government. We continue to provide tailored coverage, services and resources to address these, such as new-vehicle replacement cost coverage, no-fault property coverage, Workers' Compensation Plus, and more.
Tailored Coverages Include
Automobile;
General Liability;
Law Enforcement Liability;
Public Officials';
More than just coverage
VRSA provides more than coverage. VRSA members are assigned a dedicated service team devoted to providing them with outstanding service. VRSA's Risk Management Grant program provides support for members' risk management efforts, including the cost of educational expenses for professional management, leadership, and governance training. VRSA members also have access to FREE, unlimited online training targeted to managers, supervisors, and employees through the VRSA Online University. This is in addition to frequent in-person trainings and virtual engagements.
VRSA Consulting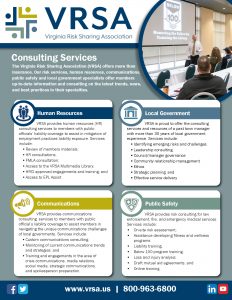 VRSA provides specialized consulting in the areas of human resources, local government, communication, and public safety. These consultants provide guidance and best practices designed to promote risk management and help members reduce the frequency and severity of losses.
Services include: