This renewal season members may receive requests for electronic signatures from VML Insurance Programs (VMLIP) via a new application called DocuSign.
DocuSign is an application that allows the secure transmission of digital signatures. VMLIP will be using DocuSign this year for renewal proposals and other documents rather than requesting paper signatures.
DocuSign provides several key benefits for VMLIP members:
Faster delivery of documents;

Secure access to member documents on mobile and desktop devices;

Traceability of documents and changes; and the

Ability to print documents when needed.
To take advantage of DocuSign, check with your information technology staff to ensure that DocuSign.net has been added to your Safe Domains list.  This will ensure that e-mails from DocuSign make it to your inbox.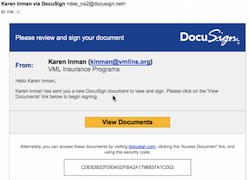 When you receive e-mail from your VMLIP contact via DocuSign, simply select the "View Documents" link to access the document and sign it electronically as appropriate.
If you would like to learn more about Docusign, check out the link here.