This winter Loren Kato, Safety and Risk Management Coordinator with the City of Fredericksburg, is hoping for snow. At least, a little bit of snow.
In early November, Kato organized three days of snowplow training for the city's snow patrol – comprised of public works, parks and recreation, and public facilities staff who operate the city's snowplows or are in charge of clearing city sidewalks. All in all, nearly 100 staff completed the eight-hour instruction, with 30+ in attendance each day.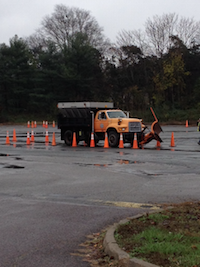 "Our number one goal with this training was to increase employee and citizen safety," said Kato. "After that, we want to reduce property damage claims – and we hope through this course we will be able to accomplish that."
Kato brought in an outside instructor – Hank Gobar with HT Solutions. Gobar also provides similar instruction for crews from the Virginia Department of Transportation (VDOT). The eight-hour training was composed of a half-day in the classroom and a half-day of practical learning and hands-on operation of the equipment.
The classroom-learning portion provided an overview of road conditions and temperatures, as well as the types and amounts of chemicals or abrasives that should be applied depending on road conditions.
The city brought in snowplows and tractors to a large parking lot and put trainees through an obstacle course which included parallel parking, navigating a tight bridge, maneuvering safely around obstacles – such as mailboxes, plowing a cul de sac, and more.
"Fredericksburg has a lot of one-way streets and on-street parking," said Kato. "So moving through with a large snowplow can be a challenge. The hands-on portion of the training was critical, as well as reviewing how to properly inspect the equipment to make sure it is safe and ready to go before heading out to plow."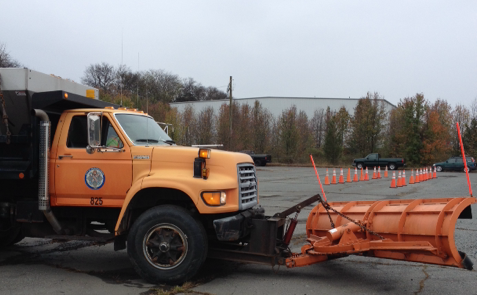 Some drivers left the parking lot to practice driving on the road – getting a feel for driving over train tracks and exit ramps and learning how the plow feels when loaded with sand versus when empty.
Even staff who don't run the plows were involved with the training. Public Facilities and Parks Maintenance staff who work on buildings, sidewalks, stairs, and parking decks learned about the different applications to use for building materials such as brick, asphalt, and sidewalks. These staff will be working with new equipment this year that measures surface temperatures – to help them determine the proper amount of product to put down.
"Removing snow and ice is a challenging task which involves risk of injury and unintended property damage," said Senior Safety Consultant Fonda Craig. "The City of Fredericksburg is acting proactively to increase employee awareness on these risks in an effort to minimize property damage and chemical costs, and most importantly to minimize the risk of injury to employees and citizens."
The training was well received by employees.
"We're raising the professionalism bar for our snowplow drivers," said Kato. "We're proud to have a professionally trained staff out maintaining the streets, and our mission is to get the City of Fredericksburg open for business as safely and efficiently as possible."
Kato is open to questions on the training from any VMLIP members interested in developing a similar program. Contact her here.
"We're very pleased with this course," said Kato. "This will be the year we don't get any snow, but it's okay because we'll be ready when it does come."