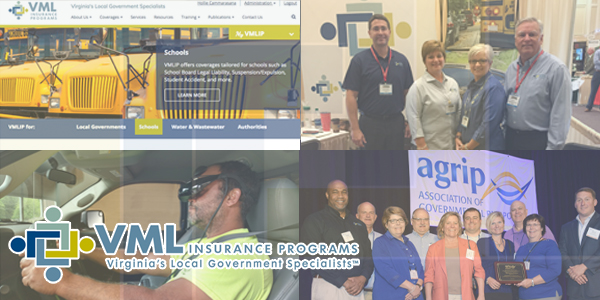 2017 was another great year to be a member of VML Insurance Programs (VMLIP)! Throughout 2017, VMLIP added and expanded coverages, resources and services for members; redesigned an entirely new, agile and powerful website; closed several significant claims; and much more. Read about it in the overview below!
---
2017 Recognition and Updates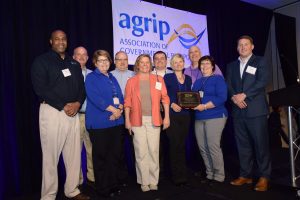 VMLIP received recognition from the Association of Governmental Risk Pools (AGRiP) for completion of its Advisory Standards Review, which demonstrates adherence to best practice guidelines for pool operations. Learn more here.
In December, the VMLIP Members' Supervisory Board welcomed Dr. Bruce Benson, superintendent of Stafford County Schools, to the board.
In the spring of 2017, VMLIP welcomed Chuck Jones as the new director of property and liability claims. Read more here.
---
New Website: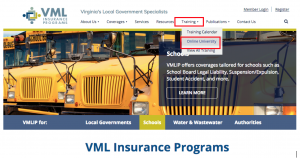 In the spring, VMLIP launched an entirely redesigned website.The initial website release included:
The ability to target communications based on a users' website profile, interests and preferences;
A robust search and filter capability allowing users to search across all website features and resources – such as recorded webinars, bulletins, online courses, and more;
Streamlined event registration, as well as the ability for users to view/access their registered events on their personalized home page;
The ability to submit multiple related claims in a single incident report;
A "My Documents" area in which to access and upload finance and underwriting documents;
A new Risk Management Guidelines questionnaire that is specific to each members organization and coverages;
Interactive dashboards that provide members with the ability to explore and analyze loss information;
A new Risk Management Grant application form that allows members to submit their applications and supporting documentation online; and much more.
Look for additional functionality to be added in 2018!
---
Welcome New Members
Town of Monterey
Northern Virginia Regional Park Authority
Skyline Regional Criminal Justice Training Academy
---
Member Services: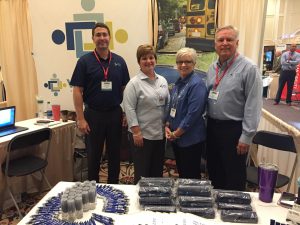 In 2017 Member Services staff made 371 member visits across Virginia. Additionally:
Staff presented at numerous conferences, including the VMLIP Fall Workshops, the Virginia Government Finance Officers Association, the Virginia Local Government Managers Association and the Virginia Municipal League conference on cyber risks and risk management for local governments.
Coordinated several peer groups to discuss risk management topics impacting their entity types. These included the Municipal Bus Transit members and School Bus Transportation Peer Group.
Coordinated two Water and Wastewater Authorities General Manager/Executive Director forums in Richmond and Roanoke. Read more here.
---
Risk Services:
Thomas Bullock was promoted to Director of Risk Services. New staff include Law Enforcement Specialist Gary Dillon and Safety Consultant Eddie Shelton.
Safety consultants made more than 350 visits with members to review and assist with risk management efforts.
During his tenure as VMLIP's law enforcement specialist, Bullock coordinated the creation of a Chiefs Advisory Committee, developed to engage law enforcement members in order to advise and provide feedback to VMLIP regarding past and future law enforcement risk management training. Read more here.
VMLIP launched a new online learning platform – the VMLIP Law Enforcement Academy launched this summer provides courses designed specifically for law enforcement. Courses available include: Ethics in Law Enforcement, Constitutional Policing, Use of Force, Officer Liability, and more, as well as various series on topics such as leadership and communication. Learn more here.
Provided more than 47 webinars/in-person trainings for more than 1,000 member employees on subjects such as confined space entry, OSHA, verbal de-escalation for public safety officers, active shooter training, and more.
More than 11,800 VMLIP Online University courses were taken by members in 2017. The top five VMLIP Online University courses were: Sexual Harassment Prevention; Defensive Driving; Space and Time Management; Driving in Adverse Weather Conditions; and Avoiding Collisions While Backing.
More than 280 Where the Rubber Meets the Road campaign classes were provided through VMLIP and member-instructors. More than 7,600 member-entity drivers attended these defensive driving courses.
---
Workers' Compensation Claims Updates:
Medical Bill Review Savings: Utilizing bill review services, VMLIP saw a net medical review savings of more than $4.5 million in the 2016-2017 fiscal year, representing a 34 percent savings from provider charges. This increased 5 percent compared to the previous year.
Nurse Triage and Reporting Services: Through nurse triage assistance, more than $350,000 in medical savings was realized in the difference between an injured workers initial inclination to seek care, versus what the agreed upon disposition was – for example, emergency room to self-care. More than 2,600 claims were triaged through this program in the 2016-2017 fiscal year, representing 72 percent of claims reported to VMLIP.
Pharmacy Management: To increase medical savings, VMLIP encourages the use of generic vs. brand drugs. For fiscal year 2016 – 2017, 84 percent of workers' compensation prescriptions were for generic drugs, with 16 percent for brand. Inversely, 72 percent of VMLIP's pharmacy costs were represented by those brand drugs, while only 28 percent was utilized for generic drugs.
First-Fill Prescription Program: Net pharmacy savings through this program was more than $900,000, representing a 59 percent savings from pharmacy charges. 92 VMLIP members participate in the First-Fill Prescription Program. The top five therapeutic drug classes prescribed to injured workers were:
Analgesics – Opioids
Anticonvulsants
Dermatologicals
Antihyperlipidemics
Antianginal Agents
Diagnostic Services: VMLIP's net diagnostic savings totaled more than $150,000, representing a 56 percent savings from provider charges.
Physical Therapy Services: VMLIP's net outpatient rehabilitation cost totaled nearly $500,000, representing a 57 percent savings from provider charges.
---
Subrogation
VMLIP subrogation recovery totaled $1,542,646 for members.
---
Property and Liability Claims Updates:
VMLIP issued payments of more than $470,000 to Stafford County Public Schools for damages to more than 28 roofs due to a large hail storm. Damages ranged from total replacement to minor repair costs. Additionally, VMLIP worked with the schools to ensure that losses occurring at all of the properties affected by the hail storm have been inspected and accounted for, and will continue to work to conclude settlement and payment of the final damages.
VMLIP issued payments of more than $1.3 million to the City of Suffolk for damages to the city's municipal building as a result of heavy rains from Hurricane Matthew. The rains led to a sewer backup impacting 50,000 square feet of office space. Additionally, VMLIP assisted the city with costs for initial clean up and remediation, damages to electrical and public utility systems, and the cost of building and contents repair and replacement.
VMLIP issued payments of more than $350,000 to the City of Williamsburg for a fire loss caused by a lightning strike at the city's fire station. Additionally, immediate steps were taken to assist the member with arrangements for temporary housing and payment for additional expenses as a result of the fire.
VMLIP issued payment of more than $240,000 to the City of Roanoke for a loss involving damage to the city's police department caused by fire. The fire damaged several rooms, including one housing electronic and computer equipment. Payment included the cost of building damage, loss of equipment, lean-up costs and expenses for temporary relocation of staff.
---
Underwriting:
VMLIP began offering Volunteer Accident & Health Insurance for volunteers including fire and rescue. Coverage includes death benefits, income protection and impairment benefits. Different limits/plans are available.
VMLIP began offering injunctive relief coverage with a $100,000 limit. Previously, VMLIP did not provide defense for claims that did not request money damages, with the exception of land use. Now, VMLIP will provide defense coverage for claims that would otherwise have been paid but for the request for money damages. This coverage applies to all members purchasing Local Government Liability coverage from VMLIP.
All members purchasing cyber liability coverage were upgraded to our Cyber A form on 7/1/17. This form includes many cyber enhancements including business interruption, website media content and limited ransomware coverage.
Members may now utilize an automated certificates of insurance tool to produce/print and forward their own certificate of insurance through the VMLIP Member Portal without underwriting approval. Additional Insured and loss payee endorsements will also be automatically provided based on information provided.
The VMLIP Member Portal was updated with new features, improved navigation and performance, and inclusion of the Line of Duty Act (LODA) schedule that was previously located in a separate area of the website.
---
Staff Development:
To continue providing members with the best in service and partnership, the pool continues to focus on staff development. New accreditations or designations earned this year include:
Marcus Hensel: Associate in Risk Management, Enterprise Risk Management (ARM-E)
Jennifer Moore, Associates in General Insurance (AINS)
Connie Myers, Associates in General Insurance (AINS)
Lisa Schenk, Certified Risk Manager (CRM)
Pete Strickler, Certified Safety Professional (CSP)
Beth Willoughby, Associate in Claims (AIC)
---
VMLIP Gives Back: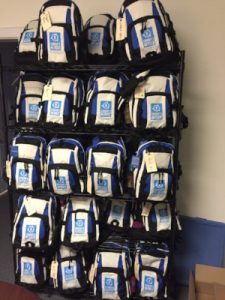 Connor's Heroes: The VMLIP employee club led efforts to donate to the Connor's Heroes Bags and Backpacks program, raising $1,155 for iPad purchases to be included in the backpacks, in addition to $230 in iTunes gift cards, and four boxes of games, books and toys.
The program provides backpacks and tote bags to families with a child who has been diagnosed with cancer and is being treated at the Children's Hospital of Richmond at VCU. The tote bags and backpacks are intended to help families through this time of crisis and relieve some of the strain and stress during this difficult time in their lives.
Tech for Troops: VMLIP donated used computer equipment to this organization, which trains veterans to fix equipment and then donates the refurbished equipment for veteran use. Any equipment they cannot refurbish, strip for parts, or place with a veteran, is sold to provide funds for additional equipment. In 2017, VMLIP donated:
14 monitors;
1 blade chassis;
9 blade servers;
18 desktop computers;
3 laser jet printers; and
12 thin clients.